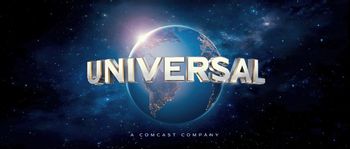 "When in Hollywood, visit Universal Studios."note
Universal Pictures
(aka Universal or Universal Studios) is one of the five major American movie studios, and the longest-lived Hollywood studio, dating all the way back to 1912 (predating Paramount Pictures by just over a week). Universal's headquarters, Universal City, was one of the first purpose-built studio lots ever built, and is now a major tourist attraction as well as a working studio. The studio is symbolized by an image of a globe, which has undergone many changes, the most recent being in 2012 for its 100th anniversary.
The studio was the brainchild of Carl Laemmle Sr., a German-born Jewish immigrant who played a crucial role in the creation of the star system of film-making. Laemmle, along with a number of film producers in Hollywood, formed the studio with the intent to capitalize on the system. Unlike many other studio heads, Laemmle took a cautious role in film-making, choosing not to open a theater chain and financing the movies himself without putting the studio in debt. After his son, Carl Laemmle Jr., took over from his father in 1928, the studio underwent a major overhaul in order to compete with the other studios in Hollywood. It was during this period that Universal churned up a number of hits such as Show Boat, All Quiet on the Western Front, and the creation of the Universal Horror series, which gave Universal a near-monopoly on the horror film genre.
Universal established a reputation in the 1930s and 1940s for the production of horror films. Most of the "classic" movie monsters, such as Dracula, Frankenstein's Monster, the Wolf Man, the Mummy, The Invisible Man, the Bride of Frankenstein, The Phantom of the Opera and the Gill Man (aka the Creature from the Black Lagoon), are best known in their Universal incarnations. Another mainstay in this period was the Comedy Duo, Abbott and Costello, with both franchises combining in the late 1940s onward. In addition, Universal was the primary distributor of Walter Lantz's cartoons such as Woody Woodpecker. Its "art house" subsidiary, Focus Features (including the remnants of Gramercy Pictures), is responsible for distributing acclaimed films such as Brokeback Mountain, Being John Malkovich and Milk.
During The Great Depression, the studio fell into a crisis and narrowly avoided bankruptcy in the 1930s, which caused the Laemmles to cede control of the studio to creditors. Universal then merged with International Pictures in the 1940s, and then was bought out by the U.S. version of Decca Records in 1952. During the 1950s, Universal had numerous successes with The Killers, the Abbott and Costello films, and several monster, science fiction and western films, as well as a variety of light comedies and melodramas, both of them courtesy of producer Ross Hunter, and the latter of them usually directed by Douglas Sirk. Additionally, Universal introduced a new method of film financing that forever changed the rules of the business: beginning with Winchester '73, it gave the lead actors in a film a significant share of the profits that were made off of it (this model would be adopted by its rivals in succeeding years). It also distributed some of the very last films made by the influential (and, by that point, collapsing) RKO Radio Pictures. However, all this wasn't enough to keep them from falling on hard times again following the Fall of the Studio Systemnote One method that Universal did to stay in the black was to discard what mostly remained of their silent film catalog, a move that would make film historians weep decades later. Consequently, only a fraction of Universal's silent film library survived, mostly thanks to bootlegging and film collections., and a partial stake was sold in 1958 to talent agency MCA (whose Revue Studios TV production division was a huge success at the time, and needed the space) in 1958. MCA purchased the rest of Universal itself when it acquired American Decca Records in 1962.
MCA's purchase of Universal ended up giving the studio a much-needed boost to its film library, as MCA had purchased most of Paramount's pre-1949 sound features (which includes classics such as Trouble in Paradise, Sullivan's Travels, and Holiday Inn, among others) around the same time (Universal later teamed up with Paramount to form Cinema International Corporation, now known as United International Pictures, in 1970; then from 1987-97, USA Networks was solely co-owned by Universal and Paramount). This prevented Universal from selling a large chunk of their library to other companies, making them one of only three major film studios, along with Columbia Pictures, and Twentieth Century Fox, to not have sold any major portion of their catalog (although Warner Bros. got their catalog back when Time Warner acquired Turner Broadcasting in 1996).
Thanks to MCA's leadership, Universal was one of the first major film studios to openly embrace the then-fledgling medium of television. Throughout the 1950's and 60's, the studio went on to produce television shows that are today considered classics, including Leave It to Beaver, The Munsters, Dragnet, Alfred Hitchcock Presents, McHale's Navy, Laramie, and The Virginian. Its backlot benefited significantly from this; a 1969 report from United Press International stated that Universal's backlot was the only one in Hollywood that was "safe from bulldozers
" at a time when most studios were selling off their backlots, destroying them or, at the very least, borrowing them from others.
After pretty much inventing the modern blockbuster with Jaws in 1975, as well as producing a whole list of classic TV shows during the 1960s, 1970s and 1980s, and making history in home video by co-creating the LaserDisc with Philips (though MCA DiscoVision, as it was originally known, had a rocky start, resulting in MCA/Philips selling the assets to Pioneer and switching to being simply a distributor of their own content,) MCA sold itself to Panasonic (then called Matsushita) in 1990, but Panasonic (which didn't particularly like working with Hollywood and expected more stable profits) sold the company to Canadian distiller Seagram's in 1995; Seagram's, which had acquired MCA primarily to capitalize on the Universal trademark, also dropped the MCA name at this time.
During this time, Universal expanded through all sorts of different avenues, though their successes tended to be short-lived. Their Action Pack was an effort at creating a broadcast network that ended up little more than a syndication package for Xena: Warrior Princess and Hercules: The Legendary Journeys. Universal Interactive Studios was also established around this time, notably creating the Spyro the Dragon and Crash Bandicoot games; as was Universal Cartoon Studios, which mainly churned out DTV sequels to The Land Before Time, although it also made TV series, including cult hits Exosquad and Earthworm Jim.
After several more odd trades (including selling Universal TV and the USA Network to Barry Diller, then turning around and buying them back a few years later), one of which was with the Seagram conglomerate based in Montreal (who in turn merged them with the remnants of Polygram Filmed Entertainment), Universal ended up in the hands of French conglomerate Vivendi SA in 2001; during their period of ownership they frequently co-produced movies with another Vivendi-owned firm, StudioCanal (operated by the Canal+ TV network). Most of the movies that the studio produced during this era didn't perform well or only turned a small profit. Eventually, in an effort to stem financial debt, Vivendi sold 80% stock in the studios, theme parks, cable networks (USA, Sci Fi Channel and the now-defunct Trio) and Universal TV to General Electric in 2004, where they were combined with the NBC properties to form NBCUniversal. GE later purchased Vivendi's remaining stock (20%) and immediately thereafter sold more than half of their stock (51%) in 2011 to cable giant Comcast, who in turn acquired full ownership of NBCUniversal in 2013, thus allowing GE to focus more on its industrial and financial businesses and officially making Comcast a media company. On the other hand, Universal Music Group is still separate from NBCU, while Universal Interactive has since been absorbed into Activision (which completely split from Vivendi in 2016).
It was formerly the worldwide home entertainment distributor of DreamWorks SKG films from 1997 to 2005, when DreamWorks merged with Paramountnote Universal was actually interested in acquiring DreamWorks when the founders put said studio up for sale, but Paramount's parent Viacom outbid them in the end, a merger that ultimately fell apart after less than three years. As part of DreamWorks splitting from Paramount, the studio attempted to reach a deal with Universal to distribute their movies. The negotiations fell apart and DreamWorks instead went to Disney (through Touchstone Pictures) for distribution in 2009. In December 2015, with DreamWorks' deal with Disney expiring the following year, DreamWorks and Universal made up and struck a new distribution deal as part of DreamWorks' reorganization efforts. Universal's first film under the DreamWorks deal, The Girl on the Train, was released on October 7, 2016. Universal acquired a minority stake in DreamWorks' parent company Amblin Partners in February 2017. The studio also briefly distributed the films of Legendary Pictures during a disagreement with Warner Bros. Ironically, they have recently been in charge of distributing films made by Warner Bros. that get released in certain countries, such as Mexico, Hong Kong and Australia.
In August 2016, former DreamWorks division DreamWorks Animation was bought by Universal parent company Comcast/NBCUniversal for $3.8 billion, which effectively made Universal the second Hollywood studio to own two distinct feature animation studios, with Disney being the first after their purchase of Pixar in 2006. With the expiration of Fox's distribution contract with DWA in 2017, Universal assumed permanent distribution rights to all DreamWorks Animation works, past and present, as a result.
On June 23rd, 2015, it was announced that Universal entered a multi year distribution deal with
FUNimation, in which it will manage the distribution of all Funimation DVD and Blu-ray releases.
Not to be confused with Universal Studios, the parks based on the studio's properties (the company is legally known as "Universal City Studios LLC" though).
---
Films produced and/or distributed by Universal
<!—index—>
12 Monkeys (1995, with Polygram Filmed Entertainment)
1917 (2019)
1941 (1979) (with Columbia Pictures)
2 Guns (2013; US distribution)
The 355 (2022)
4.3.2.1 (2010; distribution)
40 Days and 40 Nights (2002; with Miramax Films)
The 40-Year-Old Virgin (2005)
47 Ronin (2013)
8 Mile (2002)
About a Boy (2002)
About Time (2013)
Accepted (2006)
The Addams Family (2019) (2019; international distribution)
The Adjustment Bureau (2011)
Against All Flags (1952)
Agent for H.A.R.M. (1966)
Airport (1970) and its sequels (1974, 1977, 1979)
Ali G Indahouse (2002)
All of Me (1984)
All That Heaven Allows (1955)
Along Came Polly (2004)
Alpha Dog (2006)
Always (1989; with United Artists)
Amazon Women on the Moon (1987)
Ambulance (2022)
American Dreamz (2006)
American Gangster (2007)
American Girl (2012-15; with Mattel)
American Graffiti (1973)
American Made (2017)
American Me (1992)
American Pie (1999)
The American President (1995)
An American Tail (1986)
The Andromeda Strain (1971)
Angela's Ashes (1999)
Animal House (1978)
Anne of the Thousand Days (1969)
Anthropoid (2016)
Apollo 13 (1995; with Imagine Entertainment)
Arabesque (1966)
Army of Darkness (1992)
As Above, So Below (2014)
Atonement (2007; under Focus Features)
Back to the Future (1985; with Amblin Entertainment)
Babe (1995)
The Babe (1992)
Baby Mama (2008)
Backdraft (1991)
Bad Boys (1983)
The Baker Street Dozen (1942-46)
Balto (1995)
The Bank Dick (1940)
Barney's Great Adventure (1998; with Polygram Filmed Entertainment and Lyrick Studios)
BASEketball (1998)
*batteries not included (1987)
Battleship (2012)
Battlestar Galactica (2007, 2009)
A Beautiful Mind (2001; with DreamWorks)
Beast (2022)
Because I Said So (2007)
Bedtime Story (1964)
The Beethoven movies (1992-93, 2000-01, 2003, 2008, 2011, 2014)
Belfast (2021; international distribution)
The Beguiled (1971)
Being John Malkovich (1999)
Bend of the River (1952)
The Best Man (1999)
The Best of Times (1986)
Big Fat Liar (2002)

Bigger Fatter Liar (2017)

Big Miracle (2012)
The Big Guy (1939)
Billy Elliot (2000; under Focus Features)
Billy Madison (1995)
Biloxi Blues (1988)
BIONICLE: The Legend Reborn (2009)
Bird on a Wire (1990)
The Birds (1963)
The Black Castle (1952)
Black Christmas (2019)
The Black Dahlia (2006; US distribution)
Black Dog (1998)
Blackhat (2015)
The Black Phone (2021)
Blast of Silence (1961)
Blockers (2018)
Blue Collar (1978)
Blue Crush (2002)
The Blues Brothers (1980)
Blues Brothers 2000 (1998)
The Boat That Rocked (2009; outside France)
The Bone Collector (1999; with Columbia Pictures)
Bordello of Blood (1996)
Born in East L.A. (1987)
The Boss (2016)
Born on the Fourth of July (1989)
Bowfinger (1999)
Boyhood (2014; UK release only, US release distributed by IFC Films.)
The Boy Next Door (2015)
The Brass Bottle (1964)
Brazil (1985; US Distribution only, International distribution by 20th Century Fox)
Breach (2007)
The Break-Up (2006)
The Breakfast Club (1985)
Brewster's Millions (1985)
Bridesmaids (2011)
The Bridget Jones movies from the second one onwards (2004, 2016)
Bring It On (2000; with Beacon Communications)
Brokeback Mountain (2005; under Focus Features)
Bros (2022)
Bruce Almighty (2003; with Spyglass Entertainment)
Brüno (2009)
Brute Force (1947)
Bullet in the Head (1990; Japan only)
Bulletproof (1996)
The 'Burbs (1989)
Bustin' Loose (1981)
But I'm a Cheerleader (1999; with Lionsgate)
Candyman (2021)
Canyon Passage (1946)
Cape Fear (both the 1962 original and the 1991 remake)
Captain Corelli's Mandolin (2001; with Miramax Films)
The Car (1977)
Career Opportunities (1991)
Carlito's Way (1993)
Car Wash (1976)
Casbah (1948)
Casino (1995)
Casper (1995)
Cats (2019)
The Cat in the Hat (2003; with Dreamworks and Imagine Entertainment)
Cat People (1982) (with RKO)
Central Intelligence (2016; with New Line Cinema)
The Chamber (1996; with Imagine Entertainment)
Champions (2023; international distribution)
Changeling (2008)
Change of Habit (1969)
The Change-Up (2011)
Charade (1963)
Charley Varrick (1973)
Charlie St. Cloud (2010)
Charlie Wilson's War (2007)
Children of Men (2006)
The Child's Play sequels (the first film was produced by United Artists and handled by MGM. Universal has the license to include the film in collections, though. Seed of Chucky was produced by former Universal subsidiary Rogue Pictures, though Universal retains the rights to it).
The Chronicles of Riddick (2004)
Cinderella Man (2005; US distribution)
The Climax (1944)
Clockers (1995)
Closet Land (1991)
Coal Miner's Daughter (1980)
Cobra Woman (1944)
Cocaine Bear (2023)
Colossus: The Forbin Project (1970)
Conan the Barbarian (1982)
Connie and Carla (2004)
Cool as Ice (1991)
Cop and a Half (1993; with Imagine Entertainment)
A Countess from Hong Kong (1967)
Couples Retreat (2009; with Relativity Media)
Cowboys & Aliens (2011; with DreamWorks and Paramount)
Crimson Peak (2015)
Crooklyn (1994)
Cry-Baby (1990)
Cry Freedom (1987)
Curious George (2006)
Curse of the Undead (1959)
Cyrano (2021; international distribution)
Dallas Buyers Club (2013)
A Dangerous Method (2011; distribution in Germany and Austria)
Dante's Peak (1997)
The Dark Crystal (1982; home video rights currently held by Sony)
Darkest Hour (2017; with Focus Features)
Darkman (1990)
The Dark Mirror (1946)
Dark Universe
Dawn of the Dead (2004)
Daylight (1996)
The Day of the Jackal (1973)
D.C. Cab (1983)
Dead Men Don't Wear Plaid (1982)
Dead Silence (2007)
Dear Evan Hansen (2021)
Death Becomes Her (1992)
Death Race (2008)
The Deer Hunter (1978)
Definitely, Maybe (2008)
Delirium (2018)
Demon Knight (1995)
Devil (2010)
Destry Rides Again (1939)
The Dilemma (2011)
Do the Right Thing (1989)
Doctor Detroit (1983)
Doctor Strange (1978) (1978)
A Dog's Purpose (2017)
Doppelgänger (1969)
Dolittle (2020)
Doom (2005)
Doomsday (2008; outside Germany and South Africa)
A Double Life (1947)
Downton Abbey (2019)
Dragon: The Bruce Lee Story (1993)
Dr. Giggles (1992)
Dracula (1931)
Dracula (1979)
Dracula Untold (2014; with Legendary Pictures)
Drag Me to Hell (2009)
Dragonheart (1996)
Dream House (2011)
DreamWorks Animation films (beginning in 2019, acquired in 2016)
The Dream Team (1989; with Imagine Entertainment)
The Dressmaker (2015)
D-Tox (2002)
Dudley Do-Right (1999)
Dumb and Dumber To (2014; with New Line Cinema)
Duel (1971)
Dune (1984)
Duplicity (2009)
Earthquake (1974)
Easter Sunday (2022)
The Edge of Seventeen (2016; home video only)
EDtv (1999; with Imagine Entertainment)
The Eiger Sanction (1975)
The Electric Horseman (1979; with Columbia Pictures)
Emily the Criminal (2022, outside US)
The Emperor's Club (2002)
Endless Love (2014)
End of Days (1999)
Erin Brockovich (2000; with Columbia Pictures)
E.T. the Extra-Terrestrial (1982)
Everest (2015)
Ex Machina (2014; International distribution only; North American distribution handled by A24)
The Fabelmans (2022)
Factory Girl (2006; UK distribution only; North American distribution handled by The Weinstein Company)
Fahrenheit 451 (1966)
The Family Man (2000)
Family Plot (1976)
Far and Away (1992)
The Far Country (1954)
The Fast and the Furious movies (the third and fourth films were co-produced by Relativity Media, and the seventh by Legendary Pictures)
Fast Times at Ridgemont High (1982)
Father Goose (1964)
The Fat Man (1951)
Fear (1996)
Fear and Loathing in Las Vegas (1998; with Summit Entertainment)
Field of Dreams (1989)
Fierce Creatures (1997)
The Fifty Shades of Grey series (2015, 2017-18)
Firestarter (1984)
Firestarter (2022)
First Man (2018)
Five Nights at Freddy's (2023)
The Five-Year Engagement (2012)
Flash Gordon (1980)
Flash of Genius (2008)
Fletch (1985)
The Flintstones (1994)
Flower Drum Song (1961)
Foolish Wives (1922)
Forgetting Sarah Marshall (2008)
The Fourth Kind (2009)
Freaky (2020)
Global Heresy (2002)
For Love or Money (1963)
For Love or Money (1993)
For Richer or Poorer (1997)
The Four Seasons (1981)
Frances (1982)
Francis the Talking Mule film series (1950-56)
Frankenstein (1931)
Frenzy (1972)
Friday Night Lights (2004; with Imagine Entertainment)
Fried Green Tomatoes (1991)
The Frighteners (1996)
The Front Page (1974)
Frost/Nixon (2008; with Imagine Entertainment)
The Funhouse (1981)
Funny People (2009; with Columbia Pictures)
A Gathering Of Eagles (1963)
Georgia Rule (2007)
Get Out (2017)
The Getaway (1994)
Get On Up (2014)
The Ghost and Mr. Chicken (1966)
Ghost Dad (1990)
The Girl on the Train (2016; with DreamWorks)
Girls Trip (2017)
Gladiator (2000; with DreamWorks; international distribution)
The Glenn Miller Story (1954)
Good Boys (2019)
The Good Shepherd (2006)
Gorillas in the Mist (1988; with Warner Bros.)
Gotcha (1985) (1985)
Gray Lady Down (1978)
The Great Outdoors (1988)
The Great Waldo Pepper (1975)
The Great Wall (2016; distribution outside China)
Greedy (1994; with Imagine Entertainment)
Green Book (2018)
The Green Inferno (2013; with Open Road Films)
The Green Mile (1999; international distribution)
Green Zone (2010)
The Guardian (1990)
Guns, Girls and Gambling (2012)
The Guru (2002)
Hail, Caesar! (2016)
Half Baked (1998)
Halloween II (1981)
Hands of the Ripper (1971; US theatrical distribution only)
Hannibal (2001; with Metro-Goldwyn-Mayer)
Happy Death Day (2017)
Happy Gilmore (1996)
Hard Target (1993)
The Hard Way (1991)
Harry and the Hendersons (1987)
Harvey (1950)
Head Over Heels (2001)
Heart and Souls (1993)
Heartbeeps (1981)
Hellboy II: The Golden Army (2008; with Relativity Media)
Hellfighters (1968)
Hellzapoppin' (1941)
Henry & June (1990)
The High Note (2020)
High Plains Drifter (1973)
The Hindenburg (1975)
The Hired Hand (1971)
The Holiday (2006; with Columbia Pictures)
Honey (2003)
House of Gucci (2021; international distribution)
Housesitter (1992)
How High (2001)
Howard the Duck (1986)
The Hunt (2020)
The Hunted (1995)
The Hurricane (1999)
The Hustle (2019)
Iceman (1984)
Identity Thief (2013)
If a Man Answers (1962)
Illumination Entertainment films:
Imitation of Life (1934)
I'm Not Rappaport (1996)
In Good Company (2004)
Insidious: The Last Key (2018)
In the Name of the Father (1993)<!—/index—>
The Incredible Hulk films<!—index—>
Inglourious Basterds (2009; with The Weinstein Company)
Inside Man (2006)
The Interpreter (2005)
Intolerable Cruelty (2003)
Into the Night (1985)
The Invisible Man (2020)
The Invisible Woman (1940)
The Ipcress File (1965)
I Saw What You Did (1965)
The Island (1980)
It's Complicated (2009)
I Wanna Hold Your Hand (1978)
The Jackal (1997)
Jarhead (2005)
Jaws (1975)
Jem and the Holograms (2015) (2015)
The Jerk (1979)
Jesus Christ Superstar (1973)
Jetsons: The Movie (1990)
Joe Dakota (1957)
Joe Kidd (1972)
Johnny English (2003)
Josie And The Pussycats (2001; with MGM)
Judgment Night (1993)
Julia's Eyes (2010)
Jungle Fever (1991)
Jungle Queen (1945)
Junior (1994)
Jurassic Park (all films co-produced with Amblin Entertainment)
K-9 (1989)
Kathy O' (1958)
Kick-Ass (2010; with Lionsgate)
Kicking & Screaming (2005)
The Killers (1946)
The Killers (1964) (1964)
Kindergarten Cop (1990)
The Kingdom (2007)
The King of Staten Island (2020)
King Kong (2005)
King Kong Escapes (1967; US distributor)
King Kong vs. Godzilla (1962; US distributor)
King Ralph (1991)
A Kiss Before Dying (1991)
Kissing A Fool (1998)
Kitten with a Whip (1964)
Knock at the Cabin (2023)
Knocked Up (2007)
K-PAX (2001)
Krampus (2015)
Kuffs (1992)
Kull the Conqueror (1997)
The first four Laika films (under Focus Features, distribution rights since expired)
The Land Before Time series (1988, 1994-98, 2000-03, 2005-07, 2016)
Land of the Dead (2005)
Land of the Lost (2009)
Larry Crowne (2011)
Last Christmas (2019)
The Last Movie (1971)
Last Night in Soho (2021; international distribution)
The Last Starfighter (1984; with Lorimar)
The Last Sunset (1961)
Leap Year (2010)
Leatherheads (2008)
The Legacy (1978)
Legend (1985; with 20th Century Fox)
Let's Go to Prison (2006)
Letter from an Unknown Woman (1948)
Liar Liar (1997; with Imagine Entertainment)
Licorice Pizza (2021; international distribution)
Life (1999)
The Life of David Gale (2003)
Lionheart (1990)
Little (2019)
The Little Rascals (1994)
The Loft (2014)
Lonely Are the Brave (1962)
The Lonely Guy (1984)
The Lonely Lady (1983)
Lonesome (1928)
Lone Survivor (2013; distribution in US, UK, and Italy)
Lorenzo's Oil (1992)
Loro (2018)
Lost City of the Jungle (1946)
Lost in Translation (2003)
Louisa (1950)
Love Actually (2003)
Love Before Breakfast (1936)
Love Happens (2009)
Lover Come Back (1961)
Lucy (2014)
M3GAN (2023)
Ma (2019)
MacGruber (2010)
Magnificent Obsession (1954)
Major Payne (1995)
Mama (2013)
Mamma Mia! (2008)
Man of a Thousand Faces (1957)
Man of Tai Chi (2013)
Man of the Year (2006)
Man on the Moon (1999)
Man's Favorite Sport? (1964)
The Man with the Iron Fists (2012)
Marnie (1964)
Marry Me (2022)
Mary, Queen of Scots (1971) (1971)
Mask (1985)
Master and Commander (2003; with 20th Century Fox and Miramax)
Matinee (1993)
Meet Joe Black (1998)
Meet the Parents (2000; with DreamWorks)
Mental (2012)
Mercury Rising (1998)
Miami Vice (2006)
Mickey Blue Eyes (1999; international distribution)
Midnight Lace (1960)
Midnight Run (1988)
Midway (1976)
The Milagro Beanfield War (1988)
Milk (2008; under Focus Features)
Mirage (1965)
Les Misérables (2012)
Missing (1982)
Mo' Better Blues (1990)
Mobsters (1991)
The Money Pit (1986)
Monster High (with Mattel)
Moon over Parador (1988)
Mortal Engines (2018)
Mr. Baseball (1992)
Mr. Bean's Holiday (2007)
Mr. Peabody and the Mermaid (1948)
Mulholland Dr. (2001)
The Mummy Trilogy (third film co-produced by Relativity Media)
Munich (2005; with DreamWorks SKG and Alliance Films)
The Munsters (2022)
Music (2021, with DreamWorks SKG)
The Musketeer (2001; with Miramax Films)
Muta Fukaz (2017; U.S. Home Video rights only)
My Big Fat Greek Wedding 2 (2016)
My Little Eye (2002; under Focus Features)
My Man Godfrey (1936)
My Name Is Nobody (1973)
The Mysterious Mr. M (1946)
Mystery Men (1999)
The Naked City (1948)
Nanny McPhee (2005)
Neighbors (2014)
Nekrotronic (2018; US only)
News of the World (2020) (2020; US distribution)
Night School (2018)
Nighthawks (1981)
Nightmares (1983)
'night, Mother (1986)
The Night Walker (1964)
Nobody (2021)
No Name on the Bullet (1959)
Non-Stop (2014; US distribution)
Nope (2022)
North Sea Hijack (1980)
No Time to Die (2021)
Notting Hill (1999)
The Nutty Professor (1996)
O Brother, Where Art Thou? (2000; with Touchstone Pictures)
Oblivion (2013)
October Sky (1999)
Odd Man Out (1947)
Old (2021)
One Touch of Venus (1948)
On Golden Pond (1981; licensing rights managed by Lionsgate)
One True Thing (1998)
Operation Petticoat (1959)
Oppenheimer (2023)
Ouija (2014)
Out of Africa (1985; Academy Award, Best Picture of 1985)
Out of Sight (1998)
Pacific Rim: Uprising (2018; with Legendary Pictures and Warner Bros., domestic distribution only)
The Paper (1994)
Parenthood (1989)
The Parole Officer (2001)
The Passionate Friends (1949; US distributor)
Patch Adams (1998)
Paul (2011)
The People Under the Stairs (1991)
The Perfect Man (2005)
Peter Pan (2003)
The Phantom of the Opera (1925)
Phantom Thread (2017; Under Focus Features)
Pillow Talk (1959)
Pitch Perfect (2012 and its sequels (2015, 2017)
Play Misty for Me (1971)
Polly Pocket (2003, 2005-06; with Mattel)
The Post (2017; international distribution)
Pride & Prejudice (2005; international distribution)
Prince of Darkness (1987; with Carolco Pictures)
Primary Colors (1998)
Prime (2005, with Focus Features)
Private School (1983)
Privilege (1967)
The Problem Child movies (1990-91, 1995)
The Producers (2005)
The Projected Man (1966)
Psycho (distribution rights to the original 1960 film inherited from Paramount; also distributed the 1998 remake)
Public Enemies (2009)
Pure Luck (1991)
Quantez (1957)
Queen & Slim (2019)
The Quest (1996)
The Radioland Murders (1994)
Raising Cain (1992)
Ratchet & Clank (2016; under Focus Features)
Ray (2004)
Reality Bites (1994)
Red Dragon (2002)
Reign of the Gargoyles (2007)
The Relic (1997; international distribution)
The Reluctant Astronaut (1967)
Renfield (2023)
Repo Man (1984)
Repo Men (2010)
Revenge (2017)
Ride a Crooked Trail (1958)
Ride Along (2014)
Ride Clear of Diablo (1954)
Ride the Pink Horse (1947)
Ride with the Devil (1999)
Righteous Kill (2008)
R.I.P.D. (2013)
The River (1984)
The River Wild (1994)
Robin Hood (2010)
Role Models (2008)
Rollercoaster (1977)
Rooster Cogburn (1975)
Rumble Fish (1983)
The Rundown (2003; aka Welcome to the Jungle, done with Columbia Pictures)
Rush (2013; with Imagine Entertainment)
Saboteur (1942)
Safe House (2012)
Sanctum (2011)
Savages (2012)
The Secret of My Success (1987)
Scarface (1983)
Scarlet Street (1945)
Scent of a Woman (1992)
Schindler's List (1993)
Scott Pilgrim vs. The World (2010)
Screwed (2000)
Seabiscuit (2003; US distribution)
Sea of Love (1989)
Secret Beyond the Door... (1947)
The Senator Was Indiscreet (1947)
The Sentinel (1977) (1977)
Serenity (2005)note
Seven in Heaven (2018)
The Seven-Per-Cent Solution (1976)
Seventh Son (2014; with Legendary Pictures)
Seven Ways from Sundown (1960)
Sgt. Bilko (1996)
The Shadow (1994)
Shadow of a Doubt (1943)
Shakespeare in Love (1998; with Miramax Films)
The Shakiest Gun in the West (1968)
She-Wolf of London (1946)
Shenandoah (1965)
The Shrike (1955)
Show Boat (1929 and 1936 adaptations; rights purchased by MGM to produce a remake; now owned by Warner Bros./Turner)
Silent Running (1972)
A Simple Wish (1997)
Sisters (2015)
Sixteen Candles (1984)
The Skeleton Key (2005)
The Skulls (2000)
Skyline (2010)
Skyscraper (2018)
Slap Shot (1977) and its sequels (2002, 2008)
Slash (2002) (Brazil and Germany only)
Sleepers (1996; international distribution)
Slither (2006)
Small Soldiers (1998; with DreamWorks and Amblin Entertainment)
Smokey and the Bandit (1977) and its sequels (1980, 1983)
Smokin' Aces (2006; outside the UK and France)
Sneakers (1992)
Snow Falling on Cedars (1999)
The Snowman (2017)
Snow White & the Huntsman (2012)
The Soloist (2009; outside the US and France)
Somewhere in Time (1980)
Song of the Sea (2014; US home video distributor with GKids)
Sophie's Choice (1982)
Spartacus (1960)
Splitting Heirs (1993)
The Spoilers (1942)
Spy Game (2001)
Sssssss (1973)
State of Play (2009; outside France)
Stephanie (2017)
Steve Jobs (2015)
The Sting (1973)
Stop! Or My Mom Will Shoot (1992)
Straight Outta Compton (2015)
Strange Bedfellows (1965)
The Strange Door (1951)
Strays (2023)
Street Fighter (1994; USA and Canada distribution only; produced by Capcom)
Streets of Fire (1984)
Stroker Ace (1983)
Sudden Death (1995)
The Sugarland Express (1974)
Swashbuckler (1976)
Sweet Charity (1969)
Sweetheart (2019)
Sweet Liberty (1986)
Sydney White (2007)
The Tale of Despereaux (2008)
Tales from the Hood 2 (2018)
Tank (1984)
The Tattered Dress (1957; distribution)
Tender Mercies (1983; US theatrical distribution only; produced by EMI Films)
That Certain Age (1938)
That Old Feeling (1997)
That Touch of Mink (1962)
The Theory of Everything (2014; international distribution)
The Time Of Their Lives (1946)
They Live! (1988; with Carolco)
They Might Be Giants (1971)
This Is 40 (2012)
This Island Earth (1955)
Thoroughly Modern Millie (1967)
The Three Flavours Cornetto Trilogy films:
Three O'Clock High (1987)
Three Smart Girls (1936)
Thunderbirds (2004)
Thunder on the Hill (1951)
Ticket to Paradise (2022)
Timecop (1994)
Tobruk (1967)
To Hell and Back (1955)
To Kill a Mockingbird (1962)
Too Soon to Love (1960)
Topaz (1969)
Torn Curtain (1966)
Touch of Evil (1958)
Tower Heist (2011)
Tower of London (1939)
Traffic in Souls (1913)
Trainwreck (2015)
True Lies (1994; international distribution)
The Truth About Charlie (2002)
Truth or Dare (2018)
The Turning (2020; with Dreamworks and Amblin Entertainment)
Tumbleweed (1953)
Twins (1988)
Twister (1996; with Warner Bros.)
Two Brothers (2004)
Two-Lane Blacktop (1971)
Two-Minute Warning (1976)
Two Mules for Sister Sara (1970)
U571 (2000)
The Unborn (2009)
Unbroken (2014)
Uncle Buck (1989)
Undercover Brother (2002)
Unfriended (2014)
United 93 (2006; US distribution)
Us (2019)
Vampires vs. the Bronx (2020)
Van Helsing (2004)
Vertigo (1958; originally distributed by Paramount, the film's rights were acquired by Universal in 1983)
Videodrome (1983)
Village of the Damned (1995)
Violent Night (2022)
Virus (1999)
Visions (2015)
The Visit (2015)
A Walk Among the Tombstones (2014)
Wanderlust (2012)
Wanted (2008)
The War (1994)
Warcraft (2016)
The War Lord (1965)
The War Wagon (1967)
Waterloo Bridge (1931; film purchased by MGM to produce a remake in 1940. Rights now owned by Warner Bros./Turner)
The Watcher (2000)
Waterworld (1995)
Weird Science (1985)
Welcome to Marwen (2018; with Dreamworks)
Werewolf of London (1935)
Wet Hot American Summer (2001)
We've Never Been Licked (1943)
Where Are My Children? (1916)
Where the Buffalo Roam (1980)
White Noise (2005)
The Wicked Lady (1945)
Wild Child (2008)
Wimbledon (2004; with Dimension Films)
Winchester '73 (1950)
Witching & Bitching (2013)
The Wizard (1989)
The Wolf Man (1941)
The Wolf of Wall Street (2013; outside the U.S. and Japan)
Woman on the Run (1950)
Woody Woodpecker (2017)
Wrath of Man (2021; distribution in Mexico and Brazil only)
Written on the Wind (1956)
Xanadu (1980)
Yesterday (2019)
You, Me and Dupree (2006)
You Should Have Left (2020)
Your Highness (2011)
Zero Dark Thirty (2012; with Columbia Pictures. Distributor in all regions except the U.S. and Canada)
Zoot Suit (1981)
<!—/index—>
TV series and specials produced by Universal Television (and predecessors Revue Studios/MCA Television/NBC Productions)
<!—index—>
Ryan Seacrest
Productions, Jack Orman Productions and Adi TV Studios)
<!—/index—>
TV series produced by Universal Content Productions
<!—index—>
Animated Series and shorts produced by Universal Cartoon/Animation Studios
<!—index—>
---