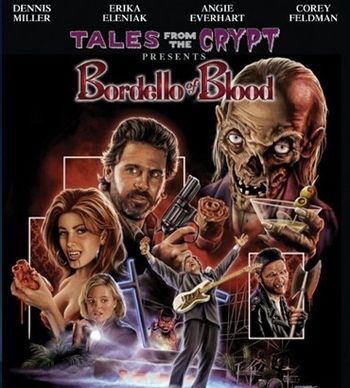 Bordello of Blood is the second film based on Tales from the Crypt, following Demon Knight. Starring Dennis Miller, Angie Everhart, Erika Eleniak, Chris Sarandon, and Corey Feldman, the movie tells the story of Rafe Guttman (Miller), a very snarky private eye who's called in by Catherine Verdoux (Eleniak) to find her rebellious brother Caleb (Feldman), who went missing after storming out of their house following an argument.
Rafe's investigation leads him to a whorehouse/mortuary run by McCutcheon (Aubrey Morris). Further investigation leads our wisecracking hero to discover that the brothel/mortuary is inhabited by vampires led by Lilith (Everhart). Turns out Lilith was resurrected by Catherine's boss, televangelist Reverend Jimmy "J.C." Current (Sarandon), so he could rid the world of sin, but Lilith's got her own agenda. Now it falls to Rafe and Catherine to save the world before Lilith and her sexy vamps overrun it.
---
Bordello of Tropes:
Half the Man He Used to Be: One of Lilith's minions is hit with holy water in the torso. Both parts survive for a bit (the legs can be seen stumbling off while the upper body of the woman manages to drag herself to Reverend Current before dying).

Lilith also gets this via an ax, but Rafe doesn't cut deep enough and she simply attaches the cut part back to her body like putty.

Head-Tiltingly Kinky: McCutcheon is one weird motherfucker.

He even plays with the nipples of a fat female corpse.

Heel–Face Turn: Reverend Current had Lilith resurrected so he could have her cleanse the world of sin, but when she turns on him, he realizes how badly he screwed up and resolves to help Rafe put an end to Lilith.
No-Sell: Rafe is one of the few who can withstand Lilith's charms. Lilith notices he's a "special one" after tasting his blood.
---