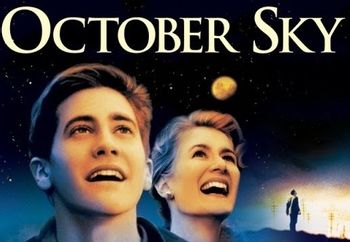 October Sky is a 1999 film directed by Joe Johnston, starring Jake Gyllenhaal, Laura Dern, and Chris Cooper. It was adapted from Homer Hickam Jr.'s autobiography Rocket Boys.
Set in 1957, the film follows young Homer (Gyllenhaal) in the mining town of Coalwood, West Virgina, where almost every man works in the mine. After seeing the Sputnik satellite pass over the town while in orbit, Homer becomes inspired to seek a career in rocketry, and leave the town for a new life. He plans to showcase his homemade rockets at the local science fair, though the townsfolk believe he has no chance of succeeding.
Despite this, Homer teams up with the school geek and fellow rocket enthusiast Quentin Wilson (Chris Owen), and recruits two of his friends into helping him. Though they fail at their first few attempts, they make several successful launches after experimenting with the fuel and rocket design. However, they run into problems with the law when it is believed that one of their rockets landed astray and caused a nearby forest fire, causing them to be disqualified from the science fair. As if this weren't bad enough, Homer's father John (Cooper) is injured in a mining accident, and now Homer must leave school and take up the work in order to support the family, leaving him with no time to help prove that the forest fire was not their fault.
However, the boys' science teacher Ms. Riley (Dern) has a firm belief in what they're doing, and gives Homer a book on rocket science, from which Homer teaches himself how to calculate a rocket's trajectory, allowing him to find their own rocket and prove the group's innocence.
They enter their rockets in the local science fair and win first place, allowing them to move on to national science fair in Indianapolis. Only Homer attends, because of the school's limited funding. Their display wins there as well with flying colors, as Homer receives countless scholarship offers before returning to Coalwood as a hero.
---
This movie provides examples of:
---