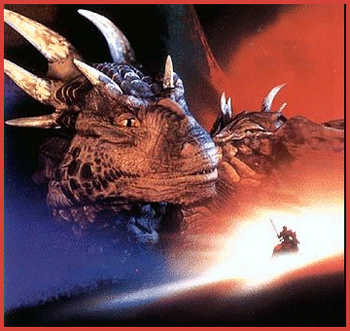 "A knight is sworn to valor.
His heart knows only virtue.
His blade defends the helpless.
His might upholds the weak.
His word speaks only truth.
His wrath undoes the wicked!"
Dragonheart is a 1996 medieval fantasy movie starring Dennis Quaid, David Thewlis, Pete Postlethwaite, Jason Isaacs, Dina Meyer, and, most famously, the voice of Sean Connery.
Quaid plays Bowen, a knight in 10th Century (Saxon) England who is one of the few left who adheres to the "Old Code" of King Arthur and the Knights of the Round Table. Bowen is the teacher and mentor to a young prince named Einon. During a peasant uprising, the King is killed in battle and the prince is injured. Bowen takes the boy to his mother, who strikes a deal with an intelligent dragon (Sean Connery) to perform an ancient ritual, which will give the prince his life back. A few weeks later as Einon assumes his role as the new King, Bowen realizes that Einon is cruel and sadistic, more than the previous King. Disillusioned, Bowen believes that the dragonheart corrupted Einon and sets out to hunt down and kill every last dragon.
After many a year of dragonslaying, Bowen comes across the one who performed the dragonheart ritual, though he doesn't recognize him. They fight to a standstill and decide to strike a partnership instead of killing each other. The dragon harasses towns and Bowen will pretend to kill him. The dragon doesn't have to worry about actual slayers and Bowen makes a living hustling the villagers.
Bowen eventually gives the dragon a name, Draco, after the dragon constellation. His time with Draco reminds him of how far he has gone away from the Old Code, and he realizes that Einon was always evil. Both Bowen and Draco believed their influence could change him but they were wrong. They then decide to encourage another peasant uprising to bring down Einon. With Bowen as a leader and with Draco as the muscle, they believe they can succeed. What no one expected was that Draco and Einon's fates are linked together through the dragonheart.
The movie was one of the first after Jurassic Park to feature such extensive CGI, but more advanced in the aspect of CGI being used to portray a main character interacting with live actors. Draco was a living, breathing character of his own and Sean Connery's voice gave him added weight.
Critics were ho-hum about the film, but many moviegoers enjoyed it. Criticisms seemed to be more on the non-Draco production values, compared to epics like Braveheart, showing a few dozen people fighting a battle in a crowded forest didn't give quite the same spectacle (never mind the fact that armies in the dark ages tended to not be much larger than a few dozen men). Also, the humor was sometimes slapstick and at other times anachronistic, with the monk character Gilbert quoting from the 16th century King James Bible.
The head screenwriter, Charles Edward Pogue, published a novelization of the story which expanded somewhat on the characters, events, and world.
Four years after the film's release, Universal Pictures released a direct-to-video Lighter and Softer sequel. After a 15-year hiatus, the first direct-to-video prequel to the original film was released. Since then, there have been another two prequels.
---
This franchise includes:
Films
Dragonheart (1996)
Dragonheart: A New Beginning (2000)
Dragonheart: The Sorcerer's Curse (2015)
Dragonheart: Battle for the Heartfire (2017)
Dragonheart: Vengeance (2020)
Novels
Video games
Dragonheart: Fire & Steel (1996)
These movies provide examples of:
open/close all folders
All films
Dragonheart (1996)
Dragonheart: A New Beginning (2000)
Dragonheart 3: The Sorcerer's Curse (2015)
Dragonheart: Battle for the Heartfire (2017)
Dragonheart: Vengeance (2020)
Hidden Villain:

King Razvan, who has been using the mercenaries to kill his own people to cope with a crop shortage

.
---