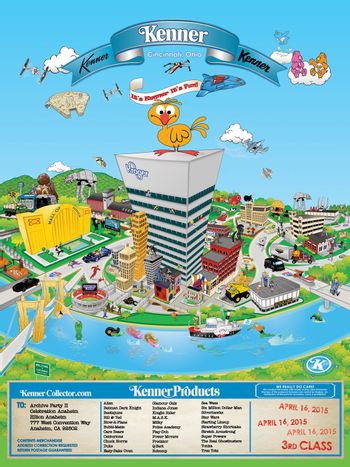 "It's Kenner! It's fun!"
Kenner Products was a Cincinnati-based toy company that was formed in 1947 and absorbed by its eventual owner, Hasbro, at the Turn of the Millennium. During its 50+ years of existence, Kenner became one of the leading toy manufacturers in the world.
Kenner first became famous for successful toy lines such as the Easy Bake Oven, Give-a-Show Projector and Spirograph. It was bought by General Mills in 1967. In The '70s, it got into licensed action figures with The Six Million Dollar Man and The Bionic Woman; during this time it also added Play-Doh to its holdings (General Mills had owned that brand since 1965). Stretch Armstrong, a gel-filled figure with stretching limbs, was also popular. While all these lines did well, they were mere preludes for the franchise that really made Kenner: Star Wars, an unexpected smash hit that propelled Kenner into the front ranks of the toy industry.
Star Wars' blockbuster success enabled Kenner to get more big licenses, such as DC Comicsnote Considering they thought Jack Kirby's New Gods characters like Darkseid were perfect for the Super Powers toyline, they were the ones to finally give the underappreciated comic artist the first direct royalties he ever earned for his creations when he was commissioned to design their action figures. The young George Pérez got the same treatment when he designed the action figure for Cyborg and Indiana Jones. The firm's later action figure successes included The Real Ghostbusters, Gargoyles and Jurassic Park, as well as its own creation M.A.S.K.. Other original lines that sold well included NERF Brand and Littlest Pet Shop, both of which continue today. By 1985, General Mills spun off Kenner and Parker Bros into their own company, Kenner-Parker Toys, which was then acquired by Tonka in 1987, forming Kenner Parker Tonka; this gestalt toy company was then acquired by Hasbro in 1991. Kenner continued as a semi-separate division until 2000, when Hasbro, facing financial issues, closed Kenner and their Cincinnati facility for good.
Hasbro occasionally revives the Kenner name for select releases from long-running lines such as Star Wars, The Real Ghostbusters and Marvel Legends.
Franchises created by Kenner:
<!—index—>
Series created as a subsidiary of Hasbro:
<!—index—>
<!—/index—>
Works that Kenner created toys for:
<!—index—>
<!—/index—>
---