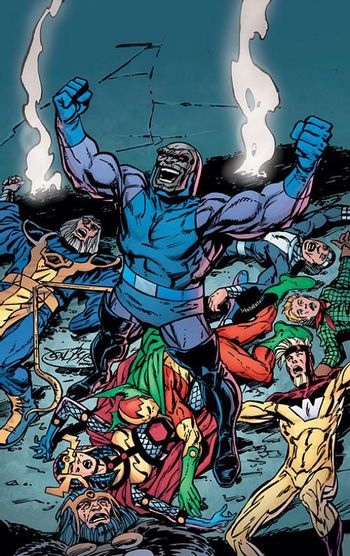 "I am the Revelation! The Tiger-Force at the core of all things! When you cry out in your dreams — it is Darkseid that you see!"
—Darkseid, The Forever People Vol. 1 #3
The Dread Lord of Apokolips.
The Ultimate Big Bad of the DC Universe.
The God of Evil.

None can even begin to describe Darkseid — Darkseid IS.
Darkseid was created by Jack Kirby and later used by Legion of Super-Heroes writer Paul Levitz, in The Great Darkness Saga. Darkseid (pronounced "dark-side") stands tall among the New Gods, ruling dread Apokolips as he wages a constant war for control of the universe and possession of the Anti-Life Equation, which will allow him to either conquer the universe or destroy it, Depending on the Writer.
He first appeared in Superman's Pal, Jimmy Olsen #134 (December, 1970) and later in New Gods and related titles. He was a character within the Fourth World, a Jack Kirby sub-universe of the DC Universe that was originally supposed to be self-contained and finite. Executive Meddling prevented the conclusion that Kirby originally intended, which would have killed most of the New Gods and ended their storylines, and Darkseid was drafted into the DCU at large along with the rest of the New Gods. In popular culture, Darkseid hit the big time in the 1980s when the toy company, Kenner, decided he was perfect for their Super Powers action figure line as the product line's Big Bad who was effectively Darth Vader and Emperor Palpatine in one as a believable challenge for even Superman.
Darkseid has served as the Big Bad for numerous DCU heroes and titles in the decades since his first appearance. Since Jack Kirby was never able to introduce the conclusion to the New Gods that he originally wanted, Darkseid has often drifted without clearly defined goals and roles within the DCU, and at times this results in rather drastic Badass Decay when authors try to fit him into stories for which he was not originally intended. This led writer Grant Morrison to put an end of it in Final Crisis — a Crisis Crossover in which Darkseid not only regains his badassery and motives, but even manages to Take A Level In Badass and become a God of Evil, who's been killing entire Universes just by existing.
Appearances in other media:
Darkseid has been featured in several works outside comics, primarily serving as an opponent to Superman while continuing his search for the Anti-Life Equation.
open/close all folders
Western Animation
Live-Action Television
Smallville, which featured the first live-action depiction of the character as the Big Bad of Season 10. He never appeared in person, but did possess the body of Lionel Luthor, portrayed by John Glover.
In the last episode of Season 2 of Krypton, Nyssa-Vex spots an Omega symbol on a tree while epxloring the planet Rann. The series has been cancelled since.
Live-Action Film
DC Extended Universe:

Batman v Superman: Dawn of Justice: A giant omega symbol is seen in Batman's Bad Future nightmare. Lex Luthor learns of his existence from the Kryptonian archives, and becomes terrified that he now knows of Earth.
In Justice League, the movie's antagonist, Steppenwolf, mentions Darkseid, and he is beamed back to Apokolips with a Boom Tube, presumably Darkseid's doing.
Darkseid will eventually make his first film appearance in Zack Snyder's Justice League, the Director's Cut of the above film. He is voiced by Ray Porter.
A New Gods movie project is in development.
Video Games
---
Darkseid provides examples of:
---
Waldorf

: So I hear this guy is always looking for the Anti-Life Equation.

Statler

: He sure came to the right place. Nobody has a life around here!

Both

: Do-ho-ho-ho-hoh!

Darkseid

:

You DARE MOCK ME?!

DIE!

Both

: Ho-ho-

OH CRAP!