Superman Main Character Index
Title Character
Clark Kent/Kal-El/Superman
Supporting Cast
Lois Lane | Jimmy Olsen | Ambush Bug | Steel
Villains
Central Rogues Gallery (Alexander "Lex" Luthor, Bizarro, Vril Dox/Brainiac, Cyborg-Superman, Darkseid, Doomsday, Lobo, Mister Mxyzptlk, Mongul, Phantom Zone Criminals [General Zod]) | A-L | M-Z (Superboy-Prime)
Spin-Offs
Supergirl (Kara Zor-El/Linda Danvers/Supergirl, Supporting Cast, Rogues Gallery) | Power Girl | Superboy (Conner Kent/Kon-El, Jonathan "Jon" Samuel Kent, Supporting Cast, Rogues Gallery) | Legion Of Superheroes (The Founders, Silver Age, Bronze Age, Five Years Later, Postboot, Threeboot, Retroboot, Rebirth, Other Heroes, The Fatal Five, The Legion of Supervillains, Other Villains, Supporting Cast)
---
Darkseid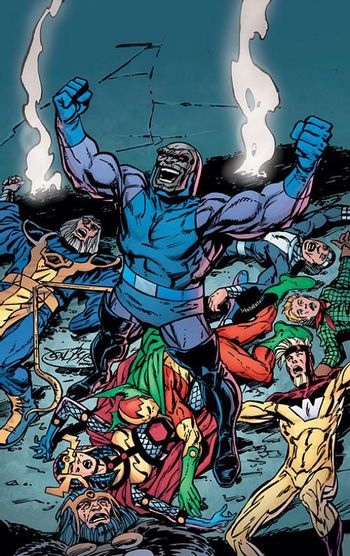 Alter ego: Uxas
Species: New God
"I am the Revelation! The Tiger-Force at the core of all things! When you cry out in your dreams — it is Darkseid that you see!"
—Darkseid, The Forever People Vol. 1 #3
The Dreaded Lord of Apokolips.
The Ultimate Big Bad of the DC Universe.
The God of Evil.

None can even begin to describe Darkseid — Darkseid IS.
Created by Jack Kirby, Darkseid (pronounced "dark-side") stands tall among the New Gods, ruling dread Apokolips as he wages a constant war for control of the universe and possession of the Anti-Life Equation, which will allow him to either conquer the universe or destroy it (or both), Depending on the Writer.
He first appeared in Superman's Pal, Jimmy Olsen #134 (December, 1970) and later in New Gods and related titles. He was a character within the Fourth World, a Jack Kirby sub-universe of the DC Universe that was originally supposed to be self-contained and finite. Executive Meddling prevented the conclusion that Kirby originally intended, which would have killed most of the New Gods and ended their storylines, and Darkseid was drafted into the DCU at large along with the rest of the New Gods, with his first major usage being in the Legion of Super-Heroes storyline The Great Darkness Saga, written by Paul Levitz.
In popular culture, Darkseid hit the big time in the 1980s when the toy company, Kenner, decided he was perfect for their Super Powers action figure line as the product line's Big Bad who was effectively Darth Vader and Emperor Palpatine in one as a believable challenge for even Superman.
Darkseid has served as the Big Bad for numerous DCU heroes and titles in the decades since his first appearance. Since Jack Kirby was never able to introduce the conclusion to the New Gods that he originally wanted, Darkseid has often drifted without clearly defined goals and roles within the DCU, and at times this results in rather drastic Badass Decay when authors try to fit him into stories for which he was not originally intended. This led writer Grant Morrison to put an end to it in Final Crisis — a Crisis Crossover in which Darkseid not only regains his badassery and motives, but even manages to Take A Level In Badass and become a God of Evil, who's been killing entire Universes just by existing.
For his Self-Demonstrating Article, go here.
---
Appearances in other media:
Darkseid has been featured in several works outside comics, primarily serving as an opponent to Superman and more recently to the Justice League, while continuing his search for the Anti-Life Equation.
open/close all folders
Western Animation
Live-Action Television
Live-Action Film
Video Games
Darkseid provides examples of:
A-F
G-L
Galactic Conqueror: Across countless worlds, for countless eons, not a voice is raised in hope or joy. Across these worlds, these infinite lands throughout the cosmos, there is only Darkseid.
I Gave My Word: In the Marvel Versus DC crossover, he and Thanos both will keep the literal word of any agreement, but they are not above violating the spirit of an agreement. This is common for supervillains who want to appear to have some degree of honor to set themselves above others but can twist it to still be villains. So even if they give their word you cannot trust them.
Genius Bruiser: Darkseid considers himself above physical combat, preferring to let his minions or Omega Beams do the dirty work. Get too close to him, however, and Darkseid is only too happy to deliver a Curb-Stomp Battle.
Glowing Eyes of Doom: It's not enough that Darkseid's eyes are red, but they're always glowing and there's a wisp of steam stemming from them anytime he's either enraged or is about to engage in battle. And considering what the Omega Beams are capable of, well...
Go-Karting with Bowser: Amusingly, Darkseid has this relationship with Ambush Bug, to the point where he sees Ambush Bug as the only individual whom he is able to have some leisurely fun with that has nothing to do with tyranny or sadism. Heck, try to imagine Darkseid performing karaoke with Ambush Bug.
Goal in Life: The Anti-Life Equation is his life's ambition and Darkseid would not rest nor compromise until he finally obtains it and succeeds in eradicating free will.
A God Am I: Rather justified, as he's one of the New Gods that arose after the destruction of the Old Gods in Ragnarok. Darkseid takes it even further. It's not enough that he's a god, he considers himself to be the God.
God Couple: Par for the course among the New Gods; however, he also tried to hook up with Dark Phoenix.
God-Emperor: He's a God of Tyranny and governs a planet that is DC's equivalent to Hell. Apokolips is essentially a hellish kingdom and it's populace worship and revere Darkseid as their gracious ruler.
God of Evil: More specifically, the God of Tyranny. By virtue of being the ruler on a planet incarnating evil. His father on the other hand was the genuine article.
Gods Need Prayer Badly: In Forever Evil (2013), the mudfarmer Uxas discovers that this is the source of power of the Old Gods.
God of Gods: It's often forgotten that nearly all of Darkseid's senior minions and citizens — Desaad, Granny Goodness and the rest — are all technically gods in their own right, being members of the New Gods race. Darkseid however has made himself God unto even them, and can back it up too as he possesses far greater strength and power, with a chasm of difference between him and whoever his nearest rival would be.
Godzilla Threshold: He obliterates that line merely by existing.
Gone Horribly Right: Darkseid's mother Heggra wanted him to be an evil bastard that would rule Apokolips with an iron fist. When Darkseid fell in love with the kind-hearted scientist Suli, Heggra realized her influence was turning him into a nicer person, so she had Desaad kill Suli with poison. As a result, Darkseid arranged for her to be poisoned by Desaad as well and went on the path that would make him the monster he is today.
Greater-Scope Villain: He has become eventually this to all of the DC Universe.
"Groundhog Day" Loop: Played for Horror; this is essentially what the Omega Sanction does to those who are dragged into it via a hit from an Omega Beam. One would wake up to an ideal world, but eventually, they come to realize something is wrong with it before misfortune continues to build up before the affected is subjected to a Cruel and Unusual Death and the process is repeated with continuously worse results over time.
Hand Blast: He wields a weaponized glove named the "Killing Glove". Designed by Desaad, it allows Darkseid to project and fire energy blasts from his fingers onto his opponents.
Happily Married: Darkseid's wife, Suli was the one being that he truly loved, and it was to the extent where her affection was the one thing that could overcome Darkseid's evil. This trope was the reason why Heggra conspired to have Suli killed as she felt that her love for Darkseid was making him weak. Once Suli died, Darkseid conspired back to kill Heggra, cementing his permanent stance in being the God of Tyranny. And while Kalibak is not well treated, Darkseid keeps him around as he is the last physical reminder of the love he had with Suli.
Happiness in Slavery: Most of Darkseid's subjects revere him so much that they honestly don't care about the crap he puts them through every single day. The others are (quite rightly) too scared to do anything about it. Superman underestimated this once when he physically defeated Darkseid only to see his slaves rescue him. Probably less happiness in slavery than dependence in slavery. Happiness has no place in the world of Darkseid; indeed he goes out of his way to make everyone as miserable as possible. The citizens of Apokolips have more of an extreme version of Stockholm Syndrome; they are no longer capable of functioning without Darkseid's dominance.
Hated by All: With the exception of his followers who are too emotionally and mentally crippled to stand up against him and only a few equally evil villains who either look up to him or see him as an ally for their own ends, everybody, hero and villain included, either despise and/or is afraid of Darkseid. Considering the inhumane treatment of his followers and subjects, his goals of wanting to eradicate individuality, his being willing to destroy planets if necessary, and his callous sociopathy towards every living being, it's not hard to see how Darkseid is among the most infamous being in the DC Universe, with the only notable competition he has in this department being The Joker. Put it in this perspective; Superman has nothing but outright contempt and scorn towards Darkseid, seeing him as his most hated enemy and arguably his top Arch-Enemy, was it not for Lex Luthor's persistence.
Hates Everyone Equally: Darkseid despises every single living being in existence, no questions asked. The fact that they have individuality disgusts him and this drives him to further his cruelty and desire to take away free will. The only exception to this rule is his first wife, Suli, who's long since been dead, and, to a much lesser degree, Orion, whom Darkseid sees as a Worthy Opponent at most.
Hell Invades Heaven: After countless years of being in endless warfare against them, Darkseid's Apokoliptian forces finally invade New Genesis in Final Crisis and although he comes out victorious, he's left dying. Not wanting individuality to remain after his death, Darkseid decides to destroy the multiverse in response.

Darkseid: "There was a war in Heaven, Mister Turpin, and I won."

Hero Killer: Has killed countless numbers of unimaginably powerful beings, we just aren't privy to most of them.
A Hero to His Hometown: A morbidly twisted and dark example; most of the denizens of Apokolips are tortured and mentally emancipated slaves due to the horrors that Darkseid subjects them to, but they still somehow revere and worship him as their patron deity.
Hidden Depths: One of his concubines sees an inherent sadness in Darkseid, which he acknowledges grimly. He then vaporizes her because no one may know of any weakness in him.
Homing Lasers: His Omega Beams. They Robotech as absurdly as they do (frequently bending away from the target only to circle back later) just so Darkseid can make the point that they hit whatever he wants them to hit and you can't do anything about it.
Hope Crusher: As a Lord of Tyranny, Darkseid makes a point to make as much effort as he can to crush the hopes and spirits of everyone he comes across to further instill his misery and force them to submit to the meaninglessness of life. Part of the reason he desires the Anti-Life Equation is that it would allow him to spread the destruction of hope and expectations on a multiversal scale.

A more direct example occurs in Superman/Supergirl: Maelstrom where Maelstrom, one of Darkseid's elite fighters believes that she can destroy Superman's spirit by killing Supergirl. Darkseid allows her to carry on, with the award that her being successful would make her the God of Tyranny's eternal slave, or eternal banishment if she fails. Shortly after, Desaad asks Darkseid why he is entertaining Maelstrom's delusions, Darkseid explains he cannot properly destroy her hopes if she is not hoping for anything.

Desaad: I apologize, master, but my curiosity is piqued, and I cannot fathom why you would entertain that woman's desires.

Darkseid: I wouldn't expect a lowly dog as yourself to comprehend my reasons for doing anything.

Desaad: I beg for enlightenment on this particular matter. To give her false hope...

Darkseid: Only to see it crushed? Maelstrom will fail in her quest and that will cause her more pain and suffering than any torture device you could imagine.

Horrifying the Horror: He's on both ends of the trope; his presence and reputation terrifies everyone, hero or villain and Darkseid is all to happy to enforce that.
Humanoid Abomination: He is revealed to be this from Final Crisis onward. The Darkseid from the Post-Crisis timeline and even back in Pre-Crisis is just an avatar projected by the true Darkseid that dwells in Fourth World, who is anthropomorphized energy being who cannot leave his realm unless the sheer evil and power he possesses jeopardizes the entire multiverse.
I Lied: If you're stupid enough to trust him, he might pull this. He'll usually follow his word, if he feels like it, but don't count on it working any better than an outright betrayal.
Immortality: As a New God, Darkseid is immortal and has an extended lifespan which allows him to exist indefinitely.
In the Blood: This arguably applies not just to him, but the entire population of Apokolips. Most noticeable is Orion, who without the Mother Box exhibits his father's Ax-Crazy nature, but not his self-control.
In Their Own Image: One of the reasons he desires the Anti-Life Equation is that, in addition to robbing everyone of their individuality, Darkseid would be free to do whatever he likes and mold the multiverse to his liking without any opposition, in addition to enslaving everyone into blindly worshipping him.
Inadequate Inheritor: He doesn't seem to think any of his lieutenants are worthy of ruling his empire once he's gone — especially not his son, Kalibak.
Individuality Is Illegal: Live for Anti-Life. Die for Darkseid.
Informed Attribute: He's said a few times to be the DCU's ultimate villain both in-universe and out. This continued even after Superman thrashed him several times solo (most notably in Apokolips Now!), with other characters like Doomsday occasionally doing the same thing, and after big threats like the Anti-Monitor, Imperiex, Brainiac 13, Superboy-Prime, Mandrakk, and Future's End Brainiac constantly upstaged him. Given that Apokolips' technology isn't that impressive compared to several other civilizations in the universe, and Darkseid's physical prowess of "nearly as strong as Superman" became nothing special in the context of the high-tiers (several characters in Superman's own rogues gallery could match or overpower him such as Doomsday, Brainiac, Mongul, Zod, and Cyborg-Superman, to say nothing of other heroes on his level like Captain Marvel)... his reputation became hard to take seriously. Final Crisis was partly dedicated to explaining away his previous defeats by putting forward the idea that the "true" Darkseid existed as a multiversal being and the Darkseid that the heroes (and readers) actually encountered was an avatar. Though this hasn't really been referenced since.
Invincible Villain: The problem with the character is that it's either Badass Decay or this trope, more commonly the latter. Even when written right, Darkseid is so powerful that most things can't even phase him, much less beat him. Read the Earth 2 series for an example of this trope in full force.
It's All About Me: An example- In a crossover with Marvel Comics, Galactus tried to take over Apokolips. After a long battle between two of the most powerful beings in comics, Galactus triumphed and began to eat the planet. Only then he realized there was no life force in Apokolips to feed on. So he asks Darkseid why he fought so hard and tooth and nail, sacrificing legions of his troops, despite knowing the fact Galactus wasn't actually a threat. Darkseid says, basically, "It's What I Do", and then gives a "Not So Different" Remark to Galactus: both of them are slaves to their nature.
Jerkass Gods: As a God of Evil, being personally abrasive and unpleasant in any given social situation is just proper attention to detail in spreading as much misery as possible, and he happily obliges.
Karmic Death: In the Post-Crisis universe, Darkseid's ultimate demise was initiated when he was shot by a Radion bullet courtesy of Batman. The same Radion bullet that Darkseid used to kill Orion.
Kick the Dog: Again, God of Evil. He never stops.

"Had I known one human's death would pain you so, I would have killed more."

Kick The Son Of A Bitch

Desaad is a frequent victim of his anger. Considering how horrible Desaad is, it's hard to feel sorry for him.
Darkseid had his own mother killed to assume the throne. Since said mother had the only person he ever loved killed to ensure he'd be heartless, it's hard to blame Darkseid for doing so.

Kill the God: He tries to do this to every god he meets other than his New God underlings, as he sees other gods as obstacles in his conquest of the universe. In Walt Simonson's run on Orion, it's revealed he launched deadly pogroms against the alien gods of other cultures of other worlds to acquire their power and increase his own, something he nearly accomplished with the Olympian Gods of Earth more than once.

In his origin, revealed in Forever Evil (2013), he was a simple farmer who killed the Old Gods and took their powers to himself.

Kinslaying Is a Special Kind of Evil: If being a terrible boss isn't bad enough, he's an even worse parent, treating Kalibak like shit and sometimes vaporizing him for any failure he commits, only to resurrect him and repeat mistreating him. He also killed his older brother in order to obtain the Omega Effect, arguably the first really evil act he committed. Subverted with his mother, whose death instead came off as deserving as she killed someone innocent, namely Darkseid's first wife, Suli, and Darkseid killed her out of rage and grief.
Knight of Cerebus: If he shows up in any adaptation, everything becomes much more serious.
Kryptonite Factor: The rare element Radion can and does in Final Crisis kill Darkseid just like it can kill any other New God.
Lack of Empathy: Pity, mercy, remorse... all these words mean nothing to him.
Large and in Charge: Darkseid is one of the tallest New Gods on either world, perhaps the tallest. But there's another element to this- Boom Tubes adjust the size of whoever is traveling in them so that they shrink or grow to fit the normal size of the average humanoid on whatever planet they are traveling to. Apokolips and New Genesis are about a billion times bigger than Earth or many other planets, and Darkseid or any other New God is naturally big enough to hold one of these ordinary-sized planets in one hand.
Large Ham: He might not be over-the-top like Doctor Doom or the Joker, but just this page's image shows he is no quiet guy. Helps he's always boastful and prone to Bold Inflation - when referring to himself, expect it to be spelled Darkseid!

Darkseid has two iconic poses. The one which isn't this trope is standing with feet wide apart, head slightly bowed, arms folded behind his back. The other is Milking the Giant Cow (see page image).

Laser-Guided Karma: Darkseid's corruption of Desaad eventually leads to the death of the only woman Darkseid ever truly loved (see below).
Leotard of Power: His classic outfit is that most sinister of garments, the hooded leotard. More modern interpretations have often seen fit to spare the universe the sight of the Lord of Apokolips's bare, craggy thighs, but not always.
Light Is Not Good: Final Crisis reveals that his essence is as colorful and radiant as any New God's, but that doesn't make it any less evil.
The Lost Lenore: Darkseid had one person he cherished above all else and that was his first wife, Suli, whose influence was strong enough to overcome Darkseid's evil. Even after her death which solidified Darkseid remaining an intergalactic Evil Overlord, Suli always brings him rather bittersweet memories to the extent that Darkseid vaporizes one of his henchwomen when she brings it up, aware that the knowledge of this relationship and the pain Darkseid suffered from that loss might be a weakness that his enemies would use against him.
Love Redeems: This almost happened to him when he fell in love with Suli. His mother Heggra had Desaad poison her to put an end to that. Darkseid would later return the favor with Desaad's aid. The only remnant of this past love is Darkseid's relative leniency with his and Suli's son Kalibak. Yeah, Darkseid will brutalize and vaporize Kalibak just like any other minion, but he'll also always bring him back to give him another chance — eventually.
Luke, I Am Your Father: To Orion.
M-R
S-Y
---