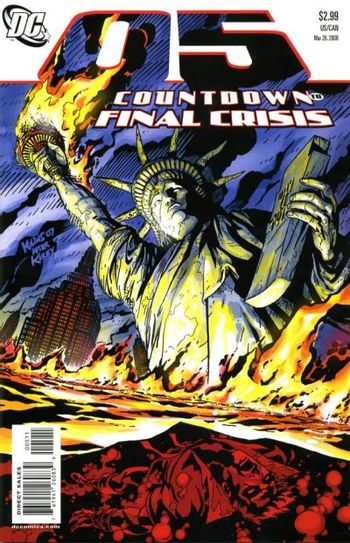 "Don't worry about Countdown — focus elsewhere."
Countdown to Final Crisis (2007–2008) is perhaps one of the most baffling things to come out of DC Comics. It was a 51-issue weekly series, written primarily by head writer Paul Dini and a rotating roster of writers consisting of Justin Gray, Jimmy Palmiotti, Tony Bedard, Adam Beechen, and Sean McIver, meant as the leadup to what would have been the biggest events in the DCU, but ultimately, it fell short, not bearing any connection to the Final Crisis for which it was named. Trying to summarize it is a difficult task, as the plotline is essentially a very shaky patchwork of loosely connected plot threads. But someone has to try:
The Multiverse has gone wonky. The Monitors have come back into existence with the return of the parallel universes, and they foresee a "Great Disaster"—and one Monitor, consulting The Source, is told that Ray Palmer (currently in self-imposed exile since the events of Identity Crisis) is the answer. From here, the script splits into a variety of plot threads:
The plot threads often overlapped as the result of the search for Ray Palmer, with heroes of one thread waylaid by villains of another, which resulted in a lot of multi-sided battles and several assassination attempts before Darkseid, The Monitors, Monarch, and Superman-Prime start slaughtering characters en masse. Multiple other plot points were also introduced, but these were resolved in other titles, as well as multiple spin-offs.
The series came under pretty strong fire, from the near–Justice League: Cry for Justice levels of excessive death and gore to the Four Lines, All Waiting structure of the issues to the meandering and unsatisfying plot. A common complaint was that the comics did not make sense, with multiple plot threads leading more-or-less nowhere, and there was much objection to the portrayal of many of the characters.
---
Countdown to Final Crisis provides examples of:
---