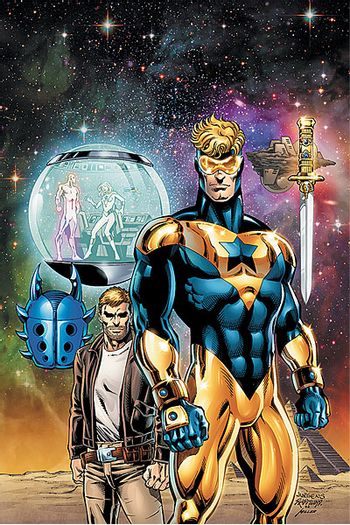 "Light up the whole damn sky, Daniel! This one's for the blue and the gold!"
Booster Gold was the first major new character to appear in The DCU after Crisis on Infinite Earths. He first appeared in "Booster Gold" #1 (February, 1986), created by Dan Jurgens. Born in the 25th century, Booster Gold, born Michael Jon Carter, was a famous college football player, until he got caught betting on his own games. After that, his life was a wreck: he was disowned from his family, expelled from college and he couldn't play football anymore. It wasn't until he got a job at the Metropolis Space Museum as a security guard that he got the idea to go back in time to become a superhero and make a little money at it too. So he stole some equipment on display, Skeets, a security droid that he had befriended; and took a Time Sphere on a trip to the modern era.
Originally intending to call himself Goldstar, at his first public appearance he flubbed it, combining his football nickname Booster with his intended superhero name. To his chagrin, "Booster Gold" stuck. He gained a reputation for being a sellout, taking brand endorsements while performing superheroics. Booster went on to be a part of the Justice League International, where he met and befriended Ted Kord, the second Blue Beetle. Ted's death in Infinite Crisis led to Booster wanting to better himself and his image in the eyes of the world, but circumstances prevented that from happening.
After 52, Booster was the star of his own series once again, from October 2007 to August 2011, in which he roamed the timestream protecting history from enemies who — if they ever saw past his foolish reputation and realized he was the one foiling their schemes — would not only kill him but do it in such a way that Booster Gold never existed. So now instead of promoting himself, Booster had to do everything in his power to make people think he was an inept idiot, in order to carry out his mission to defend time itself. However, with the New 52 relaunch on the rise, this series — along with a number of others — was canceled. Booster was in the New 52's Justice League International series, though that was also cancelled with #12.
Surprisingly, the pre-New 52 Booster Gold has shown up now and again. Initially appearing to his New 52 counterpart, Booster disappeared — quite literally in this case — apparently as a result of Superman and Wonder Woman starting a relationship. He would show up a few more times, first in Futures End, then in Convergence. Following the DC Rebirth relaunch, this version of Booster appeared in the Action Comics storyline "Booster Shot", the Batman storyline "The Gift", and Heroes in Crisis ... although he's sort of presented as "the" Booster Gold, in one of many reversions to old continuity that the Rebirth Cosmic Retcon facilitated.
Following another Cosmic Retcon in Dark Nights: Death Metal, he is reuinited with Beetle in their own miniseries Blue and Gold.
He also frequently appears in Justice League, Batman: The Brave and the Bold, and Justice League Action.
Rip Hunter, a frequent ally of the character (who is also his son), appears as a major character in the Arrowverse series Legends of Tomorrow, played by Arthur Darvill. Booster Gold himself finally appeared in the season 7 finale, played by Donald Faison.
In January 2023, a television series
starring the character was announced for HBO Max by James Gunn and Peter Safran as part of a slate of projects in their revamp of the DC Extended Universe.
And for the last time, he's not Green Lantern.
---
Tropes that can be found in Booster Gold:
One-Steve Limit: Rip Hunter and Rex Hunter have no actual relation to one another, and in both cases "Hunter" isn't their birth name.
---