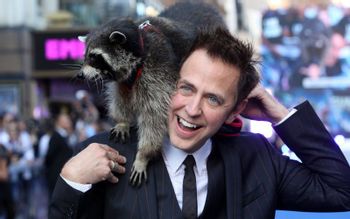 "I have to say, I feel a weird sort of calling in filmmaking that I didn't feel with other things. I feel like there are things in life you want to do, and then things you are called to do, and hopefully you can allow yourself to want to do whatever you're called to do."
Genres:
Influences:
James Francis Gunn Jr. (born August 5, 1966 in St. Louis, Missouri) is an American screenwriter, film director, and producer. Gunn's films are known for dark humor, obscure characters and references, bleakly comedic tones, and underlying themes of hope and optimism.
After getting his start with Troma Entertainment as a writer in The '90s he later went on to work as a director on a couple of cult films. He also did took a crack at working with more mainstream movies from major franchises in the form of writing the two live-action Scooby-Doo movies and the remake of Dawn of the Dead.
Gunn's breakout success arrived with the release of the Marvel Cinematic Universe film Guardians of the Galaxy, which he wrote and directed in 2014. In spite of relatively low expectations for the then-unknown superhero team, Guardians ended up being a massive hit, with his takes on the characters leaving an impression with audiences. Gunn was quickly rehired to write and direct the sequel, Vol. 2, and a third film, Vol.3. He also did some of the writing on the third and fourth Avengers movies, which prominently feature the Guardians as part of the ensemble.
Gunn was temporarily ousted from directing the third Guardians of the Galaxy film when several offensive jokes from his Troma days — which he had already apologized for — resurfaced, but he was ultimately rehired by Disney for handling the situation professionally, aided by a large chorus of support from the fans and from Marvel's stable of talent. Between being fired and rehired, DC Films got his attention and quickly signed him on to work on a follow-up to Suicide Squad — which he titled The Suicide Squad — alongside a spin-off series, Peacemaker, for HBO Max. Meanwhile, Marvel signed Gunn on not just for Guardians of the Galaxy Vol. 3 for 2023, but for The Guardians of the Galaxy Holiday Special in time for Holiday 2022. Suffice it to say, Gunn made lemonade out of lemons.
While Gunn is still involved in discussions regarding the expansion of the cosmic side of the MCU, he has stated that he sees Vol. 3 as his final MCU movie for now. In addition to a second show featuring another The Suicide Squad character, he is also set to co-write and co-produce the live-action/animated Wile E. Coyote and the Road Runner film Coyote vs ACME. In late 2022, he was made one of two CEOs/co-chairs of DC Studios under Warner Bros. Discovery alongside Peter Safran. He is now set to oversee a Continuity Reboot of cinematic adaptations of DC Comics properties after the DC Extended Universe and has made some major changes to that effect. He is set to write and direct Superman Legacy, the first film in the "DC Universe".
He is not related to science fiction Grandmaster James E. Gunn, nor are they to be confused with one another. He was married to actress Jenna Fischer from 2000 to 2008, and he's married to actress Jennifer Holland since 2022.
---
His works include:
<!—index—>
Tropes associated with James Gunn's works include:
---