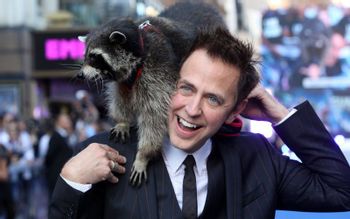 "I have to say, I feel a weird sort of calling in filmmaking that I didn't feel with other things. I feel like there are things in life you want to do, and then things you are called to do, and hopefully you can allow yourself to want to do whatever you're called to do."
James Francis Gunn Jr. (born August 5, 1966 in St. Louis, Missouri) is an American film writer and director.
After getting his start with Troma Entertainment as a writer in The '90s he later went on to work as a director on a couple of cult films before breaking into the mainstream with the release of the Marvel Cinematic Universe film Guardians of the Galaxy in 2014.
Gunn's films are known for politically incorrect humour, bleakly comedic tones, and underlying themes of hope and optimism.
Not related to (and not to be confused with) science fiction Grandmaster James E. Gunn.
---
His works include:
Tromeo and Juliet (1996, writer)
The Specials (2000, actor and writer)
Scooby-Doo (2002, writer)
Scooby-Doo 2: Monsters Unleashed (2004, writer)
Dawn of the Dead (2004, writer)
Slither (2006, writer and director)
James Gunn's PG Porn (2008–2009, creator, writer, producer, director)
Super (2010, writer and director)
Lollipop Chainsaw (2011, writer)
Movie 43 (2013, co-director and co-writer, Beezel segment)
The Belko Experiment (2017, writer and producer)
Brightburn (2019, producer)
Marvel Cinematic Universe
The Suicide Squad (2021, writer and director)
---
---
Tropes associated with James Gunn's works include:
---