Today's Featured Trope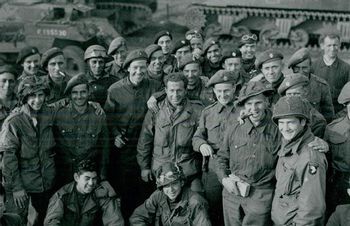 For our article on the 2001 HBO TV series click here.
A Band of Brothers is a group of people, dedicated and loyal to each other beyond all other considerations, due to the dangerous (often combat-related) circumstances they have faced together. The spilling of their blood, mixed together with a desperate life-or-death struggle, make them a family as close as any mere blood tie can make them. Beyond mere comradeship, being a Band of Brothers evokes an ideal of grim determination to face whatever comes together, and to see it through together. It is this shared struggle that they become a Band of Brothers.
More
Newest Trope
A character adorned with flowers or has flowers as a visual motif to show their Nature Lover nature or Green Thumb abilities. Often goes along with a pure heart, simple wisdom, and humility, or other "natural" virtues. This simple, natural decoration often embellishes otherwise humble garments, and may be used to contrast with the Conspicuous Consumption bling of an antagonistic Rich Bitch or Evil Aristocrat
More
More Videos
Tropes Community Podcasts
Episode 305 - Game Pass Grab Bag
October 23, 2020
This week we're reviewing a collection of Game Pass games that we were each all recommended: Indivisible, Sunset Overdrive, and Hotshot Racing! Are these games worth a look on Microsoft's digital service? We're also talking about games…
More
---
224. Son of the Tropes (horror movie sequels)
October 20, 2020
We talk about SON OF THE TROPES and give our top 5 favorite horror movie sequels!! Be sure to subscribe and rate us on your favorite pod catcher and feel free to support us over at Patreon.com/OnTheTropes! Buy…
More
---