Today's Featured Trope
Many important people wear suits and, unremarkably, some of them are women. They are cool, calm, and certain. Unflappable in business and lunch meetings, they will not take any man's Trash Talk. This woman is a badass just from the aura she presents, this aura radiating from her power suit. Of course, it isn't the suit that gives her power but it sure doesn't harm the image she's trying to project that she is not to be messed with. On a man's chess board, she's captured the king.
More
Newest Trope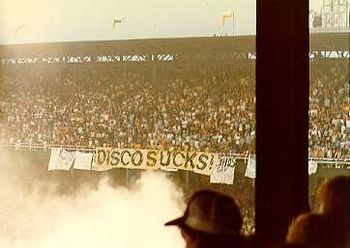 The full story of the decline of disco music in the United States is a long and ugly one that had huge ramifications on American pop culture for decades.
In the late 1970s, a genre of dance music emerged in the United States: disco. Mixing funk, soul, Rhythm and Blues, and rock, it rapidly gained popularity, especially after being featured in movies like Saturday Night Fever. However this naturally prompted a huge
More
More Videos
Tropes Community Podcasts
Episode 126: Quick Shot - Little Nightmares II
February 19, 2021
How do we feel about the newest entry in the Little Nightmare series? What's up with The Thin Man? Is the first Little Nightmares too difficult to speedrun? We answer these questions and more in this installment of Quick…
More
---
Episode 138: 226. Just Vibes
March 01, 2021
We talk about nothing, play a game, and talk about nothing!Be sure to subscribe and rate us on your favorite pod catcher and feel free to support us over at Patreon.com/OnTheTropes! Buy some stuff at http://onthetropes…
More
---