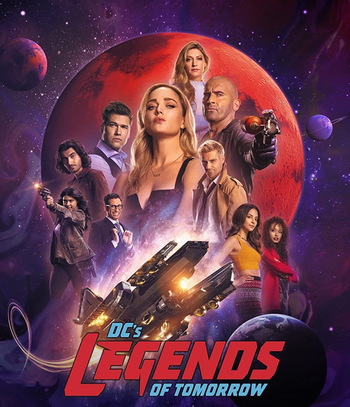 "How will we be remembered? Will it be for saving the world twice? Nope, we're the team who broke time. That's right, history has been torn to shreds, which means it's up to us to put it back together again piece by piece, fixing these so-called anachronisms before we get torn to shreds. So please, don't call us heroes. We're Legends."
Legends of Tomorrow (or DC's Legends of Tomorrow) is a 2016 superhero TV series from The CW based on DC Comics, spun-off from Arrow and The Flash and is the third live-action installment of the Arrowverse. It premiered on The CW January 21, 2016.
Time Master Rip Hunter (played by former Doctor Who companion Arthur Darvill, as a Casting Gag) pulled together a seemingly random group of characters from the previous shows to form a specialized team, one that would use the futuristic "time ship" called the Waverider to Time Travel. This takes them to all sorts of different places and time periods, either Set Right What Once Went Wrong or stop others who desire to Make Wrong What Once Went Right, running into many famous figures and includes a number of Historical In Jokes. They come to call themselves Legends, as during their adventures their exploits can be glimpsed through history, although Shrouded in Myth.
Although many of the characters have roots in DC comic books, the team-up itself has no comic book precedent. As a result, the writers have near-complete creative freedom to work the story out as they please. Though the show's first season feels close in tone with the other Arrowverse series, the writers increasingly rely on a bizarre, Denser and Wackier storyline from the second season onward. Unlike other series which did such a transition, the decision meant the show now has a very distinctive tone, something that the first season was criticized for its lack of.
Because of its revolving door cast, many characters have come and gone over the course of the series.
Characters
The main cast includes:
Captain Sara Lance/White Canary (Caity Lotz; S1 — S7): A former member of the League of Assassins, she joins the Legends as a way to figure out a life outside Star City.
Gideon (Amy Pemberton; S1 — S7): An artificial intelligence operating the Waverider's upkeep.
Mick Rory/Heat Wave (Dominic Purcell; S1 — S6): A criminal from Central City, he wields a flame-emitting gun.
Ray Palmer/The Atom (Brandon Routh; S1 — S5, S7 guest): An inventor and businessman from Star City, he utilizes the A.T.O.M. robot suit in battles.
Martin Stein/Firestorm note (Victor Garber; S1 — S3, S7 guest): A physics professor from Central City and the intellectual half of Firestorm, a pyrokinetic metahuman.
Jefferson "Jax" Jackson/Firestorm note (Franz Drameh; S1 — S3, S7 guest): A former football player from Central City and the physical half of Firestorm.
Rip Hunter, Time Master (Arthur Darvill; S1 — S2, S3 recurring, S7 guest): A rogue Time Master who creates the Legends to stop the future from succumbing to the dystopian rule of Vandal Savage.
Leonard Snart/Captain Cold (Wentworth Miller; S1, S2 recurring, S7 guest) note : A criminal from Central City, he carries a freezing ray-emitting gun.
Kendra Saunders/Hawkgirl (Ciara Renée; S1): A winged woman and an Ancient Egyptian priestess who reincarnates whenever she is killed.
Carter Hall/Hawkman (Falk Hentschel; S1, S7 guest): A winged man and an Ancient Egyptian general who reincarnates whenever he is killed.
Nate Heywood/Steel (Nick Zano; S2 — S7): A historian from Star City and a metahuman who can turn his body to steel.
Amaya Jiwe/Vixen (Maisie Richardson-Sellers; S2 — S3): A woman from 1940s Zambesi, an African village. She wields one of the village's totems, the Spirit Totem, with which she can channel animals' powers.
Eobard Thawne/Reverse Flash (Matt Letscher; S2, S7 guest) note : A speedster from the future, he is the leader of the villainous Legion of Doom, that wants to take the Spear of Destiny.
Zari Tomaz/Zari Tarazi note (Tala Ashe; S3 — S7): A hacker from 2042 Seattle, she decides to cast her lot with the Legends and escape the post-dystopian United States where she came from. After the Legends rearrange the future, they encounter a different Zari, who is an influencer instead of a hacker. Both versions of Zari wield the Air Totem of Zambesi, giving her the power over wind.
Ava Sharpe (Jes Macallan; S3 recurring, S4 — S7): Rip's second-in-command in the Time Bureau. Initially hostile to the Legends, she becomes their ally and eventually a core member of the team.
Gary Green (Adam Tsekhman; S3 — S5 recurring, S6 — S7): A member of the Time Bureau often caught up with the Legends' hijinks.
Nora Darhk/Fairy Godmother (Courtney Ford; S3 recurring, S4 — S5, S7 guest): The daughter of Damien Darhk raised into a powerful spellcaster, she time traveled from the future to assist her father in his plans to release Mallus. After she has a change of heart, she allies herself with the Legends to atone for her previous actions.
John Constantine (Matt Ryan; S3 guest, S4 — S6) note : A powerful spellcaster and exorcist. He occasionally helps the Legends before joining them full time in the fourth season.
Wally West/Kid Flash (Keiynan Lonsdale; S3): A speedster and member of Team Flash, he left the team in 2017 to protect the rest of the world, and is invited by Rip to join the Legends fight Mallus.
Mona Wu/Wolfie (Ramona Young; S4, S5 guest): A courier in the Time Bureau, she is infected by a curse that transforms her into a monster.
Charlie/Clotho (Maisie Richardson-Sellers; S4 — S5): A shapeshifter roped into joining the Legends. Although she can transform to other beings, she mostly takes the form of Amaya Jiwe, albeit with a British accent.
Astra Logue (Olivia Swann; S4 guest, S5 — S7): A young girl from Constantine's past, Astra rapidly grew up into a young woman because of her time in Hell. She starts out as a villain hell-bent on hunting Constantine, but later switches sides when a bigger threat comes along.
Behrad Tarazi (Shayan Sobhian; S4 guest, S5 recurring, S6 — S7): Zari's younger brother, he joins the Legends after they altered the timeline and prevented United States from descending into a dystopia in the fourth season finale. Like Zari, he wields the Air Totem to control wind.
Esperanza "Spooner" Cruz (Lisseth Chavez; S6 — S7): A conspiracy theorist who believes that she was abducted by aliens. She has a connection with the Fountain of Imperium, a wellspring of magic.
Gwyn Davies (Matt Ryan; S7) note : A scientist from 1925 who envisages time travel. For some reason, he looks exactly like John Constantine.


The recurring cast includes Casper Crump as
Vandal Savage
(S1),
Neal McDonough
as
Damien Darhk
(S2-3),
John Noble
as Mallus (S3),
Thomas F. Wilson
as Hank Heywood (S4), Sarah Strange as Lachesis (S5), and Mina Sundwall as Lita (S5-6)
Before Legends started, both Arrow and The Flash devoted episodes to setting it up — Arrow brought Sara and Ray back in the show's fourth season, The Flash debuted Jax in his own feature episode and Kendra in a few episodes as a girl Cisco dated, and the season's Crisis Crossover of the year 2015, Heroes Join Forces, introduced Hawkman and Vandal Savage and led to Kendra becoming Hawkgirl, revolving around the shared history of the three. Due to their very fluid method of travel and exploring Alternate Timelines, other members of the Arrowverse cameo or guest star with regularity in the series itself, not to mention often visiting their respective City of Adventure without anyone aware they had stopped by. The Legends have participated in three of the Arrowverse's six intra-franchise crossovers: Invasion!, Crisis on Earth-X, and Crisis on Infinite Earths, with the last of these marking the premiere of the show's fifth season.
On April 29, 2022, it was announced the series would not be renewed for an eighth season, becoming the fifth Arrowverse series to end.
---
Tropes of Tomorrow:
open/close all folders
Tropes A to C
Tropes D to F
Tropes G to I
Gender-Equal Ensemble: Originally, the Legends were a textbook case of Two Girls to a Team (assuming you don't count Gideon as female and/or a Main Character). However, starting in Season 4, the main cast now usually contains as many women as men (we say "usually" because Revolving Door Casting is in effect, the gender ratio oscillates as new characters are added and old characters are written out, and being a main character doesn't mean someone is a legend or vice versa).
Tropes J to N
Tropes O to R
Tropes S to U
Tropes V to Z
---