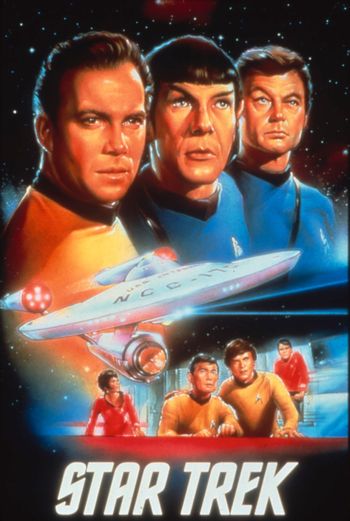 "Space: the final frontier. These are the voyages of the Starship
Enterprise
. Its five-year mission: to explore strange new worlds, to seek out new life and new civilizations, to boldly go where no man has gone before!"
Star Trek is the first show in the Star Trek franchise. After the release of its spinoff series and the movies, it has been retroactively called Star Trek: The Original Series to differentiate it from the franchise as a whole.
The origin of the show came when Gene Roddenberry was looking to write hard-hitting political and moral commentary and could not do so with the regular dramas of the time. He deduced that by creating a science fiction show borrowing heavily from the film Forbidden Planet, he could slip in such commentary disguised as metaphors for the various current events. As such he pitched Star Trek to the networks as a merging of the two most popular genres of the time, science fiction anthologies and Westerns.note Notably, he pitched it as "Wagon Train in space", not "Wagon Train To The Stars".
While troublesome to produce, the show was a major Trope Maker, especially in Science Fiction (each of the three main characters has a trope named after them, and that's just for starters!). The cast was a dynamic mix of ethnicities and cultures, and while the focus was nearly always on Kirk, Spock and McCoy, they still had a Russian, an Asian and a black African woman in positions of responsibility, authority and respect, despite recent, brewing or ongoing conflicts concerning people of those ethnicities in Real Life. According to the cast members, near everyone in Hollywood wanted to be a part of Star Trek because of the steps forward it was making. In particular, George Takei said that almost every Asian actor wanted to be Sulu because they wouldn't be required to use an Asian accent or engage in Asian martial arts, instead breaking cultural stigma by being a practitioner of European fencing.note Takei facetiously put down fencing on his resume so he wouldn't be given a katana; once it came up in the script, he got a crash course the weekend before filming. He remains an avid fencer to this day. This also resulted in attracting multiple high-profile guest stars and guest writers, including Harlan Ellison, Theodore Sturgeon and Richard Matheson. Plots varied widely in quality from episode to episode and from season to season, depending upon who was writing and/or directing. An episode chosen at random can be anything from high camp to geopolitical allegory to genuinely intelligent drama, and is likely to be at least two out of those three.
In some ways the show was way ahead of its time; in other ways, it is a product of its time. The women usually (but not always) appeared in the roles of assistants and secretaries, wearing go-go boots and miniskirts.note At least some of that was due to Executive Meddling; additionally, Grace Lee Whitney has mentioned that the female regulars objected to initial efforts to have them wear pants because they preferred showing off their legs. Whitney and Nichelle Nichols were both professional dancers, and Nichols used to whipstitch her skirt shorter in between takes because she thought it was too long, leading to a few shots where you can see her matching panties. While the visual design of the show was ambitious, the actual production quality has not aged well.
The show did have some developmental history before it came to air. The original Trek pilot featured Captain Pike played by Jeffrey Hunter, and Majel Barrett as his first officer. The pilot was praised by the network as great science fiction, but was considered "too cerebral" for the target audience and not as action-packed as the network wanted to market it. This resulted in a near entire-cast replacement for a second pilot episode, except for Spock. In fact, Doctor McCoy didn't appear until after the second pilot was filmed. However, that first pilot has remained as part of the franchise canon and did not go to waste—Roddenberry used a lot of it for the series' only two-parter, "The Menagerie," which proved a Hugo science fiction award winner, and the pilot has been included in various releases of the series. Captain Pike himself was recast in Star Trek (2009) by Bruce Greenwood, and played by Anson Mount in the second season of Star Trek: Discovery (with Rebecca Romijn as Number One, Ethan Peck as Spock, and the Enterprise herself), wherein afterwards Pike received his own show called Star Trek: Strange New Worlds, coming full circle.
While the show was considered popular with general audiencesnote the actors and studio were flooded with mail, and there was a huge amount of tie-in merchandise almost immediately and plenty of demand for more, the Nielsen ratings branded it a flop. Star Trek barely managed three seasons before being officially canceled, with a close call on the second season. Within a few weeks of its cancellation was the monumental first Moon Landing, and as a result the subsequent reruns of Star Trek were more popular than the original run. Television was also changing at the time, starting to account for demographics along with overall ratings, and found that Star Trek had snagged the most coveted 18–35 male group that nearly every show was aiming for. Star Trek conventions were jammed with thousands of dedicated fans, and seeing the potential for a revisit led into production for a new TV series. The first attempt was Star Trek: The Animated Series in 1973, which suffered from Filmation's cheap production values, but more than compensated by having most of the original writers and cast, producing a great series that earned the franchise's first Emmy Award. Later in the decade, in the hope of creating a Paramount television network, a new Star Trek series was developed, dubbed Star Trek: Phase II. After Paramount's owner ditched the network plan, the intended pilot was reworked into the first Star Trek feature film, Star Trek: The Motion Picture, in 1979, after the monumental success of Star Wars. This led to an ongoing film series, the success of which led to the Sequel Series in 1987, Star Trek: The Next Generation, and another 18 straight years of Star Trek on television.
If you're in the US, you can watch all of the episodes on the Paramount+ streaming service. This show also has a tool for gathering and voting on Favorite Episodes
. And over here we have a Recap page.
The subtitle "The Original Series" is a Retronym used solely for commercial clarification once Star Trek: The Next Generation came out. It has always been referred to as Star Trek in its own opening sequence.
Shatner returned to Paramount Television (which succeeded Desilu Studios as the show's production company during the second season) in 1975 for the series Barbary Coast, which was not nearly as successful as Star Trek, lasting only one season. Nimoy also continued with PTV after Star Trek ended, joining the cast of Mission: Impossible, which also began under Desilu.
Common plots:
Character profiles and roles in the script:
James Tiberius Kirk (William Shatner): The Captain, a space-age Horatio Hornblower with a strong, complex personality. A veteran of war, and hundreds of planetary explorations and space emergencies, he's fully and deeply aware of his responsibilities, and has a tendency to push himself beyond his limits. He's gained an unfair reputation as a Military Maverick and Ethical Slut who sleeps with Green-Skinned Space Babes.note
Spock (Leonard Nimoy): The ship's exec and Science Officer, in charge of all scientific departments. His Human-Vulcan heritage was intended as an emphasis that we are out in space and alien people are common. While he is very emotionally reserved as a matter of Vulcan cultural tradition, in truth, he is as human as much as he is Vulcan. As a child, he was bullied for his mixed heritage, causing him to occasionally act in rejection of his human half (Thus, calling him "cold-blooded" or "unfeeling" will result in him thanking you for the "compliment"). But he is not as cold as he seems.
Leonard "Bones" McCoy (DeForest Kelley): Chief Medical Officer, The Heart, and The Watson. The least "military" person on the ship. Given a Promotion to Opening Titles in the second season.
Montgomery "Scotty" Scott (James Doohan): The Chief Engineer from Scotland, both a reliable officer and daring in battle.
Nyota Uhura (Nichelle Nichols): From the United States of Africa, she's an expert in all ship's systems related to communication. Today she's considered a Twofer Token Minority. Serving as the Communications Officer and occasional helmswoman, she was essentially a glorified telephone operator.note Nonetheless, at the time, this was almost unthinkable authority to place in the hands of a woman or a minority, so when Nichols considered leaving the show she was talked out of it by none other than Martin Luther King Jr.
Hikaru Sulu (George Takei): A compulsive hobbyist (botany, gun collecting, fencing) and a Fan of the Past. The ship's helmsman, again an almost unthinkable position then for a minority, especially an Asian.
Pavel Chekov (Walter Koenig): Added in the second season, a young ensign with a Monkees-esque hairstyle and a bad Russian accent who serves as the Enterprise's weapons officer. His tendency to joke - the most common being to falsely attribute everything good in the universe to "Mother Russia" - was a Running Gag.
Christine Chapel (Majel Barrett): Ship's nurse in Mad Love with Spock. Given The Cameo in a couple of the films.
Yeoman Janice Rand (Grace Lee Whitney): Ms. Fanservice with a Beehive Hairdo. The original Bridge Bunny literally — early reviews of the series called her a "Playboy Bunny–type waitress." She was supposed to be one of numerous yeomen, a "succession of young actresses, always lovely". The yeomen served Kirk as an executive secretary, valet and military aide and were supposed to be treated as completely equal with men of the same rank. Rand and Kirk had Unresolved Sexual Tension until she fell victim to Chuck Cunningham Syndrome.note Given The Cameo in a few of the films.
Harcourt Fenton "Harry" Mudd (Roger C. Carmel): The Trickster, Con Man, and all-around scoundrel, Mudd was the focus of two episodes, and another in the animated series.
Cyrano Jones: A more affable, less competent Trickster than Harry, who likewise reappears in an episode of the animated series.
Khan Noonien Singh: An Affably Evil Human Popsicle and Designer Baby Übermensch who was once an Evil Overlord. Though he only appeared in one episode, he later became The Unfettered of the second movie.
Lieutenants Leslie and Kyle: The two most prominent Red Shirt characters. The former appeared in the background of most episodes and even managed to come Back from the Dead, and is known as "King of the Redshirts"; the latter was the only Redshirt to have a steady job (transporter chief) and frequent dialogue, making him the closest thing the series had to a Mauve Shirt. He even appeared in one movie and the animated series.
---
This series provides examples of the following tropes:
open/close all folders
A–B
C–D
E–H
I–L
Low Culture, High Tech:

In "A Private Little War", Kirk and McCoy discover that the Klingons gave flintlock weapons to village-dwelling native people who didn't have guns before. Instead of their tradition of peaceful trade with the nearby hunter-gatherer people, the Klingons encourage the villagers to attack them. To restore the balance of power, Kirk provides the hunter-gatherers with similar weapons. McCoy compares their situation to the "Brush Wars" of the mid-20th Century.
"Bread and Circuses" features a world with 1960s-level tech (television, firearms) but a society that mirrors the Roman Empire, complete with the slow rise of Christianity (albeit 2000 years late).

Ludicrous Precision: Spock's figures, constantly. Discussed in "Errand of Mercy".
M–P
Machine Empathy: Scotty could often sense when something was wrong with the Enterprise from subtle changes in her "feel". Possibly justified, because machines cause vibrations that engineers familiar with said machine can actually feel when touching it, such as through the hull of a starship—Scotty himself confirms this in the NextGen episode "Relics" when he compares the Enterprise-D to his Enterprise with Picard.
Made a Slave: Season three has the dubious honour of trying to do this five times in one season, with Bones, Kirk, Spock, Chapel and Uhura used for entertainment in "Plato's Stepchildren", Bones again forced to stay in "For The World Is Hollow And I Have Touched The Sky" and "The Empath", Kirk kidnapped for breeding in "Wink Of An Eye" because he's "pretty", and captured in "Mark Of Gideon" to spread an STD and stem overpopulation.
Mad Love: Nurse Chapel and Spock (well, on Chapel's side, at least), McGivers and Khan.
The Mafia: "A Piece of the Action" is an entire episode revolving around a Mafia planet.
The Main Characters Do Everything: Kirk and his highest bridge officers often beam into danger despite the presence of specialists on board for that purpose.
Male Gaze: In "Mudd's Women", the camera rather obviously pans to the women's derrieres as they walk along the corridors of the Enterprise after leaving the transporter room.
The Man in Front of the Man: In "Patterns of Force", a society of Human Aliens has emulated the regime of Nazi Germany, complete with atrocities committed in for racial and cultural motives. The officers of the regime carry out the orders of their Fuhrer, who they only see via television broadcast. It turns out later that the Fuhrer was drugged and under the control of his Deputy. It was the Deputy Fuhrer who was really responsible for giving orders to the Nazi forces, while the true Fuhrer had good intentions all along.
Mars Needs Women: "Mudd's Women"—Mudd is transporting the women to provide companionship to lonely colonists.
Martyr Without a Cause: All three of the main trio have admitted at some point that peace and happiness are not regular emotions for them, and are just that little too willing to sacrifice themselves. The kicker is that Bones will complain when Kirk and Spock act like self-sacrificial idiots, but then do the exact same thing himself.
Put on a Bus: Yeoman Rand during the first season. (Grace Lee Whitney later said that the producers wanted girl-of-the-week guest stars as love interests for Kirk.) The starship comes back for the movies and a time travel episode of Voyager.
Q–T
U–Z
Unexplained Recovery: Two rather famous Redshirts. Lieutenant Leslie gets killed by the Dikironium Cloud Creature in "Obsession" and reappears unharmed later in the episode.note Lieutenant Galloway gets disintegrated by a phaser in "The Omega Glory", but he shows up alive and well in "Turnabout Intruder."

In the episode "The Galileo Seven," Spock's legs get pinned between a large rock and a cliff. After he is freed, he is visibly limping; however, later in the episode, he is shown walking around the bridge with no indication that the injury had ever occured. Justified in that Spock may heal faster than humans and that McCoy may have had a chance to treat his injuries in the meantime.

Underestimating Badassery: In "Errand of Mercy", the Klingons conquer Organia, not knowing that the Perfect Pacifist People living there are actually ludicrously powerful Energy Beings. They didn't need the Federation's help to rescue their planet.
Unknown Relative: In the episode "Journey to Babel" Kirk is surprised to meet

Spock's parents

. It's a little unrealistic that a Starfleet captain tasked with transporting a distinguished delegation to a vital conference would have no idea that Vulcan's ambassador to the Federation is

his first officer's father.

Unlimited Wardrobe: Guest star Barbara Anderson (Lenore Karidian, "Conscience of a King") shares the record with Ricardo Montalban and Joan Collins for the most costumes worn in an episode (six).
Unique Pilot Title Sequence: The broadcast version of "Where No Man Has Gone Before" didn't have William Shatner's "Space, the final frontier" Opening Narration. This was "corrected" for the HD remastered version of the episode. The actual pilot version (first publically available on the Blu-Ray release of the series) had an even more unique title sequence. Alexander Courage's famous theme song was conspicuously absent (despite having been in the earlier pilot, "The Cage") and in its place was different music composed by Courage. The title itself was in a completely different font. Of the cast only Shatner as Kirk was credited with the title, as opposed to season one which credited both Shatner and Nimoy as Spock. Nimoy was instead credited later in the episode before the guest cast. This itself was also done in a way different format than seen in the series, though it does match the style used by other shows of the period (even adding a "Tonight's Episode:" banner above the episode title). Finally, the end titles credited the rest of the cast with their characters' professions (for example, "Ship's Doctor" or "Engineering Chief") rather then their characters' names. These differences (and a few others) can be viewed here.

"The Cage" has an even more unique title sequence. It lacks a cold open, doesn't have the narration, and doesn't even have the "Created by Gene Roddenberry" credit. Jeffrey Hunter is the only main cast listed in the opening, followed by a guest star credit for Susan Oliver. There are a few high-speed passes of the Enterprise, none of which are reused in later credits. The sequence ends with a zoom in over the starboard side of the ship, passing over the saucer until the bridge dome crudely transitions to the bridge set. This shot of the ship (without the bridge transition) would be used as Stock Footage for several later episodes. The remastered episode recreated the sequence, adding a nebulous background behind the title while improving the quality of the transition from the CGI model to the bridge set.

Unsuccessful Pet Adoption: Zigzagged. In "The Trouble with Tribbles", Uhura adopts a Tribble (a little fuzzy alien), but has to give it away because all Tribbles multiply like crazy and are "born pregnant". However, it's a bit ambiguous on whether Tribbles are usually kept as pets. They are sold, but Kirk and other such characters frequently comment on how bad they are as pets.
Unwitting Instigator of Doom: Doctor McCoy (and Edith Keeler) in "The City on the Edge of Forever".
Updated Re-release: The remastered episodes, with redone special effects, HD film transfers, and rerecorded stereo soundtracks.
Villainous Breakdown: Quite a few instances.

Khan suffers a brief one when no one from the bridge is willing to join him, even with Kirk's life at stake.
In "Turnabout Intruder", Dr Janice Lester grows increasingly unhinged as the rest of the suspicious crew begin to mutiny and rebel against her orders while she's in Kirk's body.
"The Conscience of the King" deals with trying to discover if actor Anton Karidian really was a murderous tyrant named Kodos the Executioner. By the end of the episode, this has happened to two villainous characters. Karidian, who is Kodos and becomes spooked when he overhears an argument between Riley and Kirk about his past during a performance of Hamlet, breaks down backstage during the intermission, believing the voices to be ghosts from his past. At the same time, his daughter Lenore reveals she has murdered seven of the nine witnesses who could still identify him, and plans to kill Kirk and Riley, even swearing she would destroy a planet to save him. Kodos breaks down further as he realizes his actions in the past have corrupted his own child as well. In true Shakespearian fashion, this causes a chain reaction that ends in the death of Kodos, who dies trying to stop Lenore from shooting Kirk and instead takes the lethal blast meant for Kirk. Lenore is pronounced completely insane in the epilogue, as she believes her father to be alive and well.
Evil Kirk in "Mirror, Mirror". "I. ORDER. YOU!!!!"
And Evil Kirk in "The Enemy Within". "IIIIIII'MMMMMMMM CAPTAIIIIIN KIIIIIIIRK!"

Virus and Cure Names: Rigellian Fever, cured by Ryetalyn.
The Wall Around the World: The barrier around the galaxy in "Where No Man Has Gone Before". Appears again in "Is There in Truth No Beauty?", when a jealous (and then insane) engineer gets them lost on the wrong side of it and Spock must mind-meld with Kollos to get them back, and mentioned in "By Any Other Name" as the reason for the Kelvan expedition being stranded in our galaxy.

In "For the World is Hollow and I Have Touched the Sky," the inhabitants of Yonada believe themselves to live on a "world" but are actually living in a hollowed-out asteroid that has been turned into a starship, as one elderly Yonadan discovers by comitting the titular act, before being killed for his "heresy" by the Oracle that controls their ship.

Wanting Is Better Than Having: Spock in "Amok Time", almost word for word.

Spock: After a time, you may find that having is not so pleasing a thing after all as wanting. It is not logical... but it is often true.

War Hero: Captain Kirk is openly stated to have been decorated many times for valor. Kirk doesn't talk about his awards or display them, preferring to keep them locked away in his quarters. His record is so impressive that in the episode "Court Martial" where Kirk was framed for the death of a crewman and put on trial, the prosecutor tried to have his decorations entered into the record without being read aloud to the court. Fortunately, Kirk's defense attorney saw right through this ploy and insisted that more of Kirk's list of medals be read into the record.

Cogley: I wouldn't want to slow the wheels of progress. But then on the other hand, I wouldn't want those wheels to run over my client in their unbridled haste.
Stone: Continue.
Computer: Awards of Valor, Medal of Honor, Silver Palm with Cluster, Starfleet Citation for Conspicuous Gallantry, Karagite Order of Heroism...
Cogley: Stop. I think that's enough. I wouldn't want to slow things up too much.

Weakened by the Light: In "Operation: Annihilate!", the parasites that infected the colonists on the planet Deneva are destroyed by bright light.
Weapon Running Time: In "Balance of Terror", the Romulans' plasma bolt travels at sublight speed and has a limited range. This allows the fleeing Enterprise to travel far enough before the bolt hits that it survives the weakened bolt's impact. A full-power hit would have destroyed the ship.
Well-Intentioned Extremist: The Vians in "The Empath" use a beautiful, mute empath in combination with our Power Trio to determine whether her race is worthy of survival before their sun goes nova. Their methods consist of torture and mutilation, resulting in gross physical and psychological damage. Turns out that the empath's race is worthy of preservation, and the Vians, logical and possessed of their own morals and ethics regarding life, needed only "good old-fashioned human emotion" to help them see that.
We Need a Distraction: Both "By Any Other Name" and "Is There In Truth No Beauty" have the woman notice that Kirk is trying to seduce them as a blatant distraction.
What a Senseless Waste of Human Life:

Kirk is often upset whenever one of his crew members (usually a Red Shirt) dies. He is also clearly upset when the Romulans decide to self-destruct rather than surrender in "Balance of Terror".
What's more, the Romulan Commander himself sees his own mission the same way: he's testing new weapons (a cloaking device and extremely powerful plasma torpedo) to see if the Romulans have a sufficient technological edge to win another war against the Federation, and to see if the Federation has grown soft in the intervening years. He is haunted by the fact that if his mission goes well, a new war will be the result, with senseless wastes of Human and Romulan lives on both sides. Nevertheless, he fights to the best of his ability, as his duty demands. This all serves to highlight the fact that he and Kirk aren't so different.

What Measure Is a Non-Human?: The Horta (rock monster) in "The Devil in the Dark".
Where's the Fun in That?: "The Squire of Gothos". Kirk asks his captor, "Where's the sport?" in simply hanging him, as he had planned. Instead, Kirk talks his captor into staging a "royal hunt". This buys Kirk enough time for a Deus ex Machina rescue.
Who Even Needs a Brain?: In "Spock's Brain", Spock's brain is stolen by aliens who use it as a computer to run their planet's infrastructure. For some reason, his autonomic functions still work, but he is completely unconscious. Kirk has to get the brain back quickly, because Spock's Vulcan physiology is especially dependent on that tremendous brain. (While a brain-dead human could be kept "alive" easily for quite some time.) So that they can restore the brain quickly when they find it, McCoy rigs up a device that fits on Spock's head and allows his lifeless body to walk around, manipulated by a remote control. With three buttons. S.P.O.C.K has made a song called "Mr. Spock's Brain", based on the above episode.
Wide-Eyed Idealist: Edith Keeler in "The City on the Edge of Forever", a passionate advocate of peace—in the face of Nazi Germany.

Spock: She had the right idea ... but at the wrong time.

With Great Power Comes Great Insanity: "Where No Man Has Gone Before", and to a lesser extent (or at least power level), "Whom Gods Destroy".
World of Ham: A galaxy of ham, in this case. With most of the principal cast being classically-trained stage actors and having earned their early TV credentials in Westerns,note it comes with the territory.
Worthy Opponent: Several examples, with the Romulan commander in "Balance of Terror" being a particular standout.
Would Hit a Girl:

Usually it's to show how evil the villains can get, as the main characters would rarely ever do it (unless their body is taken over or if they are under the influence of something). In one episode alone, one minion slaps Uhura and would do it on two more occasions if others hadn't stepped in.
Another instance is when an ex-lover of Kirk's, while in Kirk's body, hits Kirk, who is in her body. This shocks the rest of the crew, who at this point haven't learned about the change and grow suspicious, as Kirk would never hit a girl like that.
Kirk chins Shahna, his "drill thrall" in "The Gamesters of Triskelion", into unconsciousness, but it doesn't get him very far.
However, Kirk has a weird tendency to lay his hands on female characters as part of "normal" conversation, including grabbing them by the arms or shoulders and shaking them, even women he hasn't been sleeping with. This tendency towards physical conversation also extends to male crew members.
This tendency doesn't extend to when the girls hit first. Both Kirk and McCoy have slapped women right back in a few episodes.
In the very first episode, when the salt vampire disguises itself as Nancy, the woman archaeologist who's supposedly been living on the planet, it's Spock who convinces McCoy by beating the living shit out of "Nancy", who isn't affected at all, finally pretty casually backhanding Spock clear across the room.

Xanatos Gambit: "Amok Time". T'Pring benefits no matter who wins the duel. Turns out Vulcans love these, since they are, as Spock comments, "Logical. Flawlessly logical." They're always looking to turn some kind of benefit from plans and events.
Yellow Peril: "The Omega Glory" attempts to subvert this by portraying the white Yangs as barbaric and savage while the Kohms are more advanced and civilized. However, casting the Kohms as descended from Communists and the Yangs as fallen Americans turns it into a straight play of "Red China takes over the world." More here.
Ye Olde Butchered English: T'Pau in "Amok Time" consistently messes up "Thee" and "Thou," using "Thee" as second person singular subject.
You Are in Command Now: In "Catspaw", a landing party that includes Scott and Sulu is taken prisoner. Kirk assigns himself and Spock to the rescue party, which also gets captured. This leaves Assistant Chief Engineer Lt. DeSalle, an obscure character that most viewers have never heard of, in command of the Enterprise. (DeSalle appeared in a grand total of 3 episodes.) Robert Bloch's original script had everyone senior to Uhura off the ship, and left her in command, but Executive Meddling wouldn't allow for a black woman being put in command of the Enterprise. In fact, it wouldn't allow for a woman, period. Gene's extremely nasty divorce from his first wife was in progress, and he was reacting with extreme misogynism, declaring in staff meetings that "all women are cunts" and telling Nichols to her face "You can't have females taking over a man's ship."
You Can't Fight Fate: In "The City on the Edge of Forever", Edith Keeler must die so that Germany doesn't win World War II and wipe the Federation from existence. (Had she lived, she would have founded a peace movement that would have delayed the United States' entry into the European front of WWII, allowing Nazi Germany sufficient time to develop the atomic bomb and thus win the war.)
Zeerust: Not as bad as often claimed. Though much of the show's technology is highly outdated in its presentation (Apparently 23rd-century starships are still controlled by analog switchboards...), Star Trek inspired a lot of modern technology and strongly parallels future developments in technology in various important ways.

Averted, at least for a decade or two, with the "microtape" data cartridges, which look very much like 3.5" diskettes and can store a fantastically large amount of information compared to modern technology.note At the very least recording tapes still exist as a means of long term bulk data storage, with higher capacity tapes and better formatting being made to fill this niche need.
Maybe the in-universe designers of the Enterprise wanted the crew to remember they were talking to a machine, but 21st century GPS units sound much more human and less mechanized than the ship's computer voice.
There is now a remastered version of Star Trek with modern, CGI special effects. In contrast to the changes done on Star Wars, the remastering is generally (though far from universally) well-received (it helps that the Blu Ray release utilizes seamless branching to allow the viewer the choice of watching the episodes as they were originally broadcast, or with the updated special effects). It should also be noted they only remastered the original special effects and didn't take the opportunity to tweak any plot points. The CGI also embraces a degree of Stylistic Suck, so that the improved effects aren't jarring against original footage.
---
"Second star to the right... and straight on 'til morning."