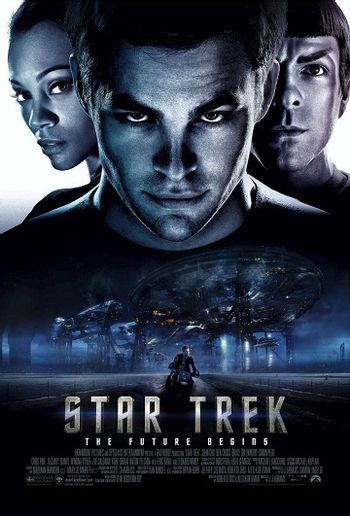 Spock: I would cite regulation, but I know you will simply ignore it.
Kirk: See? We are getting to know each other.
The one where... we go back to the beginning... with Lens Flare — Lots. And Lots. Of Lens Flare.
Star Trek is the eleventh movie in the Star Trek film series, released in 2009.
The Film of the Series and partial Continuity Reboot from Lost creator J. J. Abrams featuring the characters from Star Trek: The Original Series played by a new cast and is set in an Alternate Timeline during the time period of The Original Series. Alternatively called J.J. Abrams' Star Trek, Star Trek 2009/'09, Star Trek: The Future Begins (even though that "subtitle" is actually the tagline), and Star Trek XI/11 to keep confusion in check with the other Trek films.
In 2233, The Federation starship Kelvin comes across a "black hole"-like spatial phenomenon near a distant sun. Emerging from it is a massive ship called the Narada captained by a Romulan named Nero (Eric Bana). Nero kills the Kelvin's captain, and deploying weaponry vastly superior to that of the Federation ship, the Narada forces the Kelvin crew to abandon ship, with many crewmembers lost. While the survivors flee the devastating battle, a young boy is born amongst them: James Tiberius Kirk, son of the first officer of the Kelvin (Chris Hemsworth), who sacrifices himself and the ship to buy time for his crew's escape. This incident ultimately sets a new series of events in motion; one of them being James T. Kirk (Chris Pine) growing up an angry, rebellious young adult until he is recruited by Captain Christopher Pike (Bruce Greenwood) to join Starfleet.
As Kirk makes waves at Starfleet Academy, the Narada and Nero emerge again after years in hiding. The Federation scrambles its fleet to confront the warship, deploying the flagship Enterprise, commanded by Pike, for the first time. All the rest of the fleet is destroyed, with the Enterprise only surviving due to a brief delay in getting to the battlefield. When the Enterprise engages the Narada, Pike is taken hostage. When they learn the Narada is from the distant future and begin to put together the events that lead to that future, it falls on Kirk and Spock (Zachary Quinto) to overcome their initial mistrust of each other and on the ship's green, hastily put-together crew of cadetsnote actually, concerning those with major roles, it's three cadets (one of whom is a lieutenant, and another of whom is already a qualified doctor), an ensign, a lieutenant, a lieutenant commander who was Reassigned to Antarctica, and a commander who was told You Are in Command Now—(the young TOS characters)—to somehow save the day.
The first theatrical Star Trek film to feature any of the original characters in 15 years. Released seven years after 2002's Star Trek: Nemesis (the biggest gap between films to date) from which it takes a major Tone Shift and, believe it or not, to which it is also a loose Stealth Sequel.
Star Trek is the first entry in what has been officially dubbed the "Kelvin Timeline" that continues with the 2013 sequel Star Trek Into Darkness and the 2016 sequel Star Trek Beyond.
Character tropes go on to the Characters Sheet.
---
This film provides examples of:
open/close all folders
Tropes A–B
Tropes C-D
Tropes E-F
Tropes G-H
Tropes I-J
Interchangeable Asian Cultures: Korean actor John Cho plays Sulu, who is Japanese-Filipino.note
Internal Homage: The young Spock's persecution over his half-human heritage and meeting his future elder self was featured in the animated series episode, "Yesteryear".
Interspecies Romance: Spock/Uhura (half human/Vulcan + human), Sarek/Amanda (Vulcan + human) and Gaila/Kirk (Orion + human).
Ironic Echo: When Kirk and McCoy first meet, McCoy tells Kirk, "I might throw up on you," since they're about to fly into space, triggering his phobia. Three years later, McCoy has gotten used to the idea, and stares in wonder at the shiny new Enterprise while Kirk, sick as a dog from the vaccine McCoy gave him, warns him about imminent vomit in turn.
Jerk with a Heart of Gold: Kirk, Captain James T. At first, it's almost as if he wakes up in the morning and thinks of new ways to piss off any and every body he encounters. Wrecks his stepdad's car and stands up to the cop who tried to pull him over. Participates in a bar fight that some cadets start (they punched him first) because he kept hitting on Uhura (who's completely uninterested in him). Reprograms an unwinnable test, which is cheating, to prove that he can win it (by thinking outside the box). Shows no remorse when caught because he doesn't feel he's in the wrong. Indeed, Kirk demonstrates the same wheeling, dealing, and conniving traits of a Magnificent Bastard. The differences are—first, Kirk was never out to hurt anyone just for his own ends. Second, it is made clear he's only acting up because he lacks a challenge worthy of his smarts—once the adventure kicks off, Kirk repeatedly throws himself into danger to save people, despite inevitably ending up getting his ass kicked. Most importantly, he uses his cunning to save the universe. This movie states overtly what the series were more subtle about: Kirk's Jerk tendencies are also the qualities that make him The Captain we all know and love.
Tropes K-L
Tropes M-N
Tropes O-P
Tropes Q-S
Save the Villain: Played with. When the Narada is crippled by the artificial black hole, Kirk offers assistance and fair accomodations for the crew as refugees. Even Spock gave a kind of inverted What the Hell, Hero? to Kirk.

Nero venomously refuses any help and Kirk wastes no time in opening fire to make sure the ship doesn't survive.

Scenery Gorn: When the Enterprise arrives at Vulcan, it finds the other ships that warped there destroyed, and has to dodge large pieces of debris. It doesn't come out unscathed, either; a nacelle drags against a destroyed saucer section.
Sci-Fi Writers Have No Sense of Scale:

Two main problems with the supernova scenario.

First, the idea that a supernova could threaten to destroy the entire galaxy. The blast front would dissipate long before that from spreading out too far. The official novelization of the movie fixes this, saying the supernova had threatened everything in its vicinity. The latter was eventually confirmed canonically by Star Trek: Picard.
Second, the idea that a supernova could destroy the Romulus System before it could be evacuated. Having the shockwave travel at the required speed violates basic Einsteinian physics (i.e. it would have to travel faster than the speed of light, which is impossible). The only way this would make sense is if it was the sun of Romulus and Remus themselves that blew up. Otherwise the star systems in the vicinity would have, at minimum, years to evacuate, a daunting but hardly impossible task for a major warp-capable polity such as the Romulan Star Empire. The comic tie-ins and Star Trek Online stated non-canonically that the shockwave unexpectedly propagated through subspace and hit the Romulan system only hours after the detonation, and the MMORPG added that the nova was deliberately induced by a Renegade Splinter Faction of the Tal Shiar at the behest of the Iconians. Star Trek: Picard retconned the star to be the Romulan sun itself, as well as confirming that much of the Romulan race survived (no sign of the Remans as yet) and blaming the partial failure of the Homeworld Evacuation on internal political problems in the Federation

exacerbated by the actions of renegade Tal Shiar

.

Delta Vega, which Star Trek: The Original Series placed near the rim of the galaxy in "Where No Man Has Gone Before", is somehow close enough to Vulcan for Prime!Spock to watch its destruction by Nero with the naked eye, in real time. This was handwaved at the time as being intended as an impressionistic description rather than meant literally; also, the film's Delta Vega is apparently a different object with the same name as the one from TOS.

Screaming Birth: Jim Kirk's birth at the beginning.
Screw the Rules, They Broke Them First!: Kirk's defense at his disciplinary hearing for cheating on the Kobayashi Maru test is that "the test itself is a cheat: it's designed to be unwinnable." In other words, he just saw it as doing unto the test what it did unto him.
Screw the Rules, They're Not Real!:
Self-Induced Allergic Reaction: McCoy injects Kirk with a vaccine, making him visibly sick. This allows McCoy to fast-talk a guard and get Kirk onto the Enterprise. Of course, some people have worse reactions than others.
Series Continuity Error:
Shouldn't We Be In School Right Now?: Uhura and McCoy are all still Starfleet Academy cadets called to active duty when a catastrophe looms. Kirk should be in the equivalent of detention, facing suspension, and gets bumped up to first officer.
Shout-Out:

ATC: [on speaker] You are clear forward, interval check, thrust positive and steady.

Single-Biome Planet: Vulcan is a planet of stony desert full of Kirk's Rock–like formations. Delta Vega is an ice planet.
Skyward Scream: Nero cuts loose when Spock steals the Jellyfish and its cargo of Red Matter.

Nero: SPOOOOOOCKKKK!! SPOOOOOCCCKKKK!!

Sliding Scale of Idealism Versus Cynicism: Slides a bit on down toward Cynicism from the bright and optimistic place Star Trek: The Original Series occupied near Idealism. But the scenery is a lot prettier.
Slow Laser: Phasers go from "continuous-beam" in prior Trek works to pulse weapons in this film.
Smoke and Fire Factory: The bridge, medical bay, hallways and transporter room of the new Enterprise look all nice and spiffy. Of course, the engineering section has to look like it's powered by Miller Light—and those engineering scenes were actually filmed at a Budweiser Brewery.
Sophisticated as Hell: Inverted by Scotty, speaking of the Enterprise:

Scotty: She is one well-endowed lady. I'd like to get my hands on her ample nacelles, if you'll pardon the engineering parlance.

Soundtrack Dissonance: At the beginning of the movie, as George Kirk sends his ship on a collision course with the Narada, an extraordinarily beautiful musical piece plays.
Sour Supporter: McCoy stands by Kirk through all his crazy shenanigans, even when he can't quite see how Kirk's antics are helping anyone. When Kirk actually manages to gain the captain's chair, McCoy is incredulous.
Space Cadet Academy: Any Star Trek series will probably reference Starfleet Academy at some point, and it features prominently in this movie.
Space Is Noisy:

Subject to the Rule of Drama. When we're subject to a character POV, we either hear nothing or just the sound of their own breathing if they are in a space suit. If there are no character POVs to be subjected to, we can hear the explosions and jumps to warp just fine.
Subverted when the Kelvin is being attacked. There's plenty of crashing and screaming before the hull ruptures and the woman is sucked into space, and then it goes completely silent while she is still flailing and trying to scream.

Space Isolation Horror: Dr. 'Bones' McCoy has a healthy fear of this. He goes on a lengthy diatribe of how dangerous it is to fly around in spaceships like shuttles and what may happen if they malfunction, how alien diseases are horrifying and how space in general is a collection of Death Worlds with an equally dangerous nothing in between them.
Spanner in the Works: Sulu is a mild case early on. He fails to disable the space brakes delaying the Enterprise's jump to warp, which gives Kirk enough time to convince Pike to raise shields before arriving.
Special Effect Branding: Phasers have red and blue emitters for Kill and Stun settings, respectively.
Special Guest: Leonard Nimoy as Ambassador Spock, credited as "Spock Prime".
Spikes of Villainy: Just look at the Romulan ship and the chain the drill is hanging from. Combined with Spikes of Doom when we first see it emerging from the wormhole, spikes curving menacingly towards the tiny-by-comparison USS Kelvin.
Stealth Insult: Upon rejecting admission to the Vulcan Science Council after being told that his "disadvantage" hasn't slowed him down, Spock tells the elders to "Live long and prosper" in the most vitriolic way a Vulcan possibly could. (Commonly memed as "Live long and screw you" or variants thereof.)
Stealth Sequel: It was billed as an Origin Story prequel, but turned out to be a quasi-prequel, sequel and a reboot all in one. In addition to seeing Kirk and co. as rookies, we get

an aging Spock meeting his younger self, and we see how the Federation's conflict with the Romulans finally ends

.
Strong Family Resemblance: As a result of Separated-at-Birth Casting:

James T. Kirk bears such a strong resemblance to his father that some viewers initially mistook George Kirk for his son.
Spock also shares a few features with his mother. His eyes are commented on by other Vulcans as being extremely human.

Stuff Blowing Up: The film features things exploding. Many things exploding. Explodily. Which were produced by Industrial Light & Magic. And it was awesome.
Super-Powered Robot Meter Maids: Nero's ship, a 24th century civilian mining vessel that is capable of destroying 47 23rd century Klingon warships. Even considering the 150 year tech advance, that's still one hell of a mining vessel. In the comic book accompanying the movie, it's explained that Nero's ship is equipped with reverse-engineered Borg weapons that he took from a research base: he had previously trashed a Klingon reaction force commanded by Worf, and fought the USS Enterprise-E to a draw.
Swirly Energy Thingy: Red Matter–induced black holes are oddly two-dimensional and surrounded by a swirly "lightning storm in space."
Tropes T-Z
---
The Future Begins.