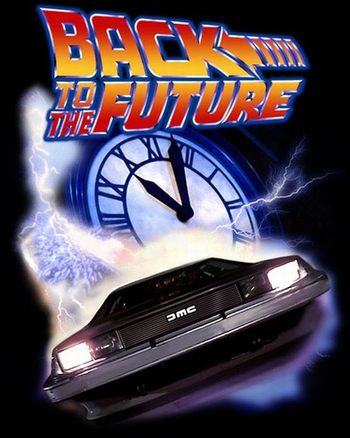 "If my calculations are correct, when this baby hits 88 miles per hour, you're gonna see some serious shit."
— Dr. Emmett L. "Doc" Brown
An extraordinarily successful 1980snote though Part III technically came out in 1990 trilogy of Time Travel movies starring Michael J. Fox and Christopher Lloyd (with an animated Spin-Off series) which has received several homages. They combined Fish out of Water comedy with high-stakes drama, making deft use of threatened Temporal Paradox.
The films are notable for their running gags, based on similar events occurring across time, and solidified the career of Robert Zemeckis. The series itself is very successful beyond the films, later spawning a franchise including:
<!—index—>Film
Back to the Future (1991-1992)
Back to the Future: Forward to the Future (1992-1993)
Back to the Future (2015-2017), the IDW Publishing comic that serves as an interquel for the series.
<!—/index—>BTTF, a Web Manga by Yusuke Murata, currently indefinitely postponed due to rights issues.<!—index—>
Literature
Back to the Future (1985) - George Gipe's novelization of the first film,note which B to the F: The Novelization of the Feature Film dissected.
Back to the Future: The Story (1985) - An abridged version of Back to the Future for children.
Back to the Future (Rainbow Read-Along Adventure) (1985)
Back to the Future Part II (1989)
Back to the Future Part III (1990)
Back to the Future: The Classic Illustrated Storybook (2018)
William Shakespeare's Get Thee Back to the Future! (2019)
DeLorean Time Machine: Doc Brown's Owners Workshop Manual (2021)
Pinball
Ride
Series
Back to the Future (1985)
Back to the Future (1990)
Back to the Future The Card Game (2010), the Looney Labs card game based on Chrononauts.
Back to the Future: OUTATIME (2016)
Back to the Future: An Adventure Through Time (2016)
Back to the Future: Dice Through Time (2020)
Back to the Future: Back in Time (2020)
Theatre
Back for the Future (2011) - <!—/index—>An interquel Web Video directed by Frank Marshall and produced by Gale and Zemeckis, made to promote an auction to benefit the Michael J. Fox Foundation.<!—index—>
<!—/index—>
Tropes? Where we're going, we don't need tropes...
open/close all folders
Tropes A-D
The Alleged Car: While these films made the DMC DeLorean the coolest of the Cool Cars, they also showed that it was delicate and prone to a number of problems (e.g. stalling on a hot start, sticky doors).note The DeLorean misbehaves particularly badly in the first movie, so maybe Doc worked some of the kinks out with the hover conversion?
Alliterative Name: Marty McFly; Clara Clayton; Marty McFly Jr.; Marlene McFly; Maggie McFly; S. S. Strickland
All There in the Manual: The FAQ included in the Back to Future III Blu-ray provides canonical answers to several questions viewers have come up with throughout the years (many of which can also be found on each film's respective "Headscratchers" page), particularly those relating to various time travel paradoxes.
All There in the Script

The names of the goons from Biff and Griff's gangs, as well as Lorraine's friends. The most easily recognizable is 3-D, wearing cardboard 3-D glasses in his youth, and aviators with red and blue lenses as a vice thug in the Bad Future.
As well as other info of the characters' backgrounds. Including Doc's mother's side of the family growing up in Hill Valley.

Almost Kiss: This happens three times in Part I, between Marty and Jennifer (though they did share a brief kiss before she went home with her dad). Towards the end of Part III, the two are finally able to kiss more definitively.
Applied Phlebotinum: The flux capacitor makes time travel possible. Never mind figuring out how, it just does. Lampshaded by Marty.

Marty: Flux capacitor... fluxing.

In a piece of deleted dialogue, Doc goes into slightly more detail about its function: "The flux capacitor stores energy and releases it, like a big lightning bolt."

Arch-Enemy: The Tannens and Mcflys have been going at it for 100 years. The rivalry presumably started with Sheamus and Buford "Mad Dog" Tannen in 1885, then continued with George and Biff in 1955, finally ending off with George being Biff's spineless whipping boy in the original 1985. Marty entered into the feud with Biff in both 1955 and 1985-A. Hell, even Marty's children are still dealing with Griff Tannen in 2015.
Artistic License – Cars: The DeLorean's Vanity License Plate is a California plate that reads "OUTATIME", which is 8 characters. At the time, California plates could only be 7 charcters long; it wasn't until 2014 that eight-character plates could be used.
Artistic License – Physics: They're time traveling. In a DeLorean. Physics in general takes a back seat to the plot, when it isn't given a total Hand Wave. (The hover-capable vehicles from 2015 in particular break the known laws of physics simply by working on antigravity.)

Artistic License – Nuclear Physics: not only an implausibly compact and overpowered fission reactor at the start, but the Mr. Fusion reactor from The Future is a mass-produced home appliance; not only that, but it clearly allows fusion of heavier elements (from household waste- not just stripped out hydrogen as the Doc adds a drinks can after emptying its contents) when, in Real Life, even stars are only capable of heavier than lead fusion in the moments before going supernova.

Author Appeal: Bob Gale is a baseball fan, and works baseball references into the franchise wherever it may fit. For instance, Doc is interested in seeing who wins "the next 25 World Series" in Part I, and Part II has a joke about the Cubs winning the World Series in 2015.note The novelization, based on an earlier draft of the script, mentions that 1955 Doc's favorite team is the Brooklyn Dodgers, and Marty's is the San Diego Padres. The animated series episode "Batter Up" is about the 1897 NLCS, and "Verne's New Friend" makes a plot point of Verne forbidding girls from joining his baseball team.
Berserk Button

"Nobody... calls me chicken." (With a variation in Part III, where the equivalent word is "yellow") This particular berserk button appears to be subject to sequel retconning, as it is nowhere in evidence in Part I. He did seem more willing to get into a fight than was sensible, but not directly from being called names.

Then again, nobody actually did call him a name in Part I.

Marty seems to have another in Part I, which is people messing with his mom (even though she's the same age he is at this point). A lot of Lorraine's infatuation with "Calvin" could have been avoided if Marty hadn't been so eager to leap to her rescue all the time.

Book Ends:

The first time the DeLorean travels through time, it leaves its registration plate spinning on the spot behind it. After the DeLorean makes its final journey and gets destroyed by an oncoming train, the car's registration plate from 2015 is left doing the same thing.
In the original film's climax, Marty returns to the shopping mall just moments before his past self warps to 1955. The only difference is he's returning to Lone Pine Mall, not Twin Pines Mall.
"The Power of Love" by Huey Lewis & The News is played in both the second scene of the first film, and the second-to-last scene in the final film.
Marty's first and last lines in the trilogy are "Hey, Doc?", though in Part III, Marty adds "Where are you going now, back to the future?"

Borrowed Without Permission:

Marty does this twice over the course of the films. In the first movie, he snatches a kid's wood crate scooter (but not before tearing the top part off to make an improvised skateboard) to escape from Biff and his goons. He returns the board after he maneuvers Biff into the manure truck. In the next film, he repeats this act in the future with a little girl's hoverboard, though this time he's told he can keep it, as the girl has made off with Griff's "Pit Bull" model hoverboard, which she apparently considers a step up.
When Doc explains to Marty his plan to use a train to push the Delorean to the speed necessary for time travel in Back to the Future Part III, he puts it like this: "We're going to hijack... borrow... the locomotive.."

Brick Joke:

In 2015, we find that Marty's future life is not going too well, the result of his life going down the toilet after a car accident when he got challenged by Needles, who called him "chicken" to a street race, in which Marty collided with a Rolls Royce and broke his hand, and the driver of that car pressed charges. Marty gave up on his music career and has been resorting to rather desperate means to stay afloat, to such that he agrees to participate in an illegal business deal with Needles after Needles calls him "chicken", and gets a bunch of YOU'RE FIRED!!! faxes from Fujitsu as a consequence. Then the main plot kicks in, which sends Marty and Doc back to Alternate 1985, then to 1955, and then to 1885 for the remainder of Parts II and III. When Marty returns to the present and picks up Jennifer, they are driving in Marty's new 4x4 pickup past the entrance to Hilldale, the neighborhood where the future Marty will live, and our Marty recognizes the place. Just then, Needles and some of his pals pull up alongside Marty and the "chicken" thing comes up. Marty looks like he's going to give in and race Needles, Jennifer desperately telling him not to... but when the light turns green, Marty floors his vehicle in reverse while Needles speeds forward. As Needles barrels down the street, he and his pals narrowly swerve to avoid an oncoming Rolls Royce making a left turn off a side street, and Jennifer realizes it's the car Marty would have hit.

Jennifer: (As they both watch Needles race off) Did you do that on purpose?!

In Part I Doc holds his experiment at the Twin Pines Mall, casually mentioning it used to be farmland, and that the owner tried to breed pine trees. When Marty travels back in time, he ends up on Old Man Peabody's farm, also known as Twin Pines Ranch. When Peabody begins shooting at Marty with his shotgun, Marty is forced to flee towards the road. As he's driving, notice that there are twin baby pine trees next to the dirt path, fenced in to protect them. In fleeing, the car ends up smashing through and destroying one of the two trees. Over an hour later, we find ourselves back at the beginning, only this time we're at Lone Pine Mall, implying that Peabody did not try to replace the pine tree that was destroyed.
The name of Clayton Ravine: Marty says that it's named after Clara Clayton, who fell to her death there — at least, she did until the Doc rescued her. When Marty returns to the future, the ravine is now named Eastwood Ravine, presumably to honor Marty (going by the name of "Clint Eastwood") who had faced down the robber and murderer Buford Tannen before (as far as they knew) dying in the ravine.
In the first movie, when Doc and Marty are preparing for the storm, they're listening to the radio, and the weather report is saying it'll be clear skies all night. Doc asks "Are you sure about this lightning?" Marty responds, "Since when can weathermen predict the weather, let alone the future?" Then, in the second movie, once they arrive in 2015, Doc is able to tell Marty down to the exact second when a rainstorm will end.

Bulletproof Vest: In all three movies; they seemed to like this trope. In real life, only Marty's improvised "stove-door vest" out of the Dollars trilogy in Part III would have worked; the high-velocity rounds from the Libyans' AKM would have torn through Doc's Kevlar-style vest like it wasn't even there... assuming a Mad Scientist with thirty years to prepare hadn't figured out a way to improve on the design.
Burning Rubber: The DeLorean leaves twin trails of fire in the "old" time period after it jumps to the "new" time period. It does this even when it's flying.
Butterfly of Doom: Most of the first film, and much of the sequels. Namely, thanks to old Biff handing that almanac to his 1955 self, A-Biff was able to affect history enough that in 1985, Nixon was in his fifth term as President, and the Vietnam War was still ongoing.
Call-Back:

Several set pieces (such as a Tannen and his gang chasing Marty in front of the Clock Tower) are reused throughout the trilogy, to show that history repeats. Lampshaded by 2015 Biff: "There's something very familiar about all this."
The fundraisers trying to save the clock tower did, indeed, manage to save it.
Doc justifies sending Marty to 1885 in the middle of the desert by saying "You don't wanna crash into a tree that once existed in the past". In the first film, one of the first things Marty did after arriving in 1955 was (accidentally) run down one of Old Man Peabody's twin pines.
When Doc Brown makes a model of Hill Valley in the first movie, he apologizes to Marty that "this is not to scale." Lampshaded in the third movie when Marty interrupts him and says, "Yeah, I know. It's not to scale."

Immediately following the scene where they plan up their escape on a scale model of Hill Valley, a girl is going to pay them a visit, upon which they need to hide the DeLorean. In the first movie, it's Marty's mother Lorraine asking him to go with her to the Enchantment under the Sea dance, while in the third movie, it's Clara Clayton asking Doc to go with her to the inauguration festival of Hill Valley's clock tower, with the pretext of asking him to fix her telescope.

In all three films Marty wakes up in bed, believing his time-traveling escapades have been a nightmare. He is comforted by a character played by Lea Thompson (Marty's mother Lorraine in 1 & 2, his great, great grandmother Maggie in 3) by being told he's safe and sound in some place that jars him and reminds him it's not a nightmare after all. By the end of 3, the roles are reversed: Marty wakes Jennifer up and she tells him she had a strange dream.
The Tannen family has every reason to hate manure.
A blink-and-you'll-miss-it example occurs in the second film when Marty (indirectly) causes damage to Griff's car. Marty had previously done so to Biff's car in 1955, though in a different manner.
In Part I, Biff Tannen crashes the McFlys' car while drunk driving and forces George to pay for not only the damage to the car, but also the cleaning bill for his shirt ("I spilled beer all over it when that other car smashed into me"). In Part III, Buford claims his horse threw a shoe while he was riding it and demands that Doc (who shoed the horse) should pay not only for the horse (which he shot in a rage), but for "the perfectly good bottle of fine Kentucky Red-eye" he was holding at the time.
In the third film, before he gets out of bed at the McFly farm in 1885, Marty stops to make sure his pants are on, after Lorraine removed his pants in 1955.
In the first film, Doc's attempt to demonstrate how Marty will get back to the future with a model of the city and a wind up car goes awry, and the car catches fire. In the third film, the model is still set up in Doc's lab, and Marty pulls the scorched car out of a wastebasket.

Car Fu: In Parts I and II, Biff tries to run Marty down with his car. Both times he crashes into a truck carrying large amounts of manure.
Catchphrase:

Doc's "Great Scott!" and Marty's "This is heavy!" Inverted in Part III, where they once exchange lines.
In the second and third films, Marty also developed the Catch Phrase "Nobody calls me chicken!" (or "yellow" in the Western setting) in response to his personal Berserk Button.
Also hilariously lampshaded in the first film: "Weight has nothing to do with this!", "There's that word again, 'heavy'. [...] Is there a problem with the Earth's gravitational pull?"
In the second and third films, Biff and Buford have good reasons to say,"I hate manure." His gang also subverts this in the first movie when they collide with the manure truck with a cry of "SHIIIIIIIIIIIT!"
Strickland seems to think that everyone's problem is that they're a slacker. Drive-by shooters peppering his home with bullets? Well, EAT LEAD, SLACKERS!
Marty's variations on "What the hell is that?" followed by a punch.
Various Tannens as well as Vice Principal Strickland tend to refer to Seamus, George, Marty, and Marty Jr. by their last names.
"You're the doc, Doc."

Celebrity Endorsement: Michael J. Fox, and Pepsi. (Which he has difficulty ordering.) And don't forget his ever-present Nike tennis shoes.
Central Theme: Don't let people push you down because you can all accomplish great things.
Changed My Jumper: Marty's clothes in both 1955 and 1885 cause people to remark about them.
Chekhov's Boomerang: The hover board, particularly the fact that its owner lets Marty keep it. After its initial scene, it doesn't appear until later on when Marty needs to use it to get to the almanac from Biff. In the third film, the viewer is reminded a few times before Marty goes to 1885 that he still has it, and ends up using it so that Doc can save Clara.
Chekhov's Gag: The jokes about Uncle Joey.
Chekhov's Gun:

If you see a manure truck anytime during the trilogy, a Tannen is SURE to get covered deep in it before the movie's end.
The hover-board: used in the second film multiple times (and in different eras), the device is used again (by Marty) to save Doc and Clara during the climactic train sequence in the third film.
The giant speaker seen at the beginning of the first movie is months later used in the beginning of Episode 1 of Back To The Future: The Game by Marty to get Doc's notebook back from Biff.
Marty's "auto accident": first referred to in Part II (during the 2015 segment), then narrowly averted during the finale of Part III.
In Part II, Marty watches a scene from A Fistful of Dollars during the 1985-A segment (at Biff's Casino). The scene is question is the part where Clint Eastwood uses steel plating under his poncho to protect himself during a gunfight. Marty then uses this trick (with a boilerplate) in Part III to survive his confrontation with Mad Dog Tannen.

Chekhov's Skill:

Marty holding onto cars while skateboarding (skitching) in Part I; he uses the same trick (on a hover-board) in Part II to steal the Almanac from Biff. Later, Doc picks up this trick to travel alongside a train and rescue Clara in Part III.
In Part II Marty demonstrates his skill with a gun-based arcade game. This becomes important in Part III, giving him a sporting chance in an actual duel. This is subverted when he removes his gun-belt and lets Buford shoot him in the boilerplate he wears under his poncho — then beats the shit out of him. Also deconstructed by the reason he needs to pull this off- the gravestone photograph shows it would not be enough to save him from an experienced killer like Buford Tannen.

Clock Tower: Which is used in the clock tower finale.
Close-Enough Timeline: There are not too many changes to 1985 when Marty returns there in Parts I and III.
Colour-Coded for Your Convenience: The DeLorean's LED displays are red for "Destination Time", green for "Present Time", and yellow for "Last Time Departed", in homage to The Time Machine. In Part III, Doc has made presto logs, color-coded green, yellow and red, in increasing order of the amount of heat each produced to make their train run faster, with a corresponding gauge showing when it would happen.
Comes Great Responsibility: Doc eventually comes to view the DeLorean as a menace. Considering it's a device that if misused has the potential to undo the universe, he's not far off.
Compressed Vice:

Marty's "chicken" problem, a key element of the sequels, is never even referred to in the first film. But to be fair, nobody calls him such a name in the first film either.
Related is that in Part I, Marty is concerned that nobody will like his audition tape. At the start of Part II, Marty simply assumes he'll become a rich rock star. Possibly due to being raised by more supportive parents in this timeline?

Contrived Coincidence: Doc Brown had the revelation for the flux capacitor on the exact same day Marty's parents met. Exactly one week later on November 12, there was the school dance where the two kissed for the first time, and lightning struck the clock tower. It also happens that the day of the school dance was also the day Old Biff traveled back in time to change the past. This is virtually lampshaded in the second film.

Marty:

That's right, Doc. November 12, 1955.

Doc:

Unbelievable that old Biff could have chosen that particular date. It could mean that that point in time inherently contains some sort of cosmic significance. Almost as if it were the temporal junction point for the entire space-time continuum! On the other hand,

it could just be an amazing coincidence

.

A deleted scene from II shows future Terry - The mechanic who originally cleaned and fixed Biff's car in 1955 - complaining to future Biff about the money that Biff never paid him for cleaning it. Terry specifically mentioned the day that he returned the car to Biff - November 12th, 1955. Biff could have easily picked another day to come back to, but it's possible that future Biff chose that specific day because it was fresh in his mind, not to mention it was the day that George punched him out, which changed his life forever, and didn't anticipate that Marty would just directly ask alternate-timeline Biff what day it was.

Cool Car:

The DeLorean. Anyone who grew up in The '80s and enjoyed the BTTF movies will invariably hold a sort of unrequited love for them, even though in their unmodified form they're underpowered and don't handle too well. (Arguably, that's part of the joke — getting a real DeLorean up to 88 miles per hour is about as likely as getting it to travel through time.) In fact, the car is so iconic that these days it's practically impossible to look at a DeLorean without thinking of these movies.
Other examples: Biff's '46 Ford Super DeLuxe convertible, Marty's tricked-out 1985 Toyota 4x4, and Doc Brown's 1948 Packard Victoria convertible (of course, to a car buff, almost every car you see in the 1950's segments would qualify).

Cool Old Guy: Doc Brown, the only scientist to believe in quantum physics, and the only one to communicate with his past self.
Cool Shades:

Doc's steel glasses at the end of Part I, used in Part II when he flies the DeLorean.
Also, Marty used sunglasses as part of his "Inconspicuous" '50s clothes.

Covered in Gunge: "Manure. I hate manure!"
David Versus Goliath: George vs. Biff in the school parking lot. Or, alternatively, Marty vs. Biff and his assorted relatives.
Deadpan Snarker: Marty. Doc can be it as well, but not on Marty's levels.

Linda, based on the few scenes we see her in, also appears to be this.

Deliberate Values Dissonance:

In the first film, "A colored mayor? That'll be the day..." after Marty recognizes the malt shop's janitor is the future mayor Goldie Wilson.
Also in the first film, one of Biff's henchmen uses a racial slur towards one of the Starlighters after he confronts them for sticking Marty in the trunk of his car.
In Part III:

"What's that writing? Nee-Kay? What is that? Some sorta injun talk or somethin'?"
"Tannen bragged that he killed 12 men, not counting Indians or Chinamen."
"Musta got that shirt off'n a dead Chinee."

Digital Destruction: The sequels suffered from incorrect framing on their widescreen DVD debut but Universal did fix the issue with both a replacement program for existing discs and new corrected discs in stores. But...

The 2010 DVD rerelease and Blu-ray debut (and 2015 reprints) had bad end credits on the original Back to the Future, with the text tilted, off-center, and squished by 25%. This was never fixed in that release cycle, but 2020 Blu-ray and 4K discs have the correct credits (standalone DVD rereleases may use the 2010 master).
All versions since 2010 have included a shortened version of the blackout in Back to the Future Part II after Marty is hit by Biff's goons in 1985A. Previous releases kept the screen blank for over 5 seconds as the sound died away and the next scene's music began; now it's only a few seconds, fading back in before you know what's happened and giving no feeling of lost time, and it also cuts out some of the music. Comparison here.

Diner Brawl:

At least as far as Part I and II are concerned, every time a McFly (or two) goes to the local diner, a Tannen is sure to be there along with his cronies to cause grief for the victim.
Part III also invokes the trope, though in a saloon instead of a diner, as evident when Buford walks into the bar and mistakes Marty for Seamus.

Double Vision: Used frequently and well.
Dramatic Irony: Due to the time-travel heavy plot, we get a lot of this.
Tropes E-N
Tropes O-Z
---