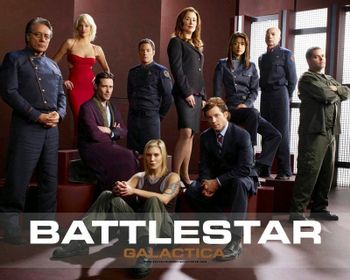 "The Cylons were created by man. They rebelled. They evolved. They look — and feel — human. Some are programmed to believe they are human. There are many copies. And they have a plan."
— Opening title card, Season 1
For the original series, see Battlestar Galactica (1978).
In 2003, the Sci Fi Channel revived the classic 1970s space opera series in a four-hour miniseries, followed in 2005 by a regular series which ran four seasons before concluding in 2009. The new program, considerably darker and more adult-themed than the original, discarded the original series' continuity and retooled many of the main characters, while keeping many of the original show's themes and technology. Despite initial protests from fans of the original series (including original series' star Richard Hatch, who had long hoped to relaunch the series and reprise his role as Apollo), the new series quickly became one of the most popular programs in Sci-Fi's history, and nowadays is often-considered to be one of the most influential and critically praised science-fiction series of the early twenty-first century. Even Hatch eventually changed his tune, joining the show's cast as political dissident Tom Zarek.
The 2000s series picks up forty years after the end of the first war between the humans and Cylons, in this continuity sentient machines created as soldiers by the human race. As the story begins, the Cylons, now led by a group of artificial humans, launch a surprise nuclear attack that obliterates almost the entire human race. Like the original series, the survivors form a fleet led by Galactica in search of the lost thirteenth colony, Earth, with the subversion here that whether Earth even exists or not is completely unknown to the fleet. Religious symbolism and revelation play a great role in the new series, as the fleet follows signs and omens that may lead them to Earth while wondering whether or not they're just wasting their time. The polytheistic religion of the humans, based on classical Greek/Roman mythology, also comes into conflict with the monotheistic, vaguely Christian faith of the humanoid Cylons, with the occasional dropped hint that both groups are receiving revelation from the same source.
The new series has been favorably compared to Babylon 5 and Firefly for its character-driven storylines and for attempting to portray space physics in a realistic manner despite the occasional excess. It has even been the subject of a panel discussion at the UN
. The newer series also avoided several obvious space opera cliches (such as Space Clothes, Teleporters and Transporters, Lasers, excessive Technobabble, and even communicators). Suffice to say, countless other works in the science fiction genre, such as V (2009), Mass Effect, The Man in the High Castle, and The Expanse, have all gone on to take clear influence from Galactica.
There were also two Made For TV Movies, called Battlestar Galactica: Razor and Battlestar Galactica: The Plan.
The first one told the story of the Battlestar Pegasus, led by Admiral Helena Cain, as it fled from the Cylon attack until they met up with the Galactica in "Pegasus". It is told through the flashbacks of Kendra Shaw, one of Cain's top lieutenants, and intersects with events that take place at the end of Season 2, when Lee Adama takes command of the Pegasus, and the Fleet encounters a Cylon Breakaway faction led by a proto-hybrid. It was released in 2007, in the gap between Seasons 3 and 4.
The second one told the story of the destruction of the colonies from the point of view of the Cylons. It features original material and scenes from the series. It was directed by Edward James Olmos and came out in 2009, after the series finished. Olmos, who has stated in the past that one of his life goals is to direct or star in a movie with Male Frontal Nudity, finally got his wish with this film, which features an inexplicable lingering zoom-in shot of a penis during a shower scene.
Caprica, a prequel set 58 years before the events of the Mini-Series, portrays life in the Twelve Colonies and shows the story behind the creation of the Cylons. It premiered in January 2010, but was cancelled after just one season.
Another TV-Movie, set during the first Cylon war, between Caprica and Galactica, was made in 2012, called Battlestar Galactica: Blood & Chrome. Initially meant to as a pilot for another series, Syfy eventually passed; It initially aired as a Web series on Machinima before eventually airing on Syfy and going to home video in 2013.
In September 2019, it was announced that a new series set in Battlestar Galactica universe was being produced for NBC's upcoming streaming service Peacock, to be executive produced by Mr. Robot creator Sam Esmail.
Despite the premise, there are surprisingly few video games based on the series. Battlestar Galactica Online is a browser-based spaceflight action MMO, set in an AU where a jump accident pre-New Caprica sends both Colonials and Cylons into uncharted space filled with the leftovers of mysterious precursors. Battlestar Galactica Deadlock is a 2017 strategy game on PC that puts the player in command of the full Colonial Fleet during the First Cylon War, managing the fleet in both a strategic and tactical layer. A hidden role traitor Tabletop Game was also released, with several expansions.
---
Tropes used by the remake:
open/close all folders
Tropes A-D
Brain Uploading: The Cylon means of immortality.
Break Out the Museum Piece: The Galactica was in the process of being converted into a museum when the Cylon attack caused it to be pressed back into service. Also, the fact that Cylons can disable linked computer systems means that cutting-edge ships and fighters are useless against them, so older ones have to be used. Well, at least until they adapted the newer ships at later points in the series. And hilariously enough, Edward James Olmos actually broke a museum piece in an awesome bit of ad-lib acting during a scene early on in the show.
Breakout Character: Head-Six was literally created by the writing team so as to keep a version of Caprica-Six around that could regularly talk to Baltar in the Colonial Fleet after everyone was stunned by Tricia Helfer's fantastic performance as Number Six. As such, Head-Six is easily one of the most popular and iconic characters out of the whole series, being featured in the series' marketing more than perhaps any other character (and not just for the obvious reasons).
Breakout Villain: John Cavil, thanks in large part to Dean Stockwell's amazing performance, was elevated from being just a minor Cylon character to becoming both the series' Big Bad and even the Greater-Scope Villain behind the Fall of the Twelve Colonies.
Break the Cutie: Boomer. Things just take a downward turn for her in the first season and the series keeps running with it until the inevitable snap. Similarly, the poor universe utterly despises Felix Gaeta, and things keeps getting worse for him until his Face–Heel Turn in the final season.
Broken Ace: Kara "Starbuck" Thrace. Top notch pilot, expert markswoman, fine brawler-but suffering from memories of an abusive childhood, a morass of self-esteem and self-loathing issues, and unsure of how to have a life beyond being The Ace. And of course it just gets worse halfway through the fourth season when she finds out she's been Dead All Along.
Broken Base: Possibly thematically lampshaded when the Colonial Fleet is joined by a Broken Baseship in the last season.
Broken Pedestal: The Final Five, depicted in visions as glowing angelic beings in long flowing robes and held up as gods by the other six Cylons, turn out to be the five most screwed up, petty, petulant, disorderly, malcontent, self-centered and, ironically enough, human characters in the whole series. It also makes sense in-universe: Cavil wiped their memories and stuck them with the humans to teach them a lesson. He enforced a taboo amongst the other Cylons about discussing them. Both aspects backfired.

Gaeta has this with both Baltar and (in Season 4) Commander Adama.

Bunny-Ears Lawyer:

Starbuck habitually indulges in self-destructive and disrespectful behaviour that would get her kicked out of any real-world military. Among other things she misses her scheduled flight due to heavy drinking and punches her executive officer. It's justified in-universe by the fact that she has extraordinary skills as a pilot when pilots of any kind are desperately hard to come by. It probably doesn't hurt that she's Commander Adama's surrogate daughter-figure.
Colonel Tigh is a Jerkass alcoholic, known for Drinking on Duty, and once getting into a fistfight with a subordinate officer during a poker game (even he couldn't honestly remember when asked later if Starbuck threw the first punch or if he did). When he sobers up, he is a very capable and fiercely loyal XO to Commander Adama, saving the ship with his fast decision-making more than once.
This is all a bit more understandable in the light of the miniseries; they're both assigned to an aging Battlestar that's about to become a museum, and comments from various corners make it clear that neither Starbuck or Tigh have particularly good-looking futures for their careers once the Galactica shuts down and Adama can't shield them as much anymore from retirement; Lee, who does have a good career going, can't really believe how they act at first. And then the world blows up, and all of a sudden they have no option but to continue their jobs despite their flaws, which essentially become subplots for the first few seasons.
Played literally with Romo Lampkin, a kleptomaniac manipulative attorney who hates cats (despite having a pet cat).

He acquits Baltar against all odds and survives several direct attempts to kill him.

Butt-Monkey: Recurring Viper pilot Kat repeatedly gets into near-death experiences throughout the first half of the series, which eventually leads to her turning to drugs to deal with the stress and trauma this has caused. Her luck improves for a while, only for her secret past as a smuggler to nearly be revealed, which would ruin her career, Starbuck gives her a brutal "The Reason You Suck" Speech and threatens to reveal it to Adama, and she dies of heavy radiation poisoning sustained while trying to guide civilian ships out of a highly radioactive area near a sun about to go nova.
Cain and Abel: Any serious conflict between the Cylons amounts to this, since all but the five originators of the race are technically brothers and sisters by relation.

John Cavil murdered his brother Daniel out of jealously because his mother loved him more, polluting the models during their assembly process.

He later tries to permanently kill half of his siblings for rebelling against him.

Boomer and Athena's interaction also becomes increasingly hostile as Boomer feels that Athena got the life she should have had. Athena knowingly started out as a Cylon before joining the humans willingly, while Boomer believed herself to be human before having her Cylon nature forced upon her. She threatens to kill Athena's daughter Hera before Six kills her. After downloading again Boomer later

beats up Athena and ties her up, then forces her to watch as she makes out with Athena's human husband Helo and kidnaps her daughter for Cavil.

Call a Rabbit a "Smeerp": Rather justified given the setting is far removed from Earth, but still there. DRADIS (radar), "Carom" (mark), "Krypter! Krypter! Krypter!" (Mayday! Mayday! Mayday!), "JP" (unspecified if gallons or liters).
Calvinball: The sport Pyramid and the card game Triad, although the real-world company Anovos said the latter is just Poker. It's also technically inverted from the original series, where Pyramid was a card game and Triad a ball game.
Camping a Crapper: Starbuck does this

to a mutineer during Gaeta's coup.

Captain's Log: Some episodes have segments featuring Commander Adama's thoughts that he's recorded in his personal journal.
Canadian Series: The Canadian involvement and references in this series is undeniable.
Cartwright Curse: Chief Tyrol may be a cutie, but it sure is dangerous being his main squeeze. Similarly, trying to date either Starbuck or Apollo is usually a good indication that you will not be long for this world.
Casual Interstellar Travel: "JUMP!"

Although ironically, it's not a case in-universe... the vast majority of traffic is between the twelve planets, all located in one planetary system. Worlds outside there are generally for mining or research, not true colonies, so few of them have any traffic to speak of. "Casual" interstellar travel only becomes common after the colonies are destroyed and they don't really care where they're going.

Catchphrase:

"So say we all."
The original series' "By your command" makes a single appearance and then is abandoned, maybe in part because this series' Cylons have very little in the way of hierarchy.

Caught with Your Pants Down: Gaius Baltar is haunted by visions of his Cylon ex that nobody else can see. She frequently gets romantic with him. It's shown that this looks like exactly what you'd expect it to look like when Starbuck drops by his lab and catches him "doing his exercises" in the first season. She almost lets this pass without comment ...and then dryly asks him to zip up his fly.
Celebrity Survivor:

Starbuck runs into a band of survivors who used to be a professional sports team before the nuking of Caprica, who only escaped the initial blast because they were training up in the mountains. The team was also not really trained in guerrilla warfare. They were just using techniques that they saw in contemporary movies, with predictably mixed results.
Before the Cylon attacks, Gaius Baltar was also a well-known scientist and proponent of re-developing advanced computer technology. It is Baltar's celebrity status that causes Helo to give up his seat on the Raptor to him, stating that if humanity was going to survive, it would need smarter people them himself. Ironically, Baltar was an Unwitting Pawn of the Cylons, causing most of civilization to be destroyed to be destroyed in the first place.

Central Theme: Faith (both of the religious kind and not), the nature of humanity, family, and Eternal Recurrence. "All of this has happened before, and will happen again."
Centrifugal Farce: Used to simulate difficult targeting conditions by Viper pilots.
Character Development: Every. Single. Character. For the most part this is handled supremely well, other than a few duds.

And they all do it relatively well. One particular example is William Adama, who at the end of the first season objects to Roslin's use of troops against civilians, because of what his father (a civil liberties attorney) taught him about the dangers of that. And later on, he's still willing

to vote against conviction of a war criminal, because "the defense made its case."

But that doesn't stop him from ultimately threatening a person's loved ones in order to stop a worker's strike that could cripple the fleet, apparently in full knowledge of how horribly he was acting but grimly deciding that when the survival of the human race is on the line, one must engage in certain sins to ensure a greater virtue.
Ellen Tigh might be one of the most stark examples in the entire show. While for the majority of the series she is presented as a scheming Lady Macbeth and source of Toxic Friend Influence for her own husband, Season 3 starts to show more of her genuine love for Saul during the New Caprica occupation and Stepford Smiler traits. Furthermore, after she dies and resurrects, she becomes an empathetic Team Mom (well, relatively speaking), to the point where she forgives her own son after learning that he raped her and was responsible for the deaths of over 50 billion innocent people (among many other crimes).

Characters Dropping Like Flies:

Billy, Gaeta, Zarek, Dualla, Cally, Anders (rendered effectively brain dead), D'Anna Biers (presumably perishes on the uninhabitable "Earth")

, multiple supporting cast crew members whose deaths were depicted, several last-episode fatalities (

Roslin, Cavil, Tory

, etc.) and that's not counting characters who die but come back at least once.
Character Shilling: Zig-zagged with Laura Roslin. She gets away with things any leader would be called to account for, and frequently brushes aside her responsibility as a quasi-democratically elected (or at least popularly acclaimed as such when the alternative is to reinstate Gaius Baltar as President) leader with a requirement to get the consent of the people instead of issuing edicts and orders. However, not only does she still go through tons of crap over the course of the series, both her and Adama's praise in spite of their numerous flaws is shown to be due to everyone else understanding on some level that they're slowly cracking under the almost-hilarious pressure they're all undergoing to prevent mankind's extinction.

Inverted with Tom Zarek. He's never trusted, even after being legitimately elected a Quorum of Twelve member and retained as Vice-President under Roslin, who he seemed initially to have come to terms with after

the Cylon occupation (under which both leaders were subject to illegal detention, incidentally)

. Then the show shoots him off the bus...

until later it's shown that he was just biding his time, looking for the chance to stage his own coup.

Chekhov's Gun:

A Viper that sat there a long time. Early in the pilot episode(s), the crew of the Galactica announce that they have managed to hunt down Commander Adama's old Space Fighter and have it on the hangar deck. The first time we see him fly it is in the denouement of the series finale.
On a similar note, Episode 10 of Season 1 features

Head Six explaining herself as being 'an angel of God'.

The last thirty seconds of the series pays this off, when it's revealed that she wasn't lying. It's literally true.

Chronic Backstabbing Disorder:

Gaius Baltar can fall into this at times thanks to his willfull Aesop Amnesia and Dirty Coward traits, though he significantly improves as the series goes on.
Boomer changes sides so often it's amazing she doesn't get whiplash. In fact, Cavil states that all the Eights have a tendency to betray as part of their self-destructive streak.

Chuck Cunningham Syndrome: In the pilot we're introduced to Boxey, a young boy who was a regular in the original series. He's rescued by Boomer, who carts him all the way back to the Galactica, and introduces him to Chief Tyrol as "a new part of the crew." He appears again briefly in the third episode and was in a deleted scene in the second episode, and then is never seen again.
Clear My Name: "Six Degrees of Separation" has Baltar trying to exonerate himself and prove that he wasn't the man who sold out humanity to the Cylons. In an interesting twist, both he and the audience know that he actually was the traitor, but as the evidence implicating him is falsified and Baltar is now The Atoner, both we and him are still motivated for Baltar to prove his (false) innocence.
Cliffhanger: The occasional two-parter, such as "The Oath" used this very well.
Cloudcuckoolander: The Hybrids are an incredibly creepy example. Sometimes they will blurt a piece of information only certain people can interpret as anything important.

Baltar also comes off as this to anyone who catches him conversing with (or doing other things to) Head Six. Unlike with the Hybrids, though, this is more often than not Played for Laughs.
Cally fell into this territory Once an Episode near the beginning of the series. As she Took a Level in Cynic, they became far more infrequent.

Cold-Blooded Torture: "Flesh and Bone" is largely focused on Starbuck engaging in this regarding the captive Leoben, with waterboarding mostly being featured (as part of the series making a thinly veiled Take That! towards the use of waterboarding at Guantanamo Bay by the United States during The War on Terror). It doesn't work at all, and it's only when Starbuck actually tries to properly interrogate Leoben that they reach any form of success.
Les Collaborateurs: On New Caprica, many Colonials work with the Cylon occupation regime. The majority of them are killed by a suicide bomber in the first episode of Season 3.
Colonel Badass: Saul frakking Tigh. Colonel Belzan, former XO of Pegasus, gets a nod for having the integrity (and the balls) to defy Admiral Cain's order to launch a suicide attack. Averted with Colonel Fisk, who's generally a coward, not to mention a criminal.
Color Wash:

Most scenes set on Cylon-occupied Caprica are given an ugly but fitting saturation boost to the lighting, which serves as a subtle reminder of the planet slowly but surely becoming an uninhabitable wasteland thanks to the Cylons' nuclear bombardment.
On a lighter note, most scenes set on Kobol are given a subtle green filter, to the point where the foliage on the planet comes across as almost implausibly green so as to further underline the fertility of humanity's homeworld.

Coming in Hot: Galactica is basically an aircraft carrier in space, so of course they will have a crash landing or two...so they get one out of the way right off the bat in the miniseries.

Apollo: (his ship being pushed by Starbuck's ship towards Galactica's retracting hangar bay)

We're coming in a little hot, don't you think?!

Starbuck: No... (Starbuck's eyes widen in fear)

The above is also justified, as they only have a limited number of aircraft and no resources to make new ones until much later in the series, so they do not really have the option to just eject and save the pilot - they have to try and save the ship too.
They make a pretty regular tactic out of this trope, due to how FTL travel affects tactics and maneuvering. The Vipers provide screening for the Galactica against Cylon Raiders for as long as possible. The recall order is given during the Galactica's final preparations for jump, and the Vipers make a "Combat Landing", forgoing all practiced form in favor of getting inside the hangar bays as fast as possible before their mothership jumps.

Communications Officer: Dualla for most of the series, later succeeded by Hoshi.
Commuting on a Bus: Commander Kelly is, judging by dialogue cues, the third highest ranked officer on Galactica behind Adama and Tigh but only ever makes a handful of appearances across the course of the series. A somewhat justified example as his job as Landing Signal Officer means he's usually down at the landing bay overseeing landing procedures. His appearing in CIC usually means something is really wrong and someone higher up is unavailable.
The Complainer Is Always Wrong: Deconstructed in the grand scheme of things when Tom Zarek actually brings up a valid point when he argues that the government is pretty much a joint-dictatorship between Roslin and Admiral Adama. Of course, not only is he a former terrorist and wants that power for himself, but he also crosses the Moral Event Horizon eventually, so it doesn't exactly give him the moral high ground.
Conservation of Ninjutsu: Early in the series, Cylon Centurions are depicted as being veritable juggernauts in battle, with a small raiding party necessitating headshots with high-explosive rounds in order to be brought down. By the series finale, the Galactica crew is able to drop waves of the things using only pistol-caliber carbine rifles and submachine guns.

Ronald D. Moore addressed this in a podcast, saying that the humans eventually developed armor-piercing ammunition to counter the Cylon's upgraded armor.

Continuity Nod: The Cylons use the infinity symbol of the Soldiers of the One from Caprica during a funeral service in "Islanded in a Stream of Stars".
Continuity Reboot: The new series is a reboot of the franchise, starting from a clean slate and having only the premise in common with Battlestar Galactica (1978). It's got a Setting Update and more modern feel than the original.
Convenient Miscarriage:

Caprica-Six and Tigh's son (Wil)Liam, caused by Tigh switching his affections back to Ellen

.
Cool Ship: Technically averted with the Galactica, which survives thanks to being an obsolete old bucket (while still remaining very cool indeed) and played straight with the Pegasus and the Cylon Basestars.
Courtroom Episode: The two-part Season 3 finale "Crossroads" is focused around

the trial of Gaius Baltar for his role in the dismal affairs regarding New Caprica

.
Conveniently Close Planet: Averted in "Water."

Tigh: (to Roslin) The galaxy's a pretty barren and desolate place when you get right down to it.

Played straght in "Act of Contrition," as Starbuck is incredibly lucky to have been right next to a planet when she had to punch out.
Although they did encounter a lot of planetsnote in the series, the "jump" method of travel obscured the distances; many of the hops were described as requiring several jumps.

Conveniently Unverifiable Cover Story: Former trope namer; Boomer's plausible cover story. Presumably the Final Five have similar "biographies" to go with their Fake Memories.

It can be freely speculated about a lot of the people on the show because almost all of the records of what everyone did before the Fall of the Twelve Colonies was lost on their nuked homeworlds.

Constructed World: Almost, but not quite. On the one hand, it's obviously averted in that the series frequently uses names and other real-world terms (i.e., the Lords of Kobol are all named after deities from Classical Mythology, and the Cylon's religion is a thinly-veiled parallel to Christianity), and the main characters are all searching for "Earth." However, it's also played straight in a sense with that the Twelve Colonies of Kobol still have a lot of appropriately alien histories and cultural details given to them, and that's all without getting into the Cylons' bizarre pseudo-Hive Mind "democracy". And in a more clear instance of this trope, the Cyrannus planetary system where the Twelve Colonies are found is not based after any discovered planetary system in reality.
Cradling Your Kill:

In the third season, Saul Tigh is convinced that his wife, Ellen, has betrayed the human resistance movement by collaborating with the Cylons. The resistance leaders agree that she must be punished by death, so Saul volunteers to do the deed himself. He poisons her drink, and gently holds her as her last breath slowly slips away. This does his psychological state no favors.

Crapsack World:

The Colonial Fleet. Morale hangs by a thread, paranoia at the prospect of Cylon infiltrators is through the roof, rights that the Colonials had back home are steadily eroded by grim necessity (such as abortion being ruled illegal), the supply situation gets ever more desperate as the ships of the fleet grow ever more decrepit as time goes by, children end up working dangerous jobs or meet even worse fates at the hands of black marketeers, and even the good guys have to put down strikes with threats of violence against the instigators' families to ensure their continued survival. Needless to say, there's an endless list of reasons for why it utterly sucks to living in the Fleet.
New Caprica is a cold and barely inhabitable planet with only a thin strip of survivable terrain along its equator. Naturally, it gets even worse after the Cylons eventually find the settlement, quickly transforming from a Benevolent Alien Invasion into a ruthless occupation regime that organizes the mass execution of civilians in the face of the Resistance's suicide bombings.

Crapsaccharine World:

Cylon society is portrayed as this, as highlighted in "Downloaded". On the surface, it seems to be a blissfull and peaceful direct democracy dedicated to spiritual enlightenment, but it's ultimately a ruthless Police State ruled over by the Ones with an iron fist, with Cylon society being fueled by the enslavement of the Centurions and Raiders and religious fervor being twisted into justifying the extinction of humanity. By the final season, they're ultimately running out of as many resources as the Colonials are, being reduced to little more than rags and become a straight-forward Crapsack World.
The Cylon farms are worthy of special note, as they may look like pleasant health clinics on the surface, but they're ultimately horrific facilities where human women are kidnapped and hooked up to hideous "birthing machines" as part of the Cylons' experiments into restarting biological reproduction.

Critical Staffing Shortage: The Galactica was about to be decommissioned so the Colonial Navy already stripped it of its best personnel and it is left with a Ragtag Bunch of Misfits who were meant to be retired or discharged after the Galactica is scrapped. When the war with the Cylons starts, combat losses makes this problem even worse. New personnel are recruited from the civilian fleet and at one point Adama has to cut a deal with the prisoners on a prison ship in order to use them as needed labor. There is almost a mutiny because skilled people are kept in undesirable job positions because their skillset is too valuable to allow them to be promoted or transferred out.
Cryptic Conversation: Much of Head Six's conversations with Baltar.
Crystal Ball: Or rather, the pool of water used by the prophetess on New Caprica.
Cultural Posturing: Used by both sides at times to some degree.
Curb-Stomp Battle: The Second Cylon War starts out as a very brutal version of this, with the Colonials being subjected to a hellish nuclear bombardment and less than 50,000 people left out of the previously 50 billion population of the Twelve Colonies survive. To put that into perspective, that means that less than 0.0001% of the original population of the Colonies survived. Though weirdly enough, the humans actually win in the end. Well, if you can call it that...
Cut Himself Shaving:

Gaius' explanation to his cult after some thugs assault him with his own shaving razor: "Cut myself shaving."
Adama, on the other hand, actually does cut himself shaving quite a lot.

Cyborg: Most if not all Cylons are cyborgs. The Raiders are almost entirely organic on the inside, and the human-forms are ambiguous. On the one hand, they are extremely difficult to tell from humans. On the other, Sharon once accomplished something useful by cutting her hand open and jamming a fiber-optic cable inside. In a later episode it is stated that the human-form Cylons have some sort of organic optical data port in their hands, which is how they control and receive data from the basestars. Presumably Sharon was inserting the fiber so that she could make a good connection to the Galactica's less advanced hardware. On a Basestar, they just stick their hands in the literal datastream. The Centurions are in fact the only ones who are entirely mechanical.
Cycle of Revenge: The entire series is ultimately about a Vicious Cycle involving this trope in regards to

the relationship between humanity and Cylons (A.I.s)

, and everyone either playing into this or intentionally trying to permanently break it. "This has all happened before and it will happen again."
Darker and Edgier: As mentioned above, the reimagined series is significantly darker, harsher, more mature, and focused on headier themes than the original show. The series is also generally considered to be an exceptionally well-done example of this trope.
Daydream Surprise: In one of the later episodes, Tigh

shortly after finding out he's a Cylon, shoots Admiral Adama in the CIC. Everyone panics.

Then he looks up and it turns out that was all in his head.
Day in the Life: "Final Cut" (but not "A Day in the Life"), which depicts a journalist filming a normal week for the crew and gives a lot of focus to the non-main character Viper and Raptor pilots.
Dead All Along: Starbuck as of Season 4. She (understandably) doesn't take it well.
Deadline News: In the miniseries, when the bombs go off.
Deadly Hug:
Deadpan Snarker: Baltar, Roslin, Doc Cottle, Starbuck, Anders, and Tigh among the heroes, while Cavil is a villainous example. Felix Gaeta also takes a level in snark thanks to his Trauma Conga Line, Romo Lampkin is a pretty obvious case as he's played by Mark Sheppard (who pretty much has "condescending sarcasm" as his default tone of voice), and the "Head" characters both fall into this thanks in large part to their Blue-and-Orange Morality. Really, the whole show is set in a World of Snark.
Death Glare: Helo to Roslin, after she berates him for trying to rescue his daughter by killing the immortal Athena. Adama to a good many people.

"Gods! His ego is shriveled up like a dried raisin!"

Death of a Child:

The baby Caprica Six Mercy Kills in the miniseries.
The girl on the botanical cruiser also in the miniseries.
The child in Baltar's vision in Season 2.

Death of the Old Gods: The series is a rare sci-fi example. The Cylons seek to replace the Greco-Roman gods of the Colonies with their own vaguely Judeo-Christian God. At the end of the series, it turns out that this God was the only real one and was secretly guiding all of the events, although He was never actually on the Cylons' side, and "the Lords of Kobol" might've been aspects/"angels" of "God" this whole time. Yes, it's just as confusing as it sounds here.
December–December Romance:

Adama and Roslin, by the end. Ellen and Saul Tigh also count, being over 2,000 years old each.

Defecting for Love: Caprica-Sharon was originally a loyal Cylon agent. Then she met Helo...
Deliberate Values Dissonance: Per Word of God, this was deliberately invoked when assigning religious practices to the Twelve Colonies of Kobol and Cylons. The Colonials, who are overall the main protagonists of the series, practice a traditional polytheistic faith heavily reminiscent of Classical Mythology, despite largely seeming to be a United Space of America given the Constructed World treatment and having an officially secular government. Meanwhile, the (primarily) villainous Cylons are monotheistic extremists who follow a thinly veiled version of Christianity, to the point where most of their mentioned Scripture sounds like fire-and-brimstone Evangelical Christianity. According to the show's main creator Ron Moore, this was done so as to play on how Christian-centric most Western media portrays religion.
Democracy Is Flawed: It's not clear if this was an intentional Aesop, but a great many of the Rag-Tag Fleet's problems could have been avoided if President Roslin would favour expert advice over public opinion.
Denser and Wackier: Initially the only fantastic elements are spaceships and robots. As the series goes on such oddities appear as angels, prophetic dreams, and immortal beings start to be introduced.
Depopulation Bomb: The series starts after the Cylons launched a surprise nuclear attack that reduced the human population from around 50 billion to a little less than 50,000.
Despair Event Horizon: The discovery of a

nuked out Earth

does this to the fleet; Admiral Adama rises the morning after to find "Frak Earth" graffiti on the walls and crew members slumped in drunken stupor everywhere. Suffering a Heroic BSoD himself, Adama passes without comment.
Deus ex Machina:

In the finale, Kara assumes the role of this trope in its classical literary meaning, by simply puffing out of sight, just after confirming her journey was over and that felt good. And that is not-so-just after she doped out the coordinates of our Earth from a Cylon-song, being someone once went to another one and died there, and simply returned. She came out be a some sort of instrument for God's mysterious ways.

Did Not Get the Girl:

Poor Apollo and Tyrol. Apollo lost Starbuck to Anders, Dualla to herself, and Starbuck disappears into thin air. And Tyrol never got to live in that house with Boomer, or even had that kid with Cally. What's more his reincarnation of his lover from a past life, Tory, was never even considered, and she was the one who killed Cally and Tyrol then killed her in a fit of vengeful rage.

Adama also qualifies when his beloved Roslin succumbs to cancer before they have a chance to settle down together.

Different in Every Episode: Over the course of the series, the number on the whiteboard on Colonial One counts down, indicating the remaining population of the fleet in each episode.
Digital Piracy Is Okay: The first season of the series aired on Sky1 in the UK, before it aired on Sci-Fi. As a result, high-quality captures of the UK broadcasts were easily found on line, with the entire first season available via file-sharing before its second episode had even aired in the States. The incredibly positive word-of-mouth from fans (especially in comparison to the tepid reaction that the mini-series had gotten in the States when it aired) who'd already watched through the season bolstered its reception once it began airing on Sci-Fi.
Dirty Old Man: "The Plan" has the Cavil on board Galactica making out with Boomer after ordering her to kill Adama.
Dirty Old Woman: ] Ellen Tigh. She even gropes Lee at one moment during a dinner party.
Tropes E-H
Tropes I-L
Tropes M-P
Prison Ship: A prison ship called the Astral Queen held common criminals as well as noted terrorist Tom Zarek. When the fleet needed laborers for dangerous duty mining water ice on a frozen moon, Zarek negotiated the partial release of the prisoners as a condition of their being used as grunt labor. The prisoners were given their former prison ship as their new home among the fleet.
Profane Last Words: In the final episode, the Big Bad John Cavill, upon suffering a serious reverse, blurts out "Oh, frack!" and shoots himself through the mouth.
The Promised Land: Earth.

This trope is put on the cynical side when the colonists find Earth, but it is a burnt-out nuclear wasteland. The trope swings back over to the idealistic side in the series finale, when they find a life-filled planet that they name Earth in memory of the legend.

Prophecy Twist: The Sacred Scrolls contain the prophecies of the ancient priestess Pythia, the latter of which foretells how humanity will be led to The Promised Land after the Fall of the Twelve Colonies. The most prominent lines in the prophecy state:

"And the Lords anointed a leader to guide the Caravan of the Heavens to their new homeland. This leader shall suffer a wasting illness and die before setting foot on the promised land."


This prophecy is used, along with another given by the Basestar Hybrids concerning Kara Thrace (as recorded below), to help drive the series' Myth Arc. Some details are explicitly explained in the series, such as:

The line "Led by serpents numbering two and ten..." refers to the twelve Vipers that won the Battle of the Tylium Asteroid for the Colonials late into Season 1.
Another line, "Though the outcome favored the few, it led to a confrontation at the home of the gods," is talking about the battle over Kobol in the Season 1 finale.

Overall, however, most of the prophecy's meaning isn't given and it's left up to interpretation. While Laura Roslin seems to be the obvious choice for the dying leader (she's the President of the Twelve Colonies, is dying from breast cancer, receives a vision of twelve serpents upon her podium during a press conference at one point alluding to the prophecy's line "And unto the leader they gave a vision of serpents numbering two and ten, as a sign of things to come", reaches both Earths (and even walks on the first), but on the second Earth she dies during a sight-seeing flight, thus dying before reaching the spot where Adama builds the cabin he promised her - a.k.a. "the promised land"), the series then proceeds to completely rework/subvert every assumption made about these prophecies as it goes on.

Alternately, Kara Thrace is the "dying leader who will find 'the promised land' but die before setting foot on it": Technically speaking, all humans are dying from the moment of conception, an officer in the military is a leader, she dies before returning as an Angel Unaware, and it is her jump coordinates that lead the fleet to Earth (which she sets foot upon after her death).
Alternately again, Galactica is actually the dying leader who doesn't make it to Earth. Surprisingly, the Galactica actually fulfills all of the criteria in the prophecy From a Certain Point of View - The shoddy construction of the Galactica and years of stress results in it suffering from metal fatigue that eventually leads to it literally breaking down in the Series Finale (a.k.a., Galactica was suffering from "a wasting disease"). Galactica led "the serpents numbering two and ten" to victory against the Cylons in the Battle of the Tylium Asteroid through the CIC, as did it also lead the battle over Kobol to victory at the end of Season 1. Galactica directly leads the Colonial Fleet across the stars to their home on the second Earth, is present for essentially every vision in the entire series by virtue of being part of the Colonial Fleet, and dies without ever setting foot on humanity's new home by being flown into the Sun with a Viking Funeral. In fact, the CIC aboard the Galactica eventually turns out to be the material version of "the Opera House" that Caprica-Six and others repeatedly had visions of leading them to The Promised Land.

The other noteworthy prophecy is that, according to the Basestar Hybrids, "Kara Thrace is the harbinger of death and will lead them all to their end."

She helps destroy the Cylons' resurrection capability, making them all mortal individuals; she also plays a hand in destroying Cavil's Cylon Colony and leads everyone to (our) Earth, ending Human-Cylon hostility and blending the separate races of Colonial-humans, Human-Cylons, and Earth-humans all into modern humans.

Properly Paranoid: In "33," Adama puts the fleet back on alert when the Olympic Carrier jumps back in. The Cylons show up 33 minutes later.
Tropes Q-T
Tropes U-Z
Uncommon Time: Among other usages, Six's theme is in 9/8, and "Black Market" is at least partially in 7/4.
Unexplained Recovery: Starbuck. It was suspected she was a Cylon. In a surprising twist, it turns out that it was literally a miracle.
Unflinching Walk: Cavil performs this in the finale, walking through Galactica's corridors with a phalanx of Centurions around him as they fight the Colonial Marines.
Xanatos Speed Chess:

Cavil

is a master of this. Nearly every one of his plans spectacularly explodes in his face, yet he's quick enough on the rebound with a backup plan to make you think he almost planned it that way. He manages to hold things together until his last viable option goes up in smoke and then, well... "FRAK!"

Baltar spends the entire series playing XSC. But he couldn't have done it without the help of Head Six.

You Can't Go Home Again: Notably, a case where it's both a literal series trope and also an episode title.
Your Terrorists Are Our Freedom Fighters:

The issue is directly referenced by name in Season 1, during the election dispute between Laura Roslin and Tom Zarek, a notable radical who had served twenty years in prison for blowing up a building during an insurgency on Sagittaron before the war, and thus is regarded in legal terms as a terrorist. A Roslin supporter sitting at a bar makes a comment regarding Zarek as a terrorist only to have a Zarek supporter sitting nearby immediately correct the man that Zarek is a freedom fighter. The argument soon evolves into a brawl, but this view is shared by Zarek's supporters as well as Zarek himself, and his ability to market himself as a heroic, populist figure sways nearly half of the fleet (though Dualla, who's also from Sagittaron, is disgusted by the support he gets, feeling there's no justification for what he did, not even if it was supposedly in the name of their world's freedom).
In Season 3 during the Cylon occupation of New Caprica, Colonel Tigh flatly states "Which side are we on? We're on the side of the demons, Chief. We're evil men in the gardens of paradise, sent by the forces of death to spread devastation and destruction wherever we go. I'm surprised you didn't know that" when confronted by Chief Tyrol over the use of suicide bombers and terrorism against the Cylons and the humans who work for them. Although, he could just have been sarcastic after Tyrol expressed outrage over the use of suicide bombers against the Cylons (who can resurrect while humans cannot), which Tigh seems to justify under I Did What I Had to Do.

You Shall Not Pass!: The Cylons want to finish the job and destroy the Colonial Fleet, but to do that, they just have to get past Adama and Galactica. This is why after a miniseries and four seasons, the Cylons were never able to destroy humankind.
You Wouldn't Shoot Me: While investigating the Black Market, Apollo learns that its ringleader, an ex-mercenary turned crimelord named Phelan, went so far as to start selling children as sex slaves. The trope then shows up in this exchange:

Phelan: You're not gonna shoot. You're not like me. You're not gonna-

Apollo: *BOOM*

Zombie Advocate: In the latter part of Season 2, a group of activists called the "Demand Peace" movement briefly emerged who argued that the Colonials should pursue peace and coexistence with the Cylons. This despite the fact that the Cylons had almost entirely eradicated all of mankind in a nuclear holocaust and pursued the scant few survivors into deep space, the activists still characterized Admiral Adama and Galactica's campaign to protect the fleet from being wiped out of existence as a "relentless war machine".
---