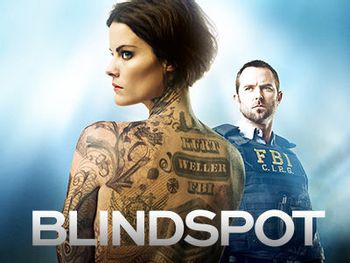 Jane: What if I was a terrible person before all of this?
Weller: I don't think you were, Jane. Whoever you were then, that's not who you are now.
Jane: How do you know?
Weller: Your first instinct is to help people, Jane. Battered wife in Chinatown, Reade after the explosion today—you don't hesitate, you act, and you do the right thing. So, I don't know what it is you're remembering or what the context is, but I do think you're a good person.
Blindspot is an action-thriller starring Sullivan Stapleton and Jaimie Alexander. It began airing on NBC during the 2015-2016 TV season.
A duffel bag is left behind in Times Square, and inside is a naked woman (Alexander) whose body is almost completely covered with tattoos. She is quickly brought into custody and found to have amnesia, and her fingerprints, DNA, and photos are not in any database. One tattoo names FBI agent Kurt Weller (Stapleton), but upon meeting, he and the woman do not recognize each other. Weller and his team find that the tattoos form hidden messages, which when deciphered indicate dates and addresses for future crimes.
The woman, named Jane Doe until her true identity can be found, discovers that she has many skills she cannot remember how she got, including the ability to read and speak several foreign languages and advanced martial art and marksmanship skills. Weller reluctantly allows her to work with his team in solving these crimes until the mystery of her identity and who did this to her can be solved.
The show ran for five seasons, with its final and 100th episode airing on July 23rd, 2020.
Martin Gero said in recent interviews that he's open to the idea of a spin-off sequel with Zapata as the main character taking on cases as a PI after leaving the FBI.
---
Blindspot contains examples of: