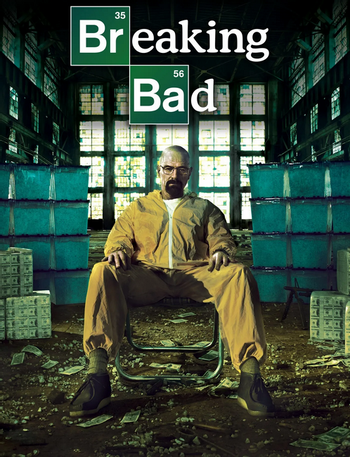 "Some straight like you, giant stick up his ass, all of a sudden, age — what, sixty? He's just gonna break bad?"
note
— Jesse Pinkman
Breaking Bad is an AMC neo-western crime drama series created and produced by Vince Gilligan. While its debut season in January 2008 only ran for seven episodes (shortened because of the 2007-08 writers' strike) as a Sunday Evening Drama Series, it soon found itself renewed for a full-run second season and ultimately ran for five seasons, with its finale airing on September 29, 2013.
Walter White (Bryan Cranston), a 50-year-old high school chemistry teacher in Albuquerque, New Mexico with unrecognized genius in his field, receives a diagnosis of inoperable lung cancer after a meager lifetime of playing it safe. His world begins to fall apart when he realizes his medical bills will throw his family's future in jeopardy; in addition to raising a teenaged son with cerebral palsy (RJ Mitte), he and his wife Skyler (Anna Gunn) have a baby on the way.
After participating in a ride-along with his DEA brother-in-law Hank Schrader (Dean Norris), Walter sees a former student of his, Jesse Pinkman (Aaron Paul), escape a drug bust through dumb luck. Seeing a potential ladder into the methamphetamine market, Walter ensnares Jesse and makes him a proposition: Walter will use his chemical expertise and Jesse's drug connections to manufacture crystal meth and make them both rich, thus saving Walt's family from financial ruin.
Their product, nicknamed "Blue Sky" for its bluish tint, makes waves in the drug trade for its purity — a benefit of having a peerless chemist creating the drug. But their work attracts the worst kind of attention from both local drug pushers and law enforcement. The pair find themselves juggling production problems, rival suppliers, psychotic distributors, and federal investigations — but they also wrestle with personal issues as the work takes a toll on their loved ones and psyches.
A prequel centering on Breakout Character Saul Goodman (Bob Odenkirk) debuted in Febuary 2015 under the title Better Call Saul. It delves into the lives of the Alberquerque underworld before Walter White, with several of the shows' supporting cast reprising their roles. A Netflix sequel movie, El Camino, was released in October 2019 and wrapped up Jesse's story, serving as the Grand Finale of the entire Breaking Bad universe (though the later half of Better Call Saulís final season takes place later chronologically).
For the Better Call Saul episode that reintroduced Walt and Jesse, see "Breaking Bad".
Sony has an official Spanish-language Colombian-produced remake of the show, Metástasis. The show follows the same general premise of Breaking Bad, but alters specific details about the setting and characters so audiences in Latin America better understand the story. Due to its following the standard scheduling format for telenovelas, Metástasis was able to run daily without the original series' weekly schedule or inter-season hiatuses. As a result, it premiered on Unimás on June 8, 2014 and aired its finale just under three months later.
On February 14, 2023, it was announced that there would be a South Korean remake of the show. The production company JP E&M will be producing the series, which will be aired on an OTT streaming platform for four seasons. The first season is planned to be aired in early 2024, and it will be directed by Lee Chang-yeol.
This show has a Recap page.
We will only Walter White-out spoilers for the fourth and fifth seasons (and even those aren't 100% guaranteed). If you do not want to know what happens in those seasons, we suggest you tread lightly, and for those who are attempting invasion and harassment within a certain private domicile, that goes double for you, bitch!
---
TropEs:
<!—index—>
---
---