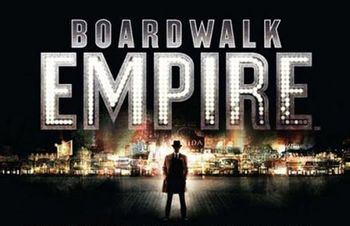 "I do expect to have everything."
— Enoch "Nucky" Thompson
Boardwalk Empire is an HBO drama, set in Atlantic City, New Jersey, from The Roaring '20s and the beginning of Prohibition into The Great Depression.
Steve Buscemi stars as Anti-Hero Enoch "Nucky" Thompson, a corrupt county treasurer who develops his own bootlegging ring in Atlantic City in the wake of Prohibition. The series focuses on how Nucky balances his dual lives as respected public figure and underworld kingpin, and the multi-sided conflicts between the federal government, his own operations, and those of his rivals, all amongst an ensemble cast.
"Inspired by", rather than adapted from the non-fiction book of the same name, the series was created and written by Terence Winter of The Sopranos renown and its pilot episode was directed by Martin Scorsese, who also set the artistic tone of the show. HBO picked up the series for a twelve-episode first season, and it debuted September 19, 2010. A second season was announced after the pilot registered one of the highest followings in the network's history and the show completed its third season in 2012. Veteran The Wire writers Dennis Lehane and George Pelecanos joined the creative staff in the fourth season, which was aired in the second half of 2013.
The series has won seventeen Emmy Awards and two Golden Globes. It has also done its research.
HBO and creator Terence Winter decided to end the show with a shortened season 5. After 56 episodes, the finale was aired on October 26, 2014.
Additional pages:
---
This show provides examples of:
open/close all folders
A - G
H - M
N - R
S - Z
---