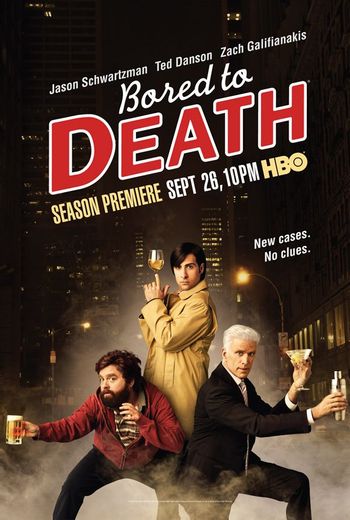 George Christopher: This all very insane and illegal, isn't it?
Ray Hueston: It's very illegal. And insane.
George Christopher: I like insane.
An HBO Sitcom created by Jonathan Ames that first began airing in September 2009. It stars Jason Schwartzman as Jonathan Ames, a non-licensed private detective who believes he can help people. After breaking up with his girlfriend Suzanne and discovering that she was the only thing he had, Jonathan puts an ad on Craigslist hiring himself out as an investigator. He attempts to juggle this life with working for a magazine run by George Christopher (Ted Danson), a middle-aged man who is actively attempting to recapture his youth through drugs and sex. Jonathan's best friend, Ray Hueston (Zach Galifianakis), is a comic-book artist with relationship issues who begrudgingly helps Jonathan in his exploits any way he can.
The series was cancelled in 2011 after its third season. Now has a work-in-progress character page.
---
This series contains examples of:
---