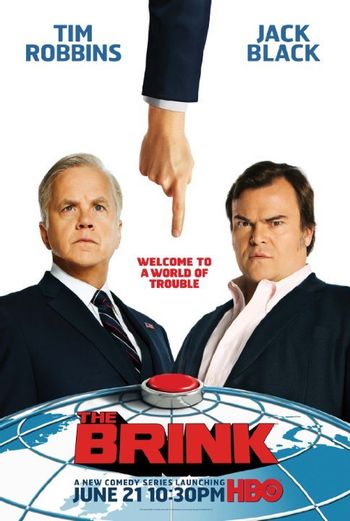 A 2015 Political Black Comedy series on HBO, which will focus on a different international crisis each season. It focuses on three main sets of characters; a low level State Department officer played by Jack Black and his driver, the philandering US Secretary of State along with the presidential cabinet, and an Action Duo of two bumbling US Navy pilots.
The first season focuses on a crisis in Pakistan, after it is taken over by a Military Coup. Low level State Department employee Alex Talbot must act as the US governments guy on the inside, as he is the only diplomat outside of the sealed US Embassy, whilst also dealing with his driver, Rafiq, and his family he has dragged into the problem. Meanwhile, Secretary of State Walter Larson must battle stateside to ensure a peaceful resolution, much to the chagrin of the War Hawk Secretary of Defense, who endeavours to use Ace Pilot Zeke and his partner to bomb Pakistani nuclear sites and potentially start World War III.
The show was already renewed for a second season, but got cancelled anyway.
---
This show contains examples of: