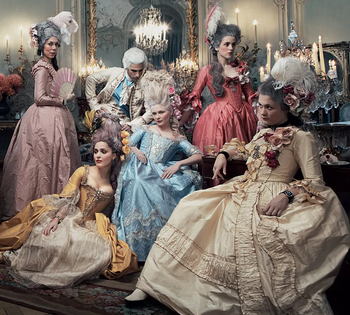 A film trope starting when colour was new and directors were eager to show off what it could do, and extending to the days when TV was widespread but mostly black and white, so big, colorful spectacles were a way of luring audiences back to the theaters. (However — as noted below in the entry mentioning the 1935 "Becky Sharp" — this trope actually began to be used in films when Technicolor, a reliable — if at the time expensive — method of producing color film — came into use.) The trope consists of setting your story in Period Pieces, at a time and place in which the costumes were (or people think they were) very beautiful, and using lots of actors and extras in these beautiful costumes.
Items of Gorgeous Period Dress include:
Frock coats in bottle green, plum, royal blue, and pearl grey for the gentlemen.
Ball scenes in which the ladies all wear different colored satin dresses.
Ladies' wearing High-Class Gloves of kidskin, silk or satin, and could be various lengths depending on the fashion.
Gentlemen's hats: Uncle Sam toppers, John Bull toppers, stovepipes, bicorns, or tricorns, depending on the period.
Ladies' hats with a whole bird's worth of feathers per hat.
Ladies' hats with delicate veils (usually of net or lace) to cover the face, fully or partially, especially in movies or shows set in the 1940s or 1950s.
Crinolines (from approximately the 1820s through the 1860s) or Bustles (from the 1870s to the 1890s). Related: hoop skirts (from the 1820s through the early 1870s).
Corsets
So-called "full-fashioned" ladies' stockings (stockings with seams up the back of the leg and "Cuban" or "French"-style reinforced heels); these were standard items of women's dress from the 1920s through the late 1950s when seamless stockings were introduced.
Peasants in picturesque Alpine or Ruritanian national dress, with lederhosen or knee breeches and embroidered waistcoats for the men, and dirndls and kerchiefs for the women.
Elizabethan stuff (ruffs, jeweled doublets, slashed sleeves and knickerbockers).
Guards in uniforms that would make the Pope's Swiss Guards laugh.
Bright green tights on Robin Hood and his Merry Men. (You may have heard 'Lincoln Green' used to describe the colour the outlaws wore; in fact someone along the line misread this definition from 'Lincoln Graine, which is a type of very expensive and luxurious scarlet cloth. Will 'Scarlett', anyone? The entire Robin Hood story is really a heartwarming tale about the rise of the merchant classes!)
Knights with colourful banners, surcoats, and caparisons.
Pretty much any Pimped-Out Dress
Royalty wearing their Requisite Royal Regalia and their glamorous clothes as everyday wear.
Dashing military types in full-on Bling of War.
Films featuring Gorgeous Period Dress seldom show the dirt and grime of everyday life in the old days, which meant odd situations in which impoverished serfs and peasants would be perfectly clean, hygienic, and decked out in crisply pressed, laundered clothing. Of course, fantasies like Highlander and comedies like Blackadder or Monty Python and the Holy Grail had been subverting the trope for some time, but it wasn't really until Braveheart came along that the antiseptic look fell completely out of favor and most, if not all, period movies began dousing the laity with a generous layer of filth (indeed, 1994's First Knight was one of the last such films to play the trope completely straight). Period movies that employ this look nowadays usually do so out of budget constraints; making up costumes to look dirty and weathered is much more costly than just using off-the-rack outfits from wardrobe, and it makes them more difficult to re-use for other films.
It should be noted that this actually had its roots in theater, which seldom had reason to have plain or dirty clothes. Also keep in mind that this trope is not necessarily deceptive: there have always been those who delight in fancy clothing, and modern Western society is far from the first to promote daily bathing or liberal use of soap. The Romans may have bathed more than we do.
A Sub-Trope of Hollywood Costuming.
Compare with Ermine Cape Effect, Costume Porn, Impractically Fancy Outfit (and its Sub Tropes), Sliding Scale of Shiny Versus Gritty.
Contrast with The Dung Ages, where shows portray the past as uniformly filthy and bedraggled even when it's historically inaccurate. See also Awesome Anachronistic Apparel, where this trope is used in the present day.
Please note that Gorgeous Period Dress is not necessarily limited to eras before the 20th century. Movies and shows set in the Belle Epoque or Edwardian era (roughly 1900-1914), the Roaring Twenties, the Thirties, the Forties (especially the "New Look" period of the late 1940s and early 1950s when Christian Dior and other designers tossed aside the austerity of the World War II years to bring sumptuousness and elegance back to women's couture), and even The '60s, can and do use this trope.
---
Examples:
open/close all folders
Anime and Manga
∀ Gundam featured various persons of nobility dressed this way. Most main characters only wore special outfits for special occasions, particularly the main character, who wore a very special outfit as a disguise, but only to parties, since all the pilots dressed pretty much the same in their suits.
Frequently shows up in Code Geass despite not being a period piece.
Beatrice's main outfit of a black and red dress is one of these◊.
The anime Black Butler definitely has this, considering it takes place in Victorian London. Pretty much ALL the wealthy characters have beautiful outfits, but Ciel in particular wears clothing that appears to not only be very fashionable during that time but is probably made of the best fabrics available in order to show off his aristocratic status. Especially the dress Ciel had to wear to Viscount Druitt's ball that came complete with frills, lace, ribbons, bows, gloves, and a very ornate hat that probably had half a garden's worth of pink roses on it. And the corset he was shoved into… complete with the infamous Does This Remind You of Anything? scene.
The manga Count Cain definitely has this, by virtue of both taking place in Victorian Britain and being a work of Kaori Yuki.
Berserk contrasts the Gorgeous Period Dress of the Midland nobility with the down-and-dirty existence of practically everyone else.
A Bride's Story displays Central Asian outfits to great advantage.
There's lots of these in PandoraHearts.
Featured heavily in The Story of Cinderella, based mostly on late 1600s fashions.
Comic Books
Often invoked by Sandman when stories are set in other eras. Death in particular dresses in some particularly extravagant period outfits.
A rare male example is the Costume Porn sequence in Asterix and Obelix's Birthday where village seamstress Geriatrix's wife makes Obelix model her 'fashion collection'. This is really just an excuse to dress him in elaborately-drawn, historically-accurate costumes and hair/beard styles from rebellious warrior cultures from all through the, er, future history of France — Frankish shaved back and sides and ponytail, Norman bob and tunic, Crusader, Renaissance, musketeer, French revolutionary, Napoleonic Wars, 19th Century British-style fashion, 1940s, and a 1990s hip-hop fashion look. It goes on for two whole pages. Notable as it's the first time we ever see him without his mustache.
Wonder Woman Vol 1: "The Rage of Redbeard" takes place in 1750 with all the Holliday Girls in pretty wide gowns, some with panniers. They find that these restrict their movement and make it much harder to fight than normal.
Literature
Theatre
This is a good example of Gorgeous Period Dress on the nineteenth-century stage, describing what some of the extras were wearing in a production of Richard III.
Cirque du Soleil's Corteo is about the performers of a turn-of-the-20th-century European circus, so it invokes this trope.
Pick a Kabuki number, any one of them.
Opera, constantly.

The Met Opera's 2015 production of The Merry Widow has a ton of this, since it's about fancy balls in Paris.

Zigzagged in Hamilton. Jefferson, the Schuyler sisters, King George III, and even Hamilton in his later life have opulent, brightly-colored clothing. Most of the cast, on the other hand, has simple army uniforms or plain tan Revolutionary-era clothing - especially in "Alexander Hamilton", when the entire cast wears colorless beige, but otherwise generally period-correct, clothing. Some female cast members are even reduced to tights and corsets, averting the trope entirely.
Elisabeth usually features gorgeous replicas of the historical Empress' clothing, especially the Star Dress.
Takarazuka Revue busts out this trope every time they do a period musical (that is to say, very frequently, given that two of their popular offerings are The Rose of Versailles and the aforementioned Elisabeth). Otokoyaku (male role actresses) also get in on the glitter act with regalia.
Toys
The American Girls Collection is this trope in spades. Every doll has several associated outfits, historically accurate, and most of them gorgeous dresses. Every doll has at least one fancy dress that's bright and elegant.
Video Games
Webcomics
Western Animation
In Barbie & The Diamond Castle, upon entering the Diamond Castle, Liana and Alexa's peasant dresses are instantly transformed into Gorgeous Princess Dresses.
The An American Tail series, taking place during the 1880s, features these with the more wealthy female characters.
---