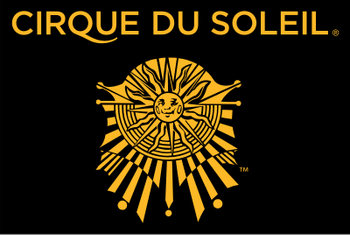 Cirque du Soleil
(French for "Circus of the Sun") is a Montreal-based company. Initially mostly made up of street performers and/or acrobats, and organized by Guy Laliberté and Gilles Ste-Croix, its first troupe toured in 1984 (as part of the 450th anniversary celebrations of the discovery of Canada by the French). It was successful enough that a second tour ran in 1986, and a third,
''Le Cirque Réinventé''
("Circus Reinvented") the year after that.
That particular troupe made a make-or-break visit to an arts festival in Los Angeles in 1987 and immediately became a sensation with its one-ring, animal-less format and a style more akin to European circuses than the Ringling Bros.-dominated format familiar to Americans. In essence, the Cirque aesthetic combines the theatrical, theme-driven concepts and characters of European shows with the focus on acrobatic skill of Asian circuses.
More tours followed with increasingly ambitious themes, visual concepts, acts, and music (most of the shows have original scores) as more performers joined from other countries. 1992's Saltimbanco is generally regarded as the first "modern" Cirque show. The following year, casino mogul Steve Wynn had a theatre custom-built at his new Treasure Island hotel-casino in Las Vegas for Cirque, which became home to the troupe Mystère. The company's growth and development progressed to the point that, in The New '10s, the number of troupes performing somewhere in the world at any given time was in the double digits. Each one is unique, changing acts and performers over time but sticking to an individual thematic/artistic core.
Cirque is usually credited for reviving interest in circus entertainment in The '90s, and from the Turn of the Millennium onward have also experimented in crossing the form over with other genres (Jukebox Musical, magic/illusion, concert, etc.).
Touring troupes visit major cities worldwide for visits of a few weeks to a few months each, usually under a custom-built big top, Le Grand Chapiteau (usually in Cirque's signature colors of royal blue and sunshine yellow). With the sheer number of shows now touring, many older shows have been adapted for arenas, expanding the company's reach to mid-sized cities and shorter engagements.
Cirque has made a variety of film and TV productions. Most are filmed performances of the touring shows, but original efforts derived from the shows and behind-the-scenes documentaries have become more common in The New '10s. Several behind-the-scenes books have also been published, such as the 20th anniversary marker 20 Years Under the Sun, which helped flesh out this entry.
In 2020, in response to the COVID-19 pandemic and subsequent social distancing, all ongoing productions were forced to stop performances that spring; this was what shut down Zumanity for good while NYSA (a Berlin resident show) was cancelled. Cirque launched CirqueConnect
, a weekly online program showcasing their past performances. Content can be viewed on their website here
, or their YouTube channel here
. While X (The Land of Fantasy) reopened that summer, the company filed for bankruptcy in June, though they managed to remerge by selling the company to Catalyst Capital Group and successfully reopened most of their shows in 2021.
In 2017 Blue Man Group was brought under this company's umbrella, but their productions are considered separate from the Cirque shows.
Shows
<!—index—>
Retired Shows
Le Grand Tour (1984-85)
La Magie Continue (1986)
Le Cirque Réinventé (1987-90, also 1992)
Nouvelle Experience (1990-93)
Saltimbanco (1992-2012)
Fascination (1992 Japanese arena tour)
Quidam (1996-2016)
Pomp Duck and Circumstance (1997; interactive dinner theater piece originated in Germany in 1990. Cirque co-produced Hamburg restaging)
La Nouba (1998-2017; Walt Disney World, Lake Buena Vista, Florida)
Dralion (1999-2015)
Varekai (2002-17)
Zumanity (2003-2020 Las Vegas, NV)
Delirium (2006-08 arena concert tour)
Wintuk (2007-10; New York City seasonal production)
ZAIA (2008-12; Macau, China)
ZED (2008-11; Tokyo Disneyland, Japan)
Criss Angel BeLIEve (2008-17, Las Vegas, NV; retooled/retitled Criss Angel Mindfreak Live! in 2016)
Banana Shpeel (2010)
TOTEM (2010-2020)
Viva Elvis (2010-12, Las Vegas, NV)
IRIS (2011-13, Los Angeles, CA)
Michael Jackson: The Immortal World Tour (2011-14 arena tour)
Zarkana (2011-12 tour, 2012-16 resident)
Amaluna (2012-20)
Toruk — The First Flight (2015-19)
Séptimo Día, No Descansaré (2017-18, Buenos Aires, Argentina; based on the music of the Argentinean new wave band Soda Stereo)
Volta (2017-2020)
Axel (Arena ice show, 2019-2020)
R.U.N (2019-20, Las Vegas, NV)
Tours
Alegría (1994-2013 original, 2018- restaging; page also has tropes for the 1998 film adaptation)
Corteo (2005-15 original production, 2018- restaging)
KOOZA (2007)
OVO (2009)
Luzia (2016)
Crystal (Arena ice show, 2017)
Bazaar (2018; first tent show not to have its initial itinerary in Canada [rather, India])
Messi 10 (2019)
Las Vegas Resident (Non-touring) Shows
Other Resident Shows
Joya (2014, Riviera Maya, Mexico)
Paramour (2016-17, New York City, New York; 2019- Hamburg, Germany)
X (The Land of Fantasy) (2019, Hangzhou, China)
Drawn to Life (2021, Walt Disney World, Lake Buena Vista, FL)
Other Live Shows
Les Chemins Invisibles (2009-13; five-year series of free, seasonal shows in Quebec City, themed around the "invisible people" outside of society)
Twas the Night Before (2019 and 2021- seasonal theater tour)
Miscellaneous Productions (Film, TV, etc.)
<!—/index—>
---
Common tropes in this company's work include:
---