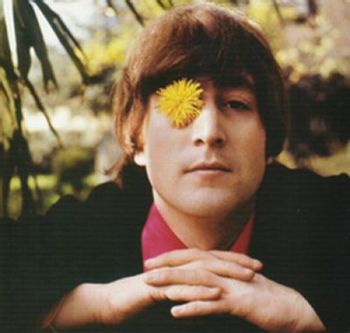 "A working class hero is something to be
If you want to be a hero, then just follow me"
John Winston Ono Lennon, MBEnote Though John gave up his MBE medal, the British government never rescinded the title. (born John Winston Lennon;note Lennon changed his name by deed poll on 22 April 1969, adding "Ono" as a middle name. He used the name John Ono Lennon thereafter, but official documents referred to him as John Winston Ono Lennon, since he was not permitted to revoke a name given at birth as per British statute. 9 October 1940 – 8 December 1980) was an English musician who gained worldwide fame as member of the revolutionary band The Beatles. His songwriting partnership with Paul McCartney remains the most successful in history.
Born in Liverpool, Lennon became involved in the skiffle craze as a teenager. In 1956, he formed his first band, the Quarrymen, which evolved into the Beatles in 1960. He was initially the group's de facto leader, a role gradually ceded to McCartney. Lennon was characterised for the rebellious nature and acerbic wit in his music on film and in interviews.
He left The Beatles in late 1969 to focus on his solo career with his wife Yoko Ono. Around this time he became notorious and controversial for his political and peace activism; his criticism of The Vietnam War resulted in a three-year attempt by the Nixon administration to deport him. In 1975, Lennon left the music business to raise his infant son Sean, before returning in 1980. At the end, on December 8, 1980, Lennon was shot dead outside the Dakota apartments in New York City shortly after completing a recording session by Loony Fan Mark David Chapman. He was 40 years old.
He ended up ranked #8 in 100 Greatest Britons. Lennon has been inducted twice into the Rock & Roll Hall of Fame, once each as a member of The Beatles in 1988 and as a solo artist in 1994. He is also a member of the Songwriters Hall Of Fame.
---
Studio and Live Discography (* = John and Yoko, ** = John Lennon):
1969 - Wedding Album*
1969 - Live Peace In Toronto 1969*
1970 - John Lennon/Plastic Ono Band**
1971 - Imagine**
1972 - Some Time In New York City* note
1973 - Mind Games**
1974 - Walls And Bridges**
1975 - Rock 'n' Roll**
1980 - Double Fantasy*
1984 - Milk And Honey*
1986 - Live In New York City*
Miscellaneous singles: "Give Peace a Chance", "Cold Turkey", "Instant Karma!", "Power to the People", "Happy Xmas (War Is Over)"
---
John Lennon is the Trope Namer for:
---
"Nobody told me there'd be tropes like these...":
---