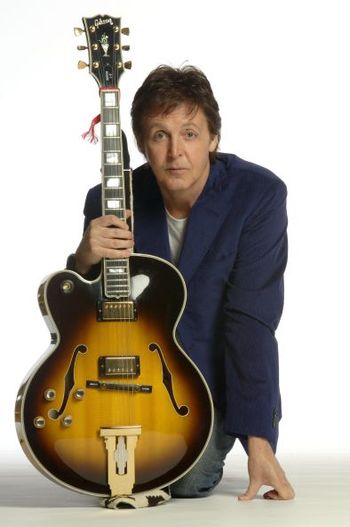 Reporter:
I'd like to direct this question to messrs.
Lennon
and McCartney. In a recent article,
Time
magazine put down pop music. And they referred to "
Day Tripper
" as being about a prostitute, and "
Norwegian Wood
" as being about a lesbian. I just wanted to know what your intent was when you wrote it, and what your feeling is about the
Time
magazine criticism of the music that is being written today.
Paul McCartney:
We were just trying to write songs about prostitutes and lesbians, that's all.
—
1966 interview
Sir James Paul McCartney, CH MBE (born 18 June 1942) is an English musician who gained worldwide fame as co-lead vocalist and bassist for The Beatles. His songwriting partnership with John Lennon remains the most successful in history.
McCartney began his career as a member of the band The Quarrymen in 1957, already a skilled songwriter and multi-instrumentalist. That band evolved into the Beatles in 1960. Starting with the album Sgt. Pepper's Lonely Hearts Club Band (1967), he gradually became the Beatles' de facto leader. His songs with the Beatles "And I Love Her" (1964), "Yesterday" (1965), "Eleanor Rigby" (1966) and "Blackbird" (1968) rank among the most covered songs in history. Along the way, despite his innocuous, sentimental reputation, he helped also create one of the earliest examples of Heavy Metal with "Helter Skelter."
Shortly before the Beatles disbanded in 1970, McCartney debuted as a solo artist with the album McCartney. The following year, he released Ram and formed the band Wings with his first wife, Linda. After leading Wings throughout the 1970s, McCartney resumed his solo career in 1980.
Beyond music, he has been known for promoting subjects such as vegetarianism and donating to charity, and arguing against others such as animal cruelty/hunting, land mines and fracking.
He ended at #18 in 100 Greatest Britons.
---
Studio Discography (McCartney's discography with The Beatles and Wings are on those bands' pages):
1970 - McCartney
1971 - Ram note
1980 - McCartney II
1982 - Tug of War
1983 - Pipes of Peace
1986 - Press To Play
1988 - Снова в СССР note
1989 - Flowers In The Dirt
1993 - Off The Ground
1997 - Flaming Pie
1999 - Run Devil Run
2001 - Driving Rain
2005 - Chaos And Creation In The Backyard
2007 - Memory Almost Full
2012 - Kisses On The Bottom
2013 - New
2018 - Egypt Station
2020 - McCartney III

2021 - McCartney III Imagined note
---
Live Discography:
1990 - Tripping The Live Fantastic
1991 - Unplugged (The Official Bootleg)
1993 - Paul Is Live
2002 - Back In The U.S.
2003 - Back In The World
2007 - iTunes Festival: London
2007 - Amoeba's Secret note
2009 - Good Evening New York City
2010 - Paul McCartney Live In Los Angeles note
2012 - iTunes Live From Capitol Studios
---
Electronic Discography:
1993 - Strawberries Oceans Ships Forest note
1998 - Rushes note
2000 - Liverpool Sound Collage note
2005 - Twin Freaks
2008 - Electric Arguments note
---
Classical Discography:
1967 - The Family Way
1977 - Thrillington
1991 - Paul McCartney's Liverpool Oratorio
1997 - Standing Stone
1999 - Working Classical
2006 - Ecce Cor Meum
2011 - Ocean's Kingdom
---
Tropes:
---