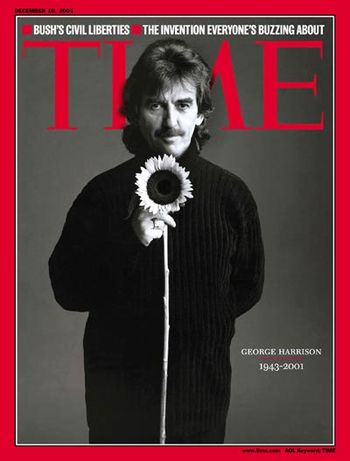 "I'm a dark horse
Running on a dark race course
I'm a blue moon
Since I stepped from out of the womb
I've been a cool jerk
Cooking at the source
I'm a dark horse."
— "Dark Horse"
George Harrison MBE (25 February 1943 - 29 November 2001) was the lead guitarist for The Beatles, and a musical legend in his own right.
For instance, not only was Harrison great with the guitar, but he also introduced the band to new instruments like the sitar that gave the band whole new sounds to use. He endeavoured to write his own songs, but he found that his efforts weren't being taken seriously by John Lennon and Paul McCartney, or their producer George Martin either, and he was usually relegated to one or two tracks on each album (although he got three on Revolver, including the opening track, and four on The White Album). However, he persisted and by the time of the band's final produced album, Abbey Road, he firmly proved that he was their equal with the classic songs, "Something" and "Here Comes The Sun."
Still, he finally got to fully stretch his wings post-breakup with his solo album, All Things Must Pass, the biggest selling ex-Beatle solo album to datenote Although George got dinged when he was sued for plagiarism for his biggest hit, "My Sweet Lord," for supposedly subconsciously copying the Chiffon's "He's So Fine" and lost. . In addition to his artistic rise, he also used music to do direct social good, most famously for creating the first rock benefit concert, The Concert for Bangladesh, in 1971 to help that country—which besides being poverty-stricken was not only still fighting for its independence from Pakistan but also had to deal with the effects of a massive cyclone. He also was a member of the late-1980s supergroup The Traveling Wilburys.
In addition, he became a film producer by founding Hand Made Films to produce Monty Python's Life of Brian when it suddenly lost its backer. The company continued on after he left it in the late 1980s.
A documentary directed by Martin Scorsese, George Harrison: Living in the Material World, was released in October 2011.
He ended at #62 in 100 Greatest Britons, and Rolling Stone recognizes him as the eleventh greatest guitarist of all time on their list of 100 Greatest Guitarists of All Time.
---
Studio and Live Discography:
1968 - Wonderwall Music
1969 - Electronic Sound
1970 - All Things Must Pass
1971 - The Concert for Bangladesh
1973 - Living In The Material World
1974 - Dark Horse
1975 - Extra Texture (Read All About It)
1976 - Thirty Three & 1/ॐ
1979 - George Harrison
1981 - Somewhere In England
1982 - Gone Troppo
1987 - Cloud Nine
1992 - Live In Japan
2002 - Brainwashed
---
George Harrison provides examples of:
---