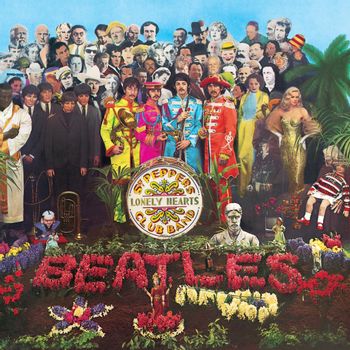 Sgt. Pepper's Lonely Hearts Club Band is the eighth studio album by The Beatles, released in 1967. It is a loose Concept Album, that sees The Beatles performing as the fictitious band of the album's title.
Initially inspired by Pet Sounds by The Beach Boys and the work of Frank Zappa, with bassist Paul McCartney even dubbing the album the Beatles' equivalent of Zappa's Freak Out (incidentally, it and Pet Sounds were both released in 1966), Sgt. Pepper in turn inspired many parodies and shout-outs over the years (Zappa would repay the initial homage with his Sgt. Pepper parody We're Only in It for the Money), as well as a 1978 cinematic flop starring The Bee Gees and Peter Frampton.
The end result is still regarded by many as one of the best albums of all time, if not the best. Time magazine included the album in their 2006 list of 100 timeless and essential albums, and it was listed at #1 in Rolling Stone's 500 Greatest Albums Of All Time—compare to #87 on NME's response list. However, it is still the 5th-most-acclaimed album ever according to Acclaimed Music's compilation of various critics' lists, and the 2020 revision of Rolling Stone's list would knock it down to No. 24 (its former position at the very top is now held by Marvin Gaye's What's Going On, a pick that was controversial among longtime music buffs to say the least). Its release is viewed as a watershed moment in rock history, marking the point where the genre finally reached maturity and was taken seriously by the musical establishment. It's also considered the first album to be presented as an artistic whole, rather than just a collection of tunes. Its release also marked the symbolic kickoff of 1967's "Summer of Love", when the various strands of the counterculture (anti-war protests, anti-materialism, spiritualism, psychedelic drugs) united into a powerful (if short-lived) movement, with this album as one of its main flagships. Oh, it made huge piles of money too (spending 27 weeks—more than half a year—atop the UK album chart, and 15 weeks at #1 in the US). This was also the first Beatles album to have the same track listing for the British and American releases.
Since mono record players were much more common than stereo in the mid-60s, the Beatles and producer George Martin paid much more attention to the mono mix of the album, with the result that the stereo mix was a bit skimpy, with lots of Gratuitous Panningnote Though, contrary to the legend that the stereo mix was only done over the course of a couple days by EMI interns, a few stereo mixes for individual songs were actually made while the album was being recorded, with some Beatle input, while Martin oversaw the final mix. This was rectified in 2017 with the release of a brand new mix from the original four-track tapes supervised by Giles Martin, George's son (George himself had passed away the year before). This used sophisticated software to isolate each instrument on tapes where they'd all been bounced down onto a single track and achieve modern-sounding stereo separation. It was also issued in a deluxe edition which included previously unreleased outtakes, bonus tracks, the 2009 mono remaster, and DVD bonus content as well as replicas of the original 1967 LP's Feelies. A splendid time is guaranteed for all.
---
Tracklist:
Side One
"Sgt. Pepper's Lonely Hearts Club Band" (2:02)
"With a Little Help from My Friends" (2:44)
"Lucy in the Sky with Diamonds" (3:28)
"Getting Better" (2:48)
"Fixing a Hole" (2:36)
"She's Leaving Home" (3:35)
"Being for the Benefit of Mr. Kite!" (2:37)
Side Two
"Within You Without You" (5:04)
"When I'm Sixty-Four" (2:37)
"Lovely Rita" (2:42)
"Good Morning Good Morning" (2:41)
"Sgt. Pepper's Lonely Hearts Club Band (Reprise)" (1:19)
"A Day in the Life" (5:39?)note
---
Principal Members:
---
Sgt. Pepper's Lonely Hearts Club Band is the Trope Namer for:
---
"We're Sgt. Pepper's Lonely Hearts Club Band, we hope you will enjoy the tropes":
---
People appearing on the famous cover who have their separate TV Tropes article:
---
"We're Sgt. Pepper's Lonely Hearts Club Band
We hope you have enjoyed the show
Sgt. Pepper's Lonely Hearts Club Band
We´re sorry but it's time to go"
---
---