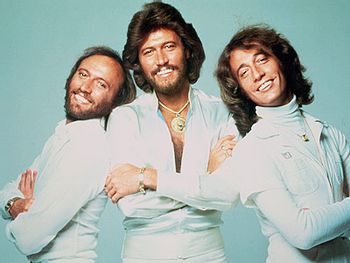 The Bee Gees were a music group consisting of brothers Maurice, Barry, and Robin Gibb. They first formed in 1958, rising to prominence in the late 1960s and early 1970s, and were especially popular in the disco era of the mid-to-late 1970s.
The Bee Gees name is commonly believed to be short for Brothers Gibb, though it's actually a reference to Australian DJ Bill Gates (no, not that Bill Gates) and promoter Bill Goode, two men who played key roles in launching the group's career. The Bee Gees for most of their history have consisted of twin brothers Robin and Maurice Gibb and older brother Barry. (Youngest brother Andy is commonly believed to have been a member of the Bee Gees, but he never was. However, they were planning on adding him in the '80s, but his death put a stop to that.) British by birth, the brothers were living in Australia when they began their musical careers, though they had moved back to Britain by the time they hit it big. They first came to prominence in the late 1960s as a harmonic rock group, characterized mainly by their three-part harmonies led by Robin's vibrato. Their first international hit was "New York Mining Disaster 1941" (1967); other hits from this period include "To Love Somebody", "Holiday", and "Massachusetts" (the last of these being their first UK #1 hit). These songs and several others today are staples on oldies stations. The band at this point actually consisted of five members. In addition to the Gibb brothers, the group also included guitarist Vince Melouney and drummer Colin Peterson.
The band's first three albums (excluding a couple of Australia-only releases), Bee Gees' 1st, Horizontal, and Idea, were all popular successes. However, tensions began to boil during the recording of the group's next album, Odessa. Though the album today is considered one of the finest of their early period, it was a cause of great strife for the band. Robin began to feel that the label was favoring Barry's songs when it came to choosing singles and finally left the band to pursue a solo career. Peterson was fired during sessions for their next album, and with Melouney having left previously to pursue a different musical direction, the Bee Gees at this point were a duo consisting of just Barry and Maurice. The album Cucumber Castle was a flop, and with the group in a state of chaos at this point, it was seemingly the end of The Bee Gees.
Then in late 1970, Barry and Maurice managed to patch up their rift with Robin. The three decided to reunite and give the Bee Gees another try, strictly as a trio this time. Not long after their reunion, the Bee Gees recorded two of their biggest hits, "Lonely Days" and "How Can You Mend a Broken Heart", the latter providing them with their first US #1 hit. After that, however, their commercial fortunes dropped sharply, as their next few albums sold very poorly. Deciding they needed a change in their sound, they teamed up with Arif Mardin and recorded the album Mr. Natural, which saw them infusing their trademark sound with elements of R&B; though the album was not a big seller, it did show that the group was starting to find themselves again artistically.
They finally saw commercial success again with their next album Main Course, also produced by Mardin. In addition to providing them with their first number one hit in four years, "Jive Talkin'", the album also featured Barry's first attempts at singing falsetto, a sound the group is heavily identified with today. When it came time to produce their next album, Mardin was not available, so the band began producing themselves. The resulting album, Children of the World, was another big hit, spawning another number one single, "You Should Be Dancing".
It was then that Robert Stigwood approached the Gibbs about contributing songs to the soundtrack of a new motion picture that was being produced. The project, which would focus on the disco scene, excited the Gibbs, and they happily agreed. The Saturday Night Fever soundtrack would quickly catapult the band to the peak of its popularity, even more so than they had been in their pre-disco days. Because of the incredible success of this album — for a time, it was the biggest-selling album in history until that role was taken by Michael Jackson's Thriller — The Bee Gees, fairly or not, became the poster boys of the disco era. Despite this, disco songs were hardly The Bee Gees' only hits, even in this era; non-disco ballads like "How Deep Is Your Love" and "Too Much Heaven" were just as big hits as "Stayin' Alive", "Tragedy", "Jive Talkin'", and "Night Fever". Their last big hit of the 1970s, "Love You Inside Out", was more of an R&B song than full-on disco. Whatever the general vocal ranges of the songs were, though, one thing that remained from their harmonic rock period was their tight vocal harmonies, although this time with Barry Gibb taking more of a lead role.
The Bee Gees starred in the 1978 film Sgt. Pepper's Lonely Hearts Club Band, a pastiche based on The Beatles' music, notably the original titular album with songs from Abbey Road. Peter Frampton, Alice Cooper, Steve Martin, Aerosmith, and George Burns helped comprise the all-star lead cast. Even though it flopped at the box office, it still manages to enjoy quite a cult following in spite of its kitschiness, being praised for its renditions of the Beatles' music, and Steve Martin's comical rendition of "Maxwell's Silver Hammer" can be considered So Bad, It's Good as well as the movie itself.
As the 1970s became the 1980s, the group updated its sound once more to stay contemporary, shifting from straight disco to R&B-based pop. However, the US continued to regard them as relics of the disco era, and with the backlash against disco running strong, the group would find only occasional success in the studio from here on out — most notably the 1989 single "One" (their last U.S. Top 10 hit) and the 1997 album Still Waters (which sold over 4 million copies in the States, and spawned their last top 40 hits, "Alone" in the summer of 1997 and the title track in January 1998). They remained popular in the UK, though, having a massive 1987 Number One single (twenty years after their first) in the shape of thumping echo-chamber romp "You Win Again", and top 5 success into the '90s with "For Whom The Bell Tolls" and "Alone". They also experienced continued popularity 'behind the scenes' writing songs for other people, even in the US; songs they wrote for others include worldwide hits like Barbra Streisand's "Woman in Love", Dionne Warwick's "Heartbreaker", Diana Ross' "Chain Reaction" and "Islands in the Stream" by Kenny Rogers and Dolly Parton.
In 1997, with Barry struggling with arthritis and back pain, the group played a show titled One Night Only, intending for it to be their last. Response to the show was so overwhelmingly positive, however, that Barry decided to soldier on with one last full-scale tour despite the pain. That same year saw them inducted into the Rock and Roll Hall of Fame. Brian Wilson of The Beach Boys, who himself knew a thing or two about vocal harmonies, performed the induction.
2003 saw the temporary end of The Bee Gees, with Maurice's sudden death in January at the age of 53 of a heart attack while awaiting emergency surgery for a twisted intestine. After that, Barry and Robin performed off-and-on under the Bee Gees name, including appearances on Dancing with the Stars and Strictly Come Dancing in late 2009. In May 2012, Robin passed away following a long battle with cancer, leaving Barry as the only surviving member and effectively marking the end of the group.
Barry Gibb has since continued to tour and record as a solo artist, releasing two solo albums since the end of the group and performing a well-received "Legend" set at the 2017 Glastonbury Festival.
Discography:
The Bee Gees Sing and Play 14 Barry Gibb Songs (1965) (Australia only)
Spicks and Specks (1966) (Australia only)
Bee Gees' 1st (1967)
Turn Around, Look At Us (1967) (Australia only - compiled without the Gibbs' consent)
Horizontal (1968)
Idea (1968)
Odessa (1969)
Cucumber Castle (1970)
Inception/Nostalgia (1970) (Australian-era outtakes - compiled without the Gibbs' consent)
2 Years On (1970)
Trafalgar (1971)
To Whom It May Concern (1972)
Life in a Tin Can (1973)
A Kick In The Head Is Worth Eight In The Pants (1973) (unreleased)
Mr. Natural (1974)
Main Course (1975)
Children of the World (1976)
Saturday Night Fever (1977) (soundtrack, contains four new Bee Gees songs and two previous released ones)
Spirits Having Flown (1979)
Living Eyes (1981)
Staying Alive (1983) (soundtrack, contains five new Bee Gees songs)
E.S.P. (1987)
One (1989)
High Civilization (1991)
Size Isn't Everything (1993)
Still Waters (1997)
This Is Where I Came In (2001)
---
"Trope fever, trope fever, we know how to do it":
Lyrical Dissonance:

"Tragedy" is an upbeat, dance-able song whose lyrics speak about a man about to cross the Despair Event Horizon because of his loneliness.
"Stayin' Alive," the perennial favorite of upbeat, swaggering Power Walkers ever since Saturday Night Fever, contains some rather dark lyrics that, so far, have only really suited the protagonist of the aforementioned film.

"Life goin' nowhere... Somebody help me."
---