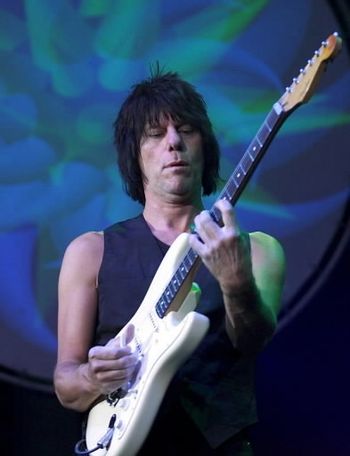 "I was interested in the electric guitar even before I knew the difference between electric and acoustic. The electric guitar seemed to be a totally fascinating plank of wood with knobs and switches on it. I just had to have one."
Geoffrey Arnold "Jeff" Beck (born June 24, 1944) is a British musician that first made his name with the Blues Rock unit The Yardbirds, but over his fifty-year career has also put his stamp on jazz, soul, blues, heavy metal, and electronica. Because he has succeeded almost entirely on his skill as a guitarist - never chasing pop trends and rarely either writing or singing - Beck has earned a paradoxical reputation as a "musician's musician" despite recurring problems working with other musicians.
Rolling Stone recognizes him as the fifth greatest guitarist of all time on their list of 100 Greatest Guitarists of All Time.
Not to be confused with Beck. Or Glenn Beck.
---
Studio Discography:
1968 - Truth (first album with the Jeff Beck Group, although they are not credited as such on the album)
1969 - Beck-ola (first album on which the Jeff Beck Group are credited as such)
1971 - Rough and Ready (with the Jeff Beck Group, albeit a new lineup thereof)
1972 - Jeff Beck Group (with... well, never mind)
1973 - Beck, Bogert & Appice (credited to Beck, Bogert & Appice)
1975 - Blow by Blow (first genuinely solo album)
1976 - Wired
1980 - There and Back
1985 - Flash
1989 - Jeff Beck's Guitar Shop
1992 - Frankie's House note
1993 - Crazy Legs note
1999 - Who Else!
2001 - You Had It Coming
2003 - Jeff
2010 - Emotion and Commotion
2016 - Loud Hailer
---
Live Discography:
1977 - Jeff Beck with the Jan Hammer Group Live note
2006 - Live at BB King Blues Club
2006 - Live in Tokyo 99'
2007 - Official Bootleg USA '06
2008 - Live at Ronnie Scotts
2010 - Live and Exclusive from the Grammy Museum
2011 - Rock and Roll Party Honouring Les Paul
2015 - Live+
---
Big Rock Ending: Several examples on Truth, including "Shapes of Things", "Let Me Love You", "Rock My Plimsoul", "Blues Deluxe", and "I Ain't Superstitious".
Cover Album: Crazy Legs, which consists entirely of songs originally recorded by 50's rockabilly pioneer Gene Vincent.
Cover Version: Several, including "I Ain't Superstitious" by Howlin' Wolf, "She's a Woman" and "A Day in the Life" by The Beatles, "All Shook Up" and "Jailhouse Rock" by Elvis Presley, "Superstition" by Stevie Wonder, and "People Get Ready" by Curtis Mayfield, among many others.
Instrumentals: Several, including "Beck's Bolero", "Rice Pudding", and multiple albums of entirely instrumental material, including Blow by Blow, Wired, and There and Back, among others.
Rearrange the Song: Beck does this to one of his hits with The Yardbirds, "Shapes of Things", on Truth. According to Beck, Rod Stewart suggested that Beck re-record the tune. Beck responded by saying "Let's slow it down and make it dirty and evil".
Rock Trio: Beck, Bogert, and Appice.
Supergroup: Beck, Bogert, and Appice, which consisted of Jeff Beck and Tim Bogert and Carmine Appice, who both previously were members of Cactus and Vanilla Fudge.