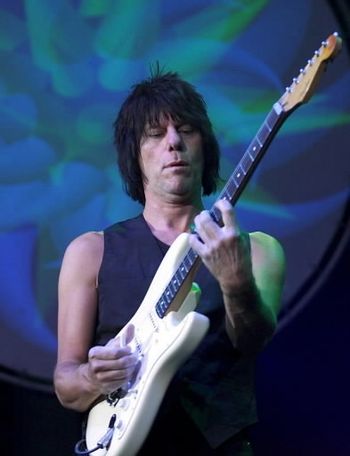 "I was interested in the electric guitar even before I knew the difference between electric and acoustic. The electric guitar seemed to be a totally fascinating plank of wood with knobs and switches on it. I just had to have one."
Geoffrey Arnold "Jeff" Beck (born June 24, 1944) is a British musician that first made his name with the Blues Rock unit The Yardbirds, but over his fifty-year career has also put his stamp on jazz, soul, heavy metal, and electronica. Because he has succeeded almost entirely on his skill as a guitarist - never chasing pop trends and rarely either writing or singing - Beck has earned a paradoxical reputation as a "musician's musician" despite recurring problems working with other musicians.
Rolling Stone recognizes him as the fifth greatest guitarist of all time on their list of 100 Greatest Guitarists of All Time.
---
Studio Discography:
1968 - Truth (first album with the Jeff Beck Group, although they are not credited as such on the album)
1969 - Beck-ola (first album on which the Jeff Beck Group are credited as such)
1971 - Rough and Ready (with the Jeff Beck Group, albeit a new lineup thereof)
1972 - Jeff Beck Group (with... well, never mind)
1973 - Beck, Bogert & Appice (credited to Beck, Bogert & Appice)
1975 - Blow by Blow (first genuinely solo album)
1976 - Wired
1980 - There and Back
1985 - Flash
1989 - Jeff Beck's Guitar Shop
1992 - Frankie's House note
1993 - Crazy Legs note
1999 - Who Else!
2001 - You Had It Coming
2003 - Jeff
2010 - Emotion and Commotion
2016 - Loud Hailer
---
Live Discography:
1977 - Jeff Beck with the Jan Hammer Group Live note
2006 - Live at BB King Blues Club
2006 - Live in Tokyo 99'
2007 - Official Bootleg USA '06
2008 - Live at Ronnie Scotts
2010 - Live and Exclusive from the Grammy Museum
2011 - Rock and Roll Party Honouring Les Paul
2015 - Live+
---