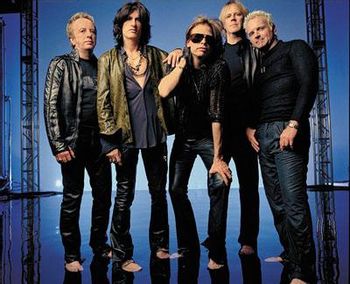 Sing with me, sing for the year
Sing for the laughter, sing for the tear
Sing with me, if it's just for today
Maybe tomorrow, the good Lord will take you away
— "Dream On"
Aerosmith is an American hard rock band, sometimes referred to as "The Bad Boys From Boston" and "America's Greatest Rock And Roll Band." Their style, rooted in blues-based hard rock, has come to also incorporate elements of pop, heavy metal, glam, and rhythm and blues, which has inspired many subsequent rock artists. The band was formed in Boston, Massachusetts in 1970. Guitarist Joe Perry and bassist Tom Hamilton, originally in a band together called the Jam Band, met up with singer Steven Tyler, drummer Joey Kramer, and guitarist Ray Tabano, and formed Aerosmith. By 1971, Brad Whitford had replaced Tabano, and the band began developing a following in Boston. Their first gig under the name Aerosmith was at Mendon Nipmuc High School.
After a gig at Max's Kansas City, they signed a deal with Columbia Records and released a string of multi-platinum albums on the label, beginning with their eponymous 1973 debut album (their song "No Surprize" describes this series of events). In 1975, the band broke into the mainstream with the album Toys In The Attic, and their 1976 follow-up Rocks cemented their status as hard rock superstars. By the end of the 1970s, they were among the most popular hard rock bands in the world and developed a loyal following of fans, often referred to as the "Blue Army."
Drug addiction and internal conflict took their toll on the band, which resulted in the departures of Perry and Whitford in 1979 and 1981 respectively; Jimmy Crespo and Rick Dufay replaced them. The band did not fare well between 1980 and 1984, releasing a lone album - Rock In A Hard Place - which went gold but failed to match their previous successes.
Perry and Whitford returned in 1984 and the band signed a new deal with Geffen Records, but it wasn't until the band sobered up and did a groundbreaking crossover duet with rap group Run–D.M.C. of their old song, "Walk This Way," that things began to turn around; the success of the song catapulted Aerosmith back into the limelight, and it helped rocket rap music into the American mainstream in the process. The band released Permanent Vacation in 1987, which helped solidify their comeback, and all throughout the late 1980s and 1990s, they scored several hits and won numerous awards for music from the multi-platinum albums Pump (1989), Get A Grip (1993), and Nine Lives (1997). Their comeback has been described as one of the most remarkable and spectacular in rock 'n' roll history. After over 40 years of performing, the band continues to tour and record music.
Aerosmith is the best-selling American hard rock band of all time, having sold 150 million albums worldwide, including 66.5 million albums in the United States alone. They also hold the record for the most gold and multi-platinum albums by an American group. The band has scored 21 Top 40 hits on the Billboard Hot 100, nine #1 Mainstream Rock hits, four Grammy Awards, and ten MTV Video Music Awards. They were inducted into the Rock and Roll Hall of Fame in 2001, and in 2005 they were ranked #57 in Rolling Stone magazine's 100 Greatest Artists of All Time.
The band (as a whole) also starred in three video games thus far: the arcade Light Gun Game Revolution X, and a Guitar Hero game with their namesake, and a short lived virtual music game "Quest For Fame." Apparently, they have made more money off Guitar Hero: Aerosmith than they have off any of their albums.
The band ran into more problems in the late 2000s. Tensions arose as Tyler took time out to treatment for painkiller addiction and surgery plus blindsiding the other members by becoming a judge on American Idol. With Tyler & Perry at loggerheads things got to the point where it was reported the band were looking for a new singer, however the band patched things up, started work on a new album and completed a combined South America/Asia tour in late 2011.
After recording and touring in 2012 and an ill-advised appearance on 60 Minutes that threatened to re-ignite old tensions in the band, their fifteenth studio album, Music From Another Dimension, was released in November 2012 to mixed reviews before Aerosmith completed the second leg of their tour in December 2012. The band continued to tour over the next couple of years, and Tyler released a solo country album in 2015.
The band are currently not under contract to any record label. A sixteenth and possibly final studio album has been under discussion, and the band embarked on what they said might be their final tour in 2016 - the European tour dates were advertised as the final chance to see Aerosmith live in those countries. The Aero-Vederci Baby! tour concluded in September 2017. Perry said that the band was planning to tour again for their 50th anniversary in 2019, but instead the band announced a residency in Las Vegas starting in 2019. This went ahead but was cut short due to the COVID-19 Pandemic, and a planned European tour was also postponed. Brad Whitford has gone on record with his doubts about the band ever performing together again, citing dysfunctional relationships between the band members and their advancing age (all of them are around seventy years old or more).
In spring 2023, the band announced its "Peace Out" farewell tour, to run from September 2023 to January 2024.
---
Principal Members (Founding members in bold, current members in italic):
Jimmy Crespo - guitar, vocals (1979–84)
Rick Dufay - guitar, vocals (1981–84)
Tom Hamilton - bass, guitar, backing and lead vocals, synthesizer (1970–)
Joey Kramer - drums, percussion, vocals (1970–)
Joe Perry - guitar, backing and lead vocals, talkbox, bass, synthesizer (1970–79, 1984–)
Ray Tabano - guitar, vocals (1970–71)
Steven Tyler - lead vocals, keyboard, guitar, piano, harmonica, percussion, bass, mandolin, organ, drums (1970–)
Brad Whitford - guitar, vocals (1971–81, 1984–)
---
Studio and Live Discography:
1973 - Aerosmith
1974 - Get Your Wings
1975 - Toys in the Attic
1976 - Rocks
1977 - Draw the Line
1978 - Live! Bootleg
1979 - Night in the Ruts
1982 - Rock in a Hard Place
1985 - Done with Mirrors
1986 - Classics Live
1987 - Classics Live II
1987 - Permanent Vacation
1989 - Pump
1993 - Get a Grip
1997 - Nine Lives
1998 - A Little South of Sanity
2001 - Just Push Play
2004 - Honkin' on Bobo
2005 - Rockin' the Joint
2012 - Music from Another Dimension
---
"Tropes, tropes, tropes, a-in the attic":
Music Tropes
Musician Tropes
Music Video Tropes
Misc Tropes
---
"So, from all of us at Aerosmith, to all of you out there wherever you are, remember: the light at the end of the tunnel... may be you. Good night."