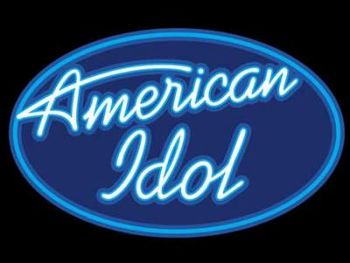 An American version of the British series Pop Idol, which is better known due to the fact that far more people live in America than Britain. In Britain, Pop Idol was also pushed aside for The X Factor. The X Factor came to the U.S. in 2011, with Simon Cowell. The Idol season that followed suffered the worst rating drop in the series' history.
The show was launched in 2002. In twelve seasons, it has launched several careers. Among the more notably talented and successful are Kelly Clarkson (Season 1 winner), Clay Aiken (Season 2 runner-up), Ruben Studdard (Season 2 winner), Fantasia Barrino (Season 3 winner), Jennifer Hudson (an Academy Award winner for Dreamgirls), Chris Daughtry, Bo Bice, David Archuleta, Adam Lambert, and Carrie Underwood (Season 4 winner, the first Idol to go purely country).
It's also launched the "career" of William Hung, whose… slaughtering of Ricky Martin's "She Bangs" landed him a record contract, in which he did the same thing to several other pop "standards". So Bad, It's Good, indeed.
Another reason for the show's popularity is the chemistry among the three(?) judges:
One website nailed Paula's judging with the line "her ritualistic fare of generalized superlatives that highlight nothing specific about a performer." Simon, on the other hand, generally responds with either a verbal shrug ("It was good, it just wasn't great") or unabashed criticism ("I felt like I was at a high school musical"), so his rare superlatives actually mean something.
A great deal of the show's entertainment value comes in the first weeks, when one can watch all sort of untalented (and worse) singers warble their off-key "songs" at the four judges.
Still, the show has its detractors. Year after year, opponents try to either get a boycott of the show going or tried to sabotage it by putting the worst contestant in the winner's circle.
Their efforts never succeeded, though with Season 6's Sanjaya Malakar (who made it to 7th place) and Season 8's Danny Gokey (who made it into the top 3), they got closer than ever. However, by season 12's end, one rival site has succeeded.
In 2013, the site promoting the worst contestant shut down, though past versions remain accessible on the Internet Archive
.
The show was a veritable ratings behemoth, drawing 20+ million viewers on a bad day. To put it in perspective, President Barack Obama's speech on the state of Healthcare in September 2009 drew about 30 million viewers – on 10 different networks. The 2009 finale of American Idol drew 28 million viewers – on one network. American Idol alone cemented FOX as the top dog network in terms of advertising potential during its heyday. The network used the show as a lead-in to whatever show they wanted to boost – the most notable examples are House and Glee, which nearly doubled their respective viewerships and went from merely popular to megahits once they started airing in the post-Idol timeslot. American Idol was the highest-rated show in the U.S. from its beginnings to the 2004–2005 season. It started to slip in the 2010s, notably being beaten by rival show Dancing with the Stars on several nights in total viewers, and being beaten by The Big Bang Theory in 2013 whenever the two have aired new episodes against easch other. Its ratings continued to slide in the mid-2010s, eventually overtaken by NBC rival show The Voice, but for a time it continued to be a solid mid-season performer for FOX annually, especially when they were hurting for reliable shows post-House.
It's very likely that, in decades to come, this will be the show most remembered as what defined American television in the first decade of the 21st century. For better or worse.
The show was finally cancelled in 2015 – the 2016 season was thought to be the last until in 2017 ABC revived for the show for the 2018 TV season
. The series returned on March 11, 2018, once again with an entirely new set of judges, but nevertheless still hosted by the venerable Ryan Seacrest.
Winners
Ruben Studdard
Fantasia Barrino
Taylor Hicks
Jordin Sparks
David Cook
Kris Allen
Lee DeWyze
Scotty McCreery
Phillip Phillips
Candice Glover
Caleb Johnson
Nick Fradiani
Trent Harmon
Maddie Poppe
Laine Hardy
Just Sam
Chayce Beckham
Noah Thompson
Iam Tongi
Runners-up
Justin Guarini
Clay Aiken
Diana DeGarmo
Bo Bice
Katharine McPhee
Blake Lewis
David Archuleta
Crystal Bowersox
Lauren Alaina
Jessica Sanchez
Kree Harrison
Jena Irene
Clark Beckham
La'Porsha Renae
Caleb Lee Hutchinson
Alejandro Aranda
Arthur Gunn
Willie Spence
HunterGirl
Megan Danielle
Other alumni
Nikki McKibbin
Josh Gracin
Jennifer Hudson
Elliott Yamin
Chris Daughtry
Kellie Pickler
Mandisa
Daniel Seavey
Gabby Barrett
Michael J. Woodard
---
This show provides examples of:
Gone Horribly Right: In Season 7, the show started to allow instruments. Unfortunately, this led to 4 of the next winners being guitar players, some that were better at it than singing.
Guest Host: For one episode of Juniors, Ryan Seacrest was indisposed, and Gladys Knight (!) stepped in to cover for him.
Harsh Talent Show Judge: Regardless of the judging configuration, Simon Cowell acts as the jerk judge who has no qualms with insulting contestants' talents to their face or even stopping performances in the middle if he isn't sufficiently impressed.
Heterosexual Life-Partners: A few, each with their own Portmanteau Couple Name.

Chris Richardson and Blake Lewis ("Cake") in Season 6;
David Cook and David Archuleta ("Cookleta") in Season 7;
Kris Allen and Adam Lambert ("Kradam") in Season 8;
Phillip Phillips and Heejun Han (Philjun) in Season 11;
Nick Fradiani and Clark Beckham ("Beckiani") in Season 14;
Dalton Rapattoni and MacKenzie Bourg (most commonly "DalKenzie", though "Malton" was also used from time to time) in Season 15;
And of course, Simon Cowell and Ryan Seacrest for many.

Hopeless Auditionees: The main reason to watch the early episodes each season.

Phased out in later seasons.

Idol Singer: It's right there in the title.
I Have Just One Thing to Say: An episode of Season 8 ran long, so the ending was rushed. Simon had to speak for all of the judges, prompting him to give Adam Lambert a standing ovation.
Insane Troll Logic: Sarah Goldberg, during a horribly failed audition, went on a broken, rambling, tearfilled and outraged rant about how she should be the next American Idol because she wants to be the first one who has never sung before!
Jailbait Taboo: Steven's infamous "hot, humid and happening, just like your daughter" line, spoken to former MLB pitcher Joe Magrane after his 16-year-old daughter Shannon had just had a superb audition. Needless to say, Joe was not amused, and Steven later referenced his faux pas, saying "I hope your daddy isn't still mad at me" to Shannon (who made it all the way to 11th place) at a later performance round. In Steven's defense, Shannon's over six feet tall even without high heels.
Jerkass:

Who else but Simon? In order to get a positive statement out of him, you have to be really good.
Harry Connick Jr. is also capable of being very negative with his comments, which prompts boos from the audience.
A few of the failed auditionees act like this, as they insult the judges because they disagree with their opinions and have to be escorted out by security for refusing to leave. And some of them continue to insult the judges because they feel they're better than they think.

Jerk Ass Has A Point: Most people do begrudgily agree with Simon and Harry's decision on bad performances.
Jerk with a Heart of Gold: Simon and Harry as mean as they are, act nicer towards more skilled contestants and only act tough in hopes of helping others improve. Simon has also said that he believes it's actually kinder to tell someone straight up that they have no chance of ever making it in the business than to let them waste years chasing a dream that will never come true.
Large Ham: "THIS.....................is aMERican Idol!" Yes, Ryan. It is.
The Last DJ: Seacrest often took it upon himself to spotlight the contestants that the producers wouldn't, such as his on-stage banter with Season 7's Kady Malloy and, most notably, his various comments regarding Season 8's eventual champion, Kris Allen, who was one of the only interlopers in the producers' hand-picked Top 13. See the editorials from Season 8 on What Not To Sing for more details.

Phil Phillips was also rather notable for repeatedly ignoring the advice he was given—not only from Jimmy Iovine, who told him to stop bringing his guitar out on stage, but also from famed fashion designer Tommy Hilfiger who was a wardrobe consultant for the show that season.

Licensed Game: There's a number of them, and they're all pretty awful. The judges got to give their own commentary for at least the first set of games.

It gave the show a Funny Moment when a Season 9 auditioner boasted that she'd trained using one of the video games and that it told her she was a perfect singer. Of course, everyone who knows anything about just how bad the games are knows what came next...

That couldn't have been good for the game's marketing, at least.

Lighter and Softer: Since the contestants on Juniors were kids, many of the songs used therein were from an era when musical censorship was far less necessary.
Likes Older Women: The implication of this is averted in Juniors with changes to some song lyrics.
Long-Runners: 15 Seasons is impressive for a talent competition show.
Mama Bear: J-Lo is known to weep whenever a contestant is eliminated. At the beginning of Season 10, she apparently wasn't sure if she wanted to go through with being a judge after she ended up having to send a fan favorite contestant home. It was especially heartbreaking in Season 11 when Ryan asked J-Lo to deliver the news that the dorky Jeremy Rosado had been eliminated. J-Lo's voice cracked and she stammered before finally working up the strength to announce that Jeremy had been cut from the competition.
Mind Screw: Before Jennifer Hudson made it as an actress and before Fantasia Barrino got success from her second album, the most successful person to come out of Season 3 was William Hung.
Mr. Fanservice: Ace Young in Season 5, Blake Lewis and Sanjaya Malakar in Season 6, David Cook and David Archuleta in Season 7, Kris Allen and Adam Lambert in Season 8, Casey James, Lee Dewyze and Tim Urban in Season 9, basically every guy from Season 10 (but most notably James Durbin and Casey Abrams), Phillip Phillips and Colton Dixon in Season 11, and Dalton Rapattoni and MacKenzie Bourg in Season 15.
Ms. Fanservice: Usually of the leggy variety. Kellie Pickler and Katharine McPhee in Season 5, Haley Scarnato in Season 6, Kristy Lee Cook in Season 7, Pia Toscano and Haley Reinhart in Season 10, and pretty much every girl in Season 11 (but especially Shannon Magrane and Hollie Cavanagh).

They also tried to push Kara DioGuardi as this during her stint as a judge, even having her briefly appear in a bikini in the season 8 finale.

Musicalis Interruptus:

The saves for both seasons ten and eleven were revealed this way, putting each of their respective recipients in shock.

Nice Girls: Paula, Ellen, and Jennifer, who have each had to learn that effective judges can't always be nice. Ellen quit because it hurt her to be mean to people.
The Nicknamer: Nicki Minaj.
No Celebrities Were Harmed:

In its heyday in the mid-2000's, was CONSTANTLY on the receiving end of this. Spoofed by (and this is definitely not a complete list): Saturday Night Live, MADtv, Between the Lions (yes, the kid's show), PBS kids commercials, Law & Order SVU, Psych, Veggie Tales, Sesame Street, The Simpsons, Family Guy, iCarly, Hannah Montana...the list goes on and on. Every now and then these spoofs would actually include someone from the real show!
Also, American Dreamz: a real movie (starring Hugh Grant, no less!) which is built around a show that is clearly a Captain Ersatz for American Idol.

Older and Wiser: Following the season 12 finale, reports that the judging panel would be completely rebooted with successful Idols of years past came about, suggesting Jennifer Hudson, Kelly Clarkson, Adam Lambert and Clay Aiken to be in the running. While it didn't actually happen, something similar was done in Season 15's semifinals by having past Idol finalists return to sing duets with the contestants, and a heavily pregnant Kelly did return as a guest judge a week later. They also had some of the past finalists as part of the "pre-judging" process that season.

Most people also consider the judging panel for the final three seasons to be this, even though Keith was a direct carry-over from Season 12 and Jennifer had only been gone for one year.

Parental Incest: Season 2 contestant Frenchie Davis was disqualified for posing for nude pictures on a website with this theme.
Platonic Life-Partners: The aforementioned "Kradam" was often further extended to "Kradison", adding in Allison Iraheta.

Haley Reinhart and Casey Abrams from Season 10, though the fans mistook it for something more.
The "Caley" situation was reversed in season 16, where fans saw this trope between Caleb Lee Hutchinson and Maddie Poppe, only for them to reveal shortly before the winner was announced that they actually were a couple.

Power Trio: The most well-known line-up of judges is one (Randy, Paula, and Simon), as well as the last line-up of the original run (Keith, Jennifer and Harry) and its revival (Perry, Bryan and Richie).
Precision F-Strike: Steven, to Casey Abrams:

You already are a cult hero, I mean there's millions of people in America that are really angry, because you pissed them off because you're so fucking good.

And Steven (again) to James Durbin, after the latter's performance of Judas Priest's "You've Got Another Thing Comin'":

James! That was fuckin' crazy good!

Product Placement: This show is possibly the most shameless purveyor of this Trope, from the shticky Ford commercials every week to:

Ryan: "While you hang onto your Coke glass, why don't you tell us about how nerve-wracking the first audition was."

Retool: They've tried a number of tweaks over the years, but nothing more dramatic than what they did for 2011. With Simon Cowell gone, they made some major changes. The show moved back from a four-judge panel to a three-judge one. Instead of directly replacing Simon, they went for a new dynamic. The show moved from Tuesdays and Wednesdays to Wednesdays and Thursdays. They increased the age-range that they will allow. In 2011, they only allowed contestants to use instruments once – that rule didn't survive to 2012 (which some say is one of the reasons Phillip Phillips won). Additionally, they tweaked the voting format by allowing votes through Facebook, instead of only phone and text-message voting.

The retool for season 13 might outdo the one for season 10. They've removed most of the Hopeless Auditionees part of the audition episodes, choosing to focus more heavily on the people actually getting through to Hollywood Week, they've installed a new "chamber" for audition rounds where the auditioners get to rope in their nerves before they sing for the judges, Ryan Seacrest's part in the audition rounds has been toned down significantly, and auditioners can now accompany themselves on an acoustic guitar.

Reviewer Stock Phrases: In this case, Judge Stock Phrases. "Pitchy", "indulgent", "relevant", "true artist", "commercial", "dawg", "in it to win it".
The Runner-Up Takes It All: A fairly frequent occurrence is for the season winner to be outsold by at least one of the runners-up, who goes on to have a longer and/or more successful career.

A lot of people forget that Clay Aiken was the runner-up on the second season, as he had far more success than the actual winner, Ruben Studdard.
Fantasia Barrino of Season 3 hasn't done too badly – as long as you don't compare her to Oscar-winning, Super-Bowl-anthem-singing Jennifer Hudson, who finished seventh.
Season 5 champion Taylor Hicks has been outdone by four of his competitors: third-placer Elliott Yamin, fourth-placer Chris Daughtry, sixth-placer Kellie Pickler, and even eighth-placer Bucky Covington.

If you count runner-up Katharine McPhee (though she's had more success in acting), that makes five.
Chris Daughtry isn't just an example within his season, he's a pretty good example within the entire show. His band's debut album became the best selling album of 2007, and he currently sits as the third best-selling Idol contestant of all time behind Clarkson and Underwood. And again – he placed fourth, meaning that the collective American consciousness felt there were three better contestants than him. Also, during the season, he was offered the opportunity to leave the show and replace the singer of the band Fuel. He turned it down, but an established rock band liked the fourth place winner of the season enough to want him to front them.

There is no denying Jordin Sparks is the most successful contestant from Season 6. However, the most talked-about finalist that season wasn't her, nor was it even runner-up Blake Lewis. Rather, it was the season's seventh-place finisher, Sanjaya Malakar, who was known for being bad more than anything else.
During the seventh season of American Idol, runner-up David Archuleta was much more popular than winner David Cook. Archuleta still has a larger fanbase, but Cook has had more radio hits.
Try finding media coverage of season 8 that mentions Kris Allen, the winner, before fan favorite runner-up Adam Lambert.
Season 9 is the show's least successful season, as Lee DeWyze, while still making music, didn't become the household name Idol intended him to be. Crystal Bowersox didn't do much better either, but like Archuleta and Lambert, she was the more popular of the two during the season. In fact the only one to find musical success was third-place finisher Casey James who had moderate country success. However the most successful from the season would be eighth-place finisher Katie Stevens, who became a successful actress as one of the stars of MTV's Faking It.

Season 9 finally got a successful contestant in 2015. Unfortunately for them it was Tori Kelly, who didn't even make the top 24 and whose success was completely independent of the show.

During Season 11, runner-up Jessica Sanchez was definitely more popular than winner Phillip Phillips, but the latter's song "Home" became a massive hit that fall.
Much like Daughtry, Season 15 fan-favorite MacKenzie Bourg ranked fourth, but his elimination didn't stop him from dropping a studio recording of his widely-praised original song "Roses" the night before the finale. This resulted in "Roses" managing to chart higher than the three remaining finalists' winner's singles less than twelve hours after its release and debuting at #4 on Billboard's Rock Digital Songs chart (almost entirely on sales alone), the best ranking for an Idol alum on said chart since the aforementioned "Home".

Running Gag: Sometimes, the live shows run long, creating problems for DVR users and especially local FOX affiliates. It peaked in Season 9, when the network complained to the show. All sorts of tactics were employed in order to fix this, such as judges commenting by committee, or only on alternating performances.
Sadistic Choice: Sometimes, to convey voting results, Ryan will split the contestants into two groups: one which is the safe, and one which is not. The last contestant will be asked to stand with one of the groups. Sometimes they get it wrong, and at other times, they will not choose, only to have Ryan choose for them.
Screw the Rules, I'm Doing What's Right!: In the Season 7 finale, David Cook chose not to do a reprise even though it had always been done in the finale because he felt he didn't need to dwell on past performances.
She Is All Grown Up: Meta example in Season 15. Viewers who were familiar with The Voice (specifically Season 3) were pleasantly surprised to see an older and more seasoned MacKenzie Bourg among the auditionees; female viewers in particular couldn't help but notice all that guitar playing, combined with his general athleticism, did wonders to his biceps. It's also played with in that MacKenzie is actually older than he looks; during his time on The Voice he was 19 but looked like he was in his early teens.
Show Stopper: Ian Benardo, who straddles the line between obnoxious and hilarious in the way only a Camp Gay Jewish New Yorker can.
Signing-Off Catchphrase: "Seacrest out!"
Small Name, Big Ego: Some of the failed auditionees who think they can sing, but then they sing and sound horrible.
The Smurfette Principle: Paula was the only female judge on the show until Kara Dio Guardi joined in the eighth season.
Softer and Slower Cover: Became particularly prevalent somewhere around Season 6 – either then or when the WGWGs (white guys with guitars) started piling in. Two of the most highly-acclaimed ones come from Season 8: Adam Lambert's performance of the Gary Jules version of "Mad World" and Kris Allen's rendition of "Heartless", the latter of which is often pointed to as the reason why Kris wound up winning over Adam.
Sound-Effect Bleep: This is sometimes done this during the audition rounds with angry rejects, as seen in this video of a particularly upset reject named "Rhonetta."
Spinoff:

World Idol (A one-off special broadcast on December 24, 2003 and January 1, 2004, with a competition between 11 recent champions from international versions of Idol, complete with a gathering of all of their Simon-Cowell-inspired judges, and voted Eurovision-style. Norwegian representative Kurt Nielsen won, especially after a judge affectionately declared him a shoe-in to win Middle-earth Idol because he looked like a hobbit)
American Idol Rewind (Syndicated reruns recapping a particular season, with additional interviews with contestants)
American Idol Extra (A former recap/"post-game" show aired by Fox Reality Channel)
American Juniors (A spinoff in Summer 2003, which formed a 5-member teen pop group)

Spotlight-Stealing Squad: A big complain of Idol as it began to slide from its popularity zenith was that the show was giving too much time to the Hopeless Auditionees, something that increased after William Hung became a widely-mocked sensation, and not enough on the talented singers the audience wanted to latch onto and follow. Following an executive shuffle and show retool for season 13, the show turned down the bad auditions and pitched their commercials to focus squarely on the more successful contestants that had a chance of possibly winning.
Stage Names: The show has had no shortage of contestants who went by a stage name, usually by going the mononym route or the "middle name as stage last name" route.

Season 1: Jamar (Simmons)
Season 2: (Lashundra) Trenyce (Cobbins), Hadas (Shalev)
Season 3: Marisa Joy (Sobecki-Engle) and Leah LaBelle (Vladowski), as well as the winner, Fantasia Barrino, deciding after the show ended to be billed by her first name only.
Season 5: Jose "Sway" Penala, Mandisa (Hundley). Chris Daughtry is an aversion—Daughtry is also the name ofthe band he fronts.
Season 7: Chikezie (Eze)
Season 8: Megan Joy (Corkrey)
Season 10: Lauren Alaina (Suddeth)
Season 12: Isabelle (Pasqualone)
Season 13: Jena Irene (Asciutto), Majesty Rose (York; also "Rose" is a diminutive of "Rochelle")
Season 15: Gianna Isabella (Petrone), Olivia Rox(anne Hill), La'Porsha Renae (Mays), James (Gray Dawson) VIII, Shelbie Z(ora James Panter)
Season 16: Dominique (Posey), Jurnee (Siani)
Season 17: Uché (Ndubizu)
Season 18: Dillon James (Galanski), "Just Sam" (Samantha Diaz), Kimmy Gabriela (Amparo)

Variant with Sophia Wackermann, who the judges themselves pressured to take on her late mother's last name of Starr. When the competition phase started, she had indeed changed her stage name...to Sophia James, after her special-needs brother.

And the ones who completely went with stage names:

Season 8's Nick Mitchell was billed by his real name, but also went by an alternate persona named Normund Gentle.
Season 12 featured drag queen JDA, which vaguely derives from his real name, Josh Davila.
Season 14's third-place finisher JAX is halfway between full-on stage name and derivative of her real first name, Jackie (Cole Miskanic), but the all-caps stylization makes it seem to fit here.
Season 16 featured a returning Hollywood rounder from Season 12 named Adam Sanders who had cracked under the pressure. His audition showed the "pimp piece" interview before showing a second of his actual audition...allowing for the surprise when he reveals how he copes with his insecurity: by becoming "Ada Vox". When out of character, he refers to "Miss Ada" as a separate person from himself. Ada Vox herself later came in second place on a [[Series / Queen of the Universe different singing competition program]], this time exclusively for drag queens.
Season 17's Cristina Contreras went solely by her childhood nickname "Bumbly".
Season 18 featured Nepali immigrant Dibesh Pokharel, performing under the more American name Arthur Gunn.

Sweeps: Each season gets real in February and ends right in the middle of May. Given the show's importance to the network, this has to be deliberate.
To Be Continued:

Jennifer Lopez burst into tears after letting an early favorite go in season 10. Randy and Steven praised her for being considerate. The bad news is that only ten of the top twenty four contestants were named.
Repeated in season 11, where the first episode of Hollywood Week ended with Symone Black, age 16, falling off the stage, apparently injuring herself, though viewers would have to wait until the next episode to discover how badly.

Two Words: I Can't Count: Kara DioGuardi critiqued a contestant with "six words: one of the best performances of the night." Ryan Seacrest mocked her on the next episode by introducing her as "three words: Kara DioGuardi."
Vitriolic Best Buds: For all their bickering, Simon and Paula have an incredibly solid relationship, and seeing as how he brought Paula onto The X Factor with him, he clearly respects her opinions. (Most of the time.)note

Simon: I love her to death now. I honestly, honestly do.

She's Triggered: For an episode in which contestants sing a song picked for them by one of the judges (they don't know who) Season 20 contestant Noah Thompson sings John Mayer's Heartbreak Warfare. When asked who he thinks picked it he thinks Katy (she and John Mayer dated for a few years). Ryan asks Katy if that's true. Katy tells Noah to wikipedia her and loses it falling out of her chair amidst that.
Vote Early, Vote Often: The fairness of the voting is frequently called into question, with a lot of people suspecting that it's rigged in favor of contestants preferred by 19 Entertainment. Also played literally, in that viewers are allowed to vote as many times as they want.

The final two seasons on FOX removed the "vote often" half, limiting the number of votes per viewer per method, but upped the ante on "vote early" by allowing you to vote the moment the show started. Combining this with the results shows and performance shows being merged for those seasons and the producers were essentially trying to get people to just vote for their favorites and not worry about even making sure that said favorite was even a valid option anymore. This carried over to the ABC revival.

Vulgar Humor: In Season 9, Ellen would get on Ryan's nerves this way.
We Hardly Knew Ye: Brian Dunkleman fell into relative obscurity after being Ryan's co-host for only the first season. Dunkleman made a brief cameo on the finale of season 15.
Wham Episode: The episode in which Casey Abrams was initially voted off. First Hulk Hogan appears and throws Ryan into the crowd and later in the show Ryan reveals Casey received the fewest votes. Casey starts to sing but the judges immediately cut him off and say they will save him while it's looking like Casey is to have a heart attack.

He didn't.

What the Hell, Hero?: Applied to the audience in a Season 11 episode. The bottom three contestants for the week of April 11, 2012 had all been doing really well. When the judges saw how the voting turned out, they were all upset, and Randy in particular went on a tirade. Needless to say, they used their save immediately. The saved singer, Jessica Sanchez, went on to finish second.
You Have Outlived Your Usefulness: After Season 12, all but one judges and the producers were fired. Only Ryan Seacrest and Keith Urban got to stay (Randy Jackson did, however, replace Jimmy Iovine as the mentor, but only for one season before leaving for real).
---