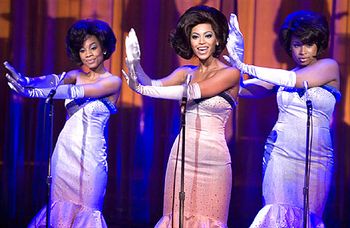 "And I am telling you, I'm not going..."
—Effie White, starting off the most famous number.
Opening in 1981, Dreamgirls is composer Henry Krieger and lyricist/librettist Tom Eyen's tribute to the lives and struggles of many 1960s R&B acts. A film version was released in 2006 after being in the works for years.
Mainly inspired by the story of The Supremes, Dreamgirls follows the lives of the Dreams, composed of full-figured and sassy lead singer Effie White, driven Deena Jones, and mousy Lorrell Robinson. With the help of Effie's songwriting brother C.C., the girls dream of leaving the slums of Detroit. They are plucked from obscurity by Curtis Taylor Jr., who becomes their manager, and arranges to have them sing backup for superstar Jimmy "Thunder" Early. As Jimmy begins a long-term affair with Lorrell while married, Curtis falls in love with Effie. But when he decides to give the group their own act, he shifts his attention to the more conventionally beautiful Deena, much to Effie's chagrin. Drama ensues.
One of the most beloved plays with a predominantly-black cast, Dreamgirls was nominated for several Tony Awards when it came out, though it lost Best Musical to Nine (Musical). However, Jennifer Holliday won the Tony for Best Actress for the role of Effie, and later a Grammy for Best Vocal Performance for the play's showstopping number, "And I Am Telling You I'm Not Going." In the 2006 film, Jennifer Hudson won the Oscar for Best Supporting Actress for the same role, one of the few performers to win for their first film.
The film version was one of two films in the process of being made as co-productions of DreamWorks and Paramount when the latter acquired the former in February, 2006, the other being Transformers, thus giving Paramount the worldwide rights to both films.
---
"And I Am Telling You I Am Not Troping":
Action Dress Rip: A variant. When Curtis hires Michelle to be his secretary (out of a parking lot full of people hoping for a record deal), he asks how she's going to type with her long nails, and she nonchalantly breaks them off since they're fake.
Adaptation Expansion: The film version features details not seen on stage. Most importantly, it features

James "Thunder" Early's untimely demise, whereas he only fades into obscurity in the musical, he dies of an overdose in the movie.

Not to mention adding three new songs. At least one stage production goes so far as to modify one of the new songs, making "Listen" less about Deena changing, and more about her apologizing to Effie.
---