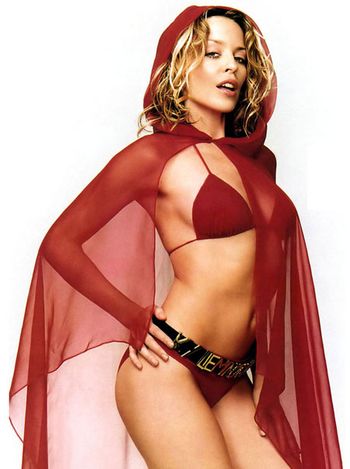 "Am I intimidated by Kylie joining
The Voice
? Of course I'm intimidated. In Australia, Kylie Minogue is Elvis Presley and The Beatles all rolled up into one sexy package. Who wouldn't be intimidated by that?"
In the league of pop singers, a certain Australian comes second only to Madonna. That woman is now old enough to be some of our tropers' mothers (well, so is Madonna, but let's not get into that). Kylie Ann Minogue AO OBE, born 28 May 1968 in Melbourne, (career 1984-Present) was a former Neighbours star and actress but later on became a singer, songwriter and world wide star.
10 Australian number one singles to her name (7 UK, 5 US Dance Play), Kylie started off as an actor, appearing in Neighbours as Wrench Wench Charlene Mitchell. Her character, of course, married Jason Donovan's character.
In between her many hits and her many music videos where she doesn't wear very much, she has continued to appear in acting roles every so often. Moulin Rouge! is one example (Street Fighter is another, but we won't mention that, and don't even start with Bio-Dome). She managed to land a later role in Leos Carax's Holy Motors.
In the UK she was one of the leading lights of the late-80s Stock Aitken Waterman (SAW) hit factory, along with Jason Donovan and Rick Astley. SAW were responsible for producing early number one singles such as "I Should Be So Lucky" and "The Locomotion", with minimal input from Kylie herself.
After a generally unsuccessful attempt to take a Darker and Edgier direction - including a collaboration with Nick Cave on his album Murder Ballads, where they sang the duet "Where the Wild Roses Grow", and her 1997 album Impossible Princess, which was renamed Kylie Minogue in the UK, as it had been released just after the death of Princess Diana - she hit platinum with 2000's "Spinning Around" and "Can't Get You Out of My Head", which topped the charts worldwide and even sold well in the United States, which has never really gone for dance-pop (or for Kylie, as it became only her second American Top-10 hit following "The Locomotion" a decade and a half earlier). "Head" in particular became one of the key singles of the 2000s and remains instantly recognisable today.
Her sister, Dannii Minogue, has had a very similar career, although never reaching the same peaks.
She had surgery for breast cancer in 2005, interrupting her Showgirl: The Greatest Hits Tour, but has since made a full recovery. In 2014 she did double duty for The Voice joining both the UK and Australian versions of the show as a coach.
---
Discography
Albums
Special Releases
Concert Tours
Disco In Dream / The Hitman Roadshow (1989)
Enjoy Yourself Tour (1990)
Rhythm of Love Tour (1991)
Let's Get to It Tour (1991)
Intimate and Live (1998)
On a Night Like This (2001)
KylieFever2002 (2002)
Showgirl: The Greatest Hits Tour (2005) *
Showgirl: The Homecoming Tour (2006)
KylieX2008 (2008-2009)
For You, For Me (2009)
Aphrodite: Les Folies Tour (2011)
Anti Tour (2012)
Kiss Me Once Tour (2014)
Golden Tour (2018-2019)
Intimate and Live (1998)
Showgirl (2005)
Showgirl Homecoming Live (2007)
Kylie: Live in New York (2009)
Aphrodite Les Folies: Live In London (2011)
Kiss Me Once Live At the SSE Hydro (2015)
Golden Live in Concert (2019)
Infinite Disco (2021)
---
This media personality contains examples of:
---
I'm Spinning Around