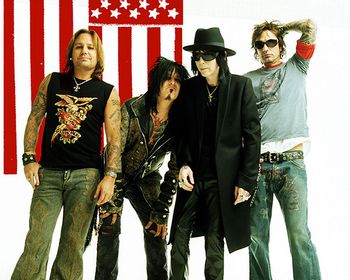 "
When we started this band, all we needed
Needed was a laugh
Years gone by, I'd say we've kicked some ass
When I'm enraged or hittin' the stage
Adrenaline rushing through my veins
And I say, we're still kickin' ass
So ooh-ahh, kickstart my heart, hope it never stops
And to think we did all of this to rock
"
— "Kickstart My Heart"
Mötley Crüe are a Hard Rock/Hair Metal band formed in Los Angeles and popular in The '80s by drummer Tommy Lee and bassist Nikki Sixx, joined by guitarist Mick Mars and lastly by singer Vince Neil. Like most of their contemporaries from the Glam era, they were probably more well known for their sleazy, sordid antics than their music: during their first tour in Canada they were banned from Edmonton for carrying "dangerous weapons" (their stage spikes) and "indecent material" (Neil's porn) through customs, got accused of a bomb threat and threw a TV out the window of their hotel (all publicity stunts). They rose to international fame on the release of their 1983 breakthrough album, Shout At The Devil, and afterwards Theater of Pain (1985, when they started being the top-billed main attraction) and Girls, Girls, Girls (1987), receiving heavy rotation on MTV and selling millions of copies. Sixx has overdosed on heroin over a dozen times, three times near-fatal (the first of these in 1987 in which he was declared dead for a minute, inspired the decade ending song "Kickstart My Heart").
In 1988, in light of Sixx's near-fatal overdose — at the plea of their managers — the band cancelled their then scheduled European tour and went into rehab (except for Mars, who cleaned up on his own). Finding sobriety and quitting drugs, the band recorded their highly successful Dr. Feelgood (1989 decade ender), getting a Grammy nomination for "Kickstart My Heart" and the title track. The band's popularity declined in the 1990's in the wake of that decade's Gangsta Rap, Grunge and Hip-Hop movements, like it did for all hair metal "party" bands of their kind. Neil quit/was fired (he maintains he was fired, Lee says he quit) from the band in 1992, being replaced by John Corabi, who would record their 1994 Self-Titled Album. They reunited in 1997 to record Generation Swine, receiving lackluster sales in part thanks to bad support from their label, Elektra Records, ultimately prompting the band to form their own label, Motley Records (this made them one of the few bands at the time to have total control over their own publishing, recording and back catalog).
In 1999, Lee left to pursue a solo career. His replacement, Randy Castillo recorded New Tattoo with the band before being diagnosed with cancer (which he later died of in 2002) before touring started, leading to Samantha Maloney of Hole to fill in for the tour. With no replacement set, they went into hiatus. During this time, they released an autobiography, The Dirt, Lee started the Nu Metal band Methods of Mayhem and married Pamela Anderson (divorced and remarried multiple times), Neil toured as an on-and-off solo artist, Sixx played in several other bands and Mars became a recluse due to his inflammatory spinal arthritis note Ankylosing Spondylitis for the curious.
Since 2005, the band announced their reunion tour, has co-headlining with Aerosmith in 2006 (a true irony, see below), and has run a small circuit in Europe. The group released their return-to-form album Saints of Los Angeles in 2008, for which they received a Grammy nomination for the title track. They started their personal summer tour Crüe Fest with Buckcherry, Papa Roach, Trapt and Sixx:A.M. (Sixx's side-project) opening, becoming the most successful festival of the summer. Crüe Fest 2 featured Theory of a Deadman, Drowning Pool, Charm City Devils and Godsmack (Godsmack singer Sully Erna appeared in the Crüe video for "White Trash Circus"). Although there are plans to turn their 2001 autobiography The Dirt into a feature film, the project has been stuck in Development Hell for several years. However, in November 2013, it was announced that Jeff Tremaine (of Jackass fame) had signed on to direct a film adaptation of The Dirt, which was released to Netflix in 2019.
In March of 2013, Sixx has stated that the band will break up past their final album and farewell tour, as to end their career on a high note (going so far as to sign a legally binding contract preventing them from ever touring again). Dates were announced in January of 2014, with Alice Cooper opening.
They played their final show on December 31st, 2015, at the Staples Center in Los Angeles.
However, in 2018, Vince Neil stated that the band never actually broke but had agreed to stop touring (most likely due to Mick Mars' health) and will still continue to record. And even that didn't stick when Mötley Crüe announced a comeback
on November 18, 2019, destroying the contract and later announcing a 2020 tour alongside Joan Jett, Def Leppard and Poison.
Not to be confused with that other kind of motley crew.
---
People that were in the band over the years.(Founding members in bold, current members in italic)
Randy Castillo - drums, percussion (1999-2000, died 2002)
John Corabi - lead vocals, rhythm guitar, bass guitar, piano (1992-1996)
Robert Alan Deal (Mick Mars) - guitar, vocals, bass guitar, sitar, mandolin, talkbox, backing vocals (1981-2023; retired from touring 2022-2023)
Frank Carlton Serafino Feranna (Nikki Sixx) - bass guitar, backing and lead vocals, synthesizer, keyboard, piano (1981-present)
Thomas Lee Bass (Tommy Lee) - drums, percussion, piano, backing and lead vocals, synthesizer (1981-1999, 2004-present)
Samantha Maloney - drums, percussion (2000-2004)
Vincent Neil Wharton (Vince Neil) - lead vocals, harmonica, rhythm guitar (1981-1992, 1997-present)
Robin - guitar (1981)
O'Dean - vocals (1981)
---
Studio and Live Discography:
---
"Tröpes, Tröpes, Tröpes":
---