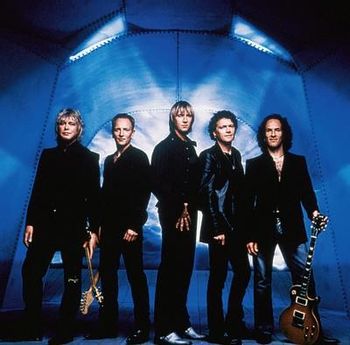 "Gunter gleben glauten globen..."
Originally formed in 1977 in Sheffield, England by five teenagers who really liked glam rock, Def Leppard became grouped with the New Wave of British Heavy Metal (NWOBHM) before turning early-MTV pop-rock sweethearts. After kicking out a founding guitarist for too much drunken tomfoolery (Pete Willis), they released a well-received rock album (Pyromania), lost another sixth of a member (Rick Allen's left arm), released a phenomenally successful pop-rock record (Hysteria), which was essentially aiming to be "the hard rock version of Thriller", then the other original guitarist drank himself to death over the course of a few years (Steve Clark).
Best known for predicating a thirty-year career on the bawdy Chorus-Only Song, "Pour Some Sugar on Me" or their anthem "Rock of Ages" (which famously begins with the utterance of the page quote), they continue to release records (much more often than in their heyday) and do a world tour almost every year since 2003. The band later experienced something of a career resurgence with well received collaborations with Tim McGraw and Taylor Swift introducing them to a new audience.
They are one of only five bands to have two original (non-greatest hits or live) albums sell more than ten million copies each; the others being Van Halen, The Beatles, Led Zeppelin, and Pink Floyd. Musically, they are known for melodic dual lead guitarists, four-part harmonies both on record and live, and massively produced, Queen-esque albums.
Members:
Rick Allen plays drums on a custom kit built to bypass his disability.
Vivian Campbell wrote and played the guitar parts on Dio's "Holy Diver" and moonlit (moonlighted?) as a member of Thin Lizzy.
Phil Collen is in too good of shape for a man in his fifties.
Joe Elliott never met a bad metaphor he didn't put in a song.
Rick Savage used to be "the Cute One" (even getting name-checked to that end on Heroes).
Former Members:
Steve Clark, whose playing style was largely influenced by Jimmy Page's playing
Pete Willis, who unfortunately let alcohol get the better of him and was fired. However he's since turned his life around and has said that the firing probably saved his life by making him face his problem.
Discography
On Through the Night (1980)
High 'n' Dry (1981)
Pyromania (1983)
Hysteria (1987)
Adrenalize (1992)
Slang (1996)
Euphoria (1999)
X (2002)
Yeah! (2006)
Songs from the Sparkle Lounge (2008)
Def Leppard (2015)
Diamond Star Halos (2022)
---
"Rise up, gather round, burn these tropes to the ground!"
---
TV Biopic
Def Leppard were the subject of a
Made-for-TV Movie
in 2001.
Hysteria: The Def Leppard Story
follows the band's beginnings and rise to stardom, focusing especially on the alcoholism of both Pete Willis and Steve Clark and on Rick's accident. There's also a little something about
Pyromania
and
Hysteria
in there somewhere.
This movie rocks the following tropes:
---