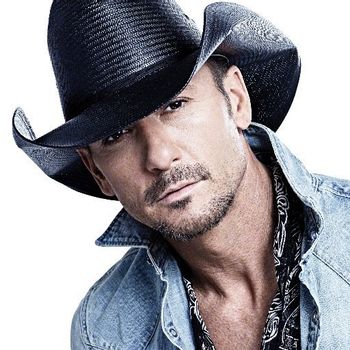 When you think Tim McGraw
I hope you think my favorite song
Someday you'll turn your radio on
I hope it takes you back to that place
When you think Tim McGraw
Samuel Timothy "Tim" McGraw (born May 1, 1967 in Start, Louisiana) is a Country Music artist. He is known as much for his music as for being the son of Major League Baseball player Tug McGraw and husband of fellow singer Faith Hill since 1996.
McGraw's first single, "What Room Was the Holiday In", didn't even make the charts, and "Welcome to the Club" only got to No. 47 (although the song did quite a bit better on the competing Radio & Records chart, reaching No. 29). After two more singles which both tanked miserably, he could easily have been tossed into the dustbin of country music history. Then a little song called "Indian Outlaw," with its cartoonish stereotypes of Native American lifestyles (and ensuing controversy), broke him into the Top 10 of country and Top 20 of pop, followed by the slightly more substantial "Don't Take the Girl." It wasn't long before his second album, Not a Moment Too Soon, sold six million copies stateside. Throughout the 1990s and into the 2000s, he has maintained a constant stream of hits, including twenty-three #1 hits on the Billboard country charts. The longest-lasting of these is "Live Like You Were Dying," released not long after the death of his father.
The hits have slipped slightly since then, though he has had several more #1 hits since. The fanbase largely blames this slippage on poor single choices: pretty much every single between "Back When" and the end of his tenure with Curb has been considered a poor choice, and many fans have thought that a great deal of album cuts would have made better single choices.
After much legal wrangling, McGraw finally left Curb in May 2012 and signed with Big Machine Records. Coincidentally, this label is also home to Taylor Swift, who name-dropped him extensively in her debut single (quoted above). He moved again to Arista Records Nashville in 2017, signing a joint deal with Faith. This ended after only one album, after which Tim moved to Columbia Records... only to move back to Big Machine a mere two singles later.
It should be noted that while he is proud of his Country Music roots, McGraw is open about the fact that his personal taste in music is wide-ranging indeed and that he is a fan of nearly every genre of music. It was this wide-ranging taste in music that led him to join Nelly on the song "Over and Over". Country Music meets Hip-Hop, folks.
McGraw also has a non-trivial acting career, including roles in Friday Night Lights, Flicka, The Blind Side, Country Strong, and 1883.
Albums:
Tim McGraw (1993)
Not a Moment Too Soon (1994)
All I Want (1995)
Everywhere (1997)
A Place in the Sun (1999)
Greatest Hits (2000)
Set This Circus Down (2001)
Tim McGraw and the Dancehall Doctors (2002)
Live Like You Were Dying (2004)
Tim McGraw Reflected: Greatest Hits Vol. 2 (2006)
Let It Go (2007)
Greatest Hits 3 (2008)
Southern Voice (2009)
Emotional Traffic (2012)
Two Lanes of Freedom (2013)
Sundown Heaven Town (2014)
Damn Country Music (2015)
The Rest of Our Life (duets album with Faith Hill) (2017)
Here on Earth (2020)
Tropes present:
---