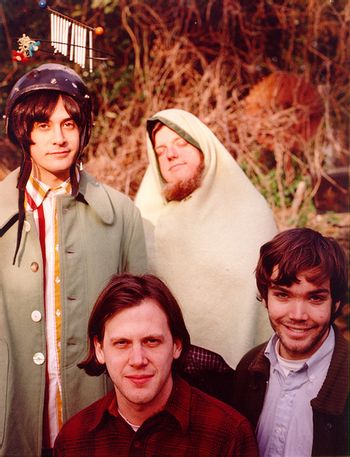 "The Earth looks better from a star, that's right above from where you are."
— Neutral Milk Hotel, "Holland, 1945"
Neutral Milk Hotel are a highly influential American indie rock band that consisted of Jeff Mangum (vocals, guitar), Scott Spillane (horns), Jeremy Barnes (drums), and Julian Koster (multiple instruments). Along with The Olivia Tremor Control and The Apples in Stereo, they're one of the three main bands forming Elephant 6's first wave.
The band's origins were in the late 1980s, with Jeff Mangum forming a band called Synthetic Flying Machine with high school friends Will Cullen Hart and Bill Doss. Though the band never fully got much recognition, they stayed together for a couple of years, eventually changing their name to The Olivia Tremor Control. Mangum soon got the desire to do some experimentation with a separate project, and that's where Neutral Milk Hotel was born.
After leaving The Olivia Tremor Control, Mangum started putting more work into Neutral Milk Hotel, and in 1996 their first album, On Avery Island was released. Though critically praised, this album is — perhaps rather unfairly — not nearly as remembered as their Cult Classic that would be released next.
Over the next two years, Mangum would develop a strange obsession with Anne Frank and the Holocaust, the lyrics stemming from this obsession becoming the foundation for the band's next album, In the Aeroplane Over the Sea, which was released in 1998. While initial reception was nowhere near universal praise, through the advent of the Internet and memes (primarily 4chan's /mu/ board), it is now considered a modern classic. Unfortunately, Mangum struggled to cope with his newfound fame, with the combined stress from touring and being repeatedly asked to explain his lyrics leading him to have a nervous breakdown and disappear from the public eye, resulting in the unspoken, unannounced breakup of the band in 1999 shortly after their tour.
Hints of reunions circulated around for years, but nothing was definite as to whether or not they'd truly get back together until 2013, when the band announced a reunion tour with the full lineup. They continued touring through 2015, when they stated that they had played their last tour for the foreseeable future, and went on a still-ongoing hiatus. As of yet, there's no information on possible new records.
Arcade Fire said that they signed to Merge Records because it was Neutral Milk Hotel's record label. Because of this, the two bands are constantly compared. In contrast, Jeremy Barnes' other band, A Hawk and a Hacksaw, is so wildly different from his work with NMH that the two are rarely compared.
Discography
Early demos (no wide official release)
Beauty (Milk demo) (1990)
Invent Yourself a Shortcake (1991)
Beauty (1992)
Hype City Soundtrack (1993)
Unreleased Demo (1993 or 1994)
Shannon's Monroe House Demo (1994)
Unreleased Demo 2 (1994)
Main catalog (wide availability)
---
Neutral Milk Hotel contains examples of the following tropes:
---