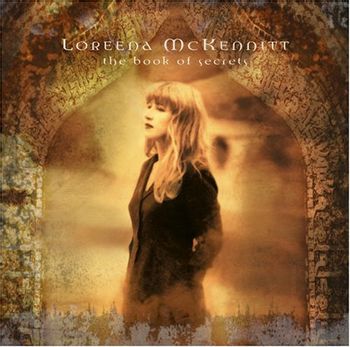 Here is my heart, I give it to you,
Take me with you across this land...
— "The Neverending Road"
Clouded dream on an earthly night
Hangs upon the crescent moon
Voiceless song in an ageless light
Sings at the coming dawn
Birds in flight are calling there
Where the heart moves the stones
There that my heart is longing for
All for the love of you
— "The Mystic's Dream"
Loreena Isabelle Irene McKennitt, CM, OM (born February 17, 1957) is a Canadian singer and multi-instrumentalist (piano, accordion and harp). Her songs have a distinct Celtic and Middle Eastern tone (she's of Scottish descent), but are sometimes described as New Age. Her songs are often ballads, and are characterized by her high, echoing soprano voice. She found her calling to music after trying to be a veterinarian (and a brief stop-over with Ontario's renowned Shakespeare Festival), and has since then sold more than 13 million copies of her albums. She's often compared to Enya as they both have Celt roots and use Gaelic in their music, but Loreena's music is more inspired by works of literature (most often Alfred Lord Tennyson, William Blake and William Butler Yeats) and is considered to be more grounded. Many of her songs have roots in English or Celtic folk songs, but more recently her music has been inspired by Arabian/Turkish lore. She is also an honorary Colonel in the Royal Canadian Air Force. In October 2019, she announced that her current tour would be her last for the foreseeable future, and that she will be "taking an indefinite period of time away from my music."
She currently has 11 studio albums or EPs, including two winter-themed albums, and five live albums:
Studio Discography:
Elemental (1985)
To Drive the Cold Winter Away (1987)
Parallel Dreams (1989)
The Visit (1991)
The Mask and Mirror (1994)
A Winter Garden: Five Songs for the Season (EP) (1995)
The Book of Secrets (1997)
An Ancient Muse (2006)
A Midwinter Night's Dream (2008)
The Wind That Shakes the Barley (2010)
Lost Souls (2018)
---
Live Discography:
Live in San Francisco at the Palace of Fine Arts (1985)
Live in Paris and Toronto (1999)
Nights from the Alhambra (2007)
A Mediterranean Odyssey (2009)
Troubadours on the Rhine (2012)
---
This singer provides examples of:
---