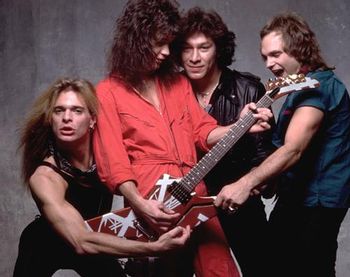 Nobody rules these streets at night but me! NOBODY!
THE ATOMIC PUNK!
I brought my PENCIL!! Gimme something to write on, man!
Describe Van Halen here. (Guitar Solo)
If The Rolling Stones had Eddie Van Halen as their guitarist and a hyperactive, insane combination of Freddie Mercury and Ronnie James Dio as their frontman (David Lee Roth). And a really good drummer. And whoever's on bass. Probably the most fun Hard Rock band you'll ever hear. They even got their own Guitar Hero game!
(Drum Solo)
Van Halen began their path towards super-fun rocking in Pasadena in 1972, with its initial lineup containing the Van Halen brothers (Eddie on guitar and backing vocals, Alex on drums), David Lee Roth on vocals and Mark Stone on bass. Stone was thrown out in 1974 and the band's "classic lineup" took shape, with the Van Halens, Roth and Michael Anthony on bass and backing vocals.
After being seen by two Warner (Bros.) Records executives at a concert, the band got a contract with WB and started working on its debut album. Produced by Ted Templeman (who stayed with the band for its first six albums), Van Halen became a smash success thanks to the combination of Eddie's hyperactive, lightning-fast fretwork and Dave's flamboyant, Large Hammy Ace persona. It contained a few classic songs, such as the band's headbanging cover of "You Really Got Me" by The Kinks, the Image Song "Runnin' with the Devil" and Eddie's mindblowing solo "Eruption". They toured nearly a year in support of the album, notably opening for Black Sabbath and completely blowing them out of the water in a time when Sabbath were going through their first Dork Age. Come to think of it, rock music itself was in a Dork Age at a time when disco was still dominant (if you believe the old narrative), and Van Halen is seen as one of the bands that stopped it from collapsing under its own weight (along with, you guessed it, Punk Rock, natch). You could even say they co-opted Punk Rock, thus preventing the genre from taking over the mainstream (at least for a time).
Van Halen quickly made a followup, the aptly-titled Van Halen II, which was another success and gave the band its first hit, "Dance the Night Away". Women and Children First also followed a year later, containing more kickarse hard rock but also showing Eddie's first and most definitely not last use of keyboards on a VH album (on "And the Cradle Will Rock...").
Tensions started rising around the time of Fair Warning between Eddie, who wanted to write more serious and complex stuff, and Roth, who didn't have patience for this and wanted to carry on with the fun rocking. Combined with cocaine and alcohol abuse on Eddie's behalf, Warning was a Darker and Edgier album that was much less fun than the previous three and, unsurprisingly, was met with much less commercial success, though it did get good reviews and spawned a hit with "Unchained". They rebounded with the cover-heavy Diver Down a short while later.
Van Halen hit their indisputable peak with 1984. Their highest-selling and most critically acclaimed album, 1984 saw the band reconcile their anthemic rock with Eddie's love of keyboards, and gave them their most enduring hits: the keyboard-powered "Jump", the hyper-speed hilarity of "Hot for Teacher" and the Epic Riff-driven "Panama". As a testament to how good it was, 1984 was only kept off the #1 position in the US because of Thriller. (Coincidentally enough, Eddie also made a cameo appearance on Thriller, playing the solo on "Beat It".)
(Guitar Solo)
Roth left Van Halen on April 1, 1985, replaced by former Montrose vocalist Sammy Hagar. Drastic changes took place: Templeman left along with Roth, their logo was slightly changed (the lines extending from the "VH" letters now formed a sphere) and their sound changed. While 5150 retained some of the party rock sound they had become famous for ("Summer Nights", "Get Up"), Van Hagar slowly drifted away from fast, rockin' fun and became a mainstream, pop-rock band with lots of keyboards and Power Ballads. (A smart move, since this was when Hair Metal was really hitting its stride.)
Hagar left the band in 1996. After a temporary reunion with Roth, Gary Cherone from Extreme (and "More than Words" infamy) was recruited as their new frontman. The resulting album, Van Halen III, was roundly panned by everybody. After a hiatus, a second tenure with Hagar and a complicated situation, Anthony was forced out of the band, replaced by Eddie's teenaged son Wolfgang, and Roth returned in 2007. The band has released a new album, titled A Different Kind of Truth, in February 2012. In what may strike fans as a bit of déjà vu, Truth ended up peaking at #2 on the charts, kept off the #1 spot by 21. (No guest spot for Eddie this time, though.)
A few years after leaving the band, Hagar and Anthony formed Chickenfoot with Joe Satriani and Chad Smith.
---
Members (Founding members in bold, current members in italic):
David Lee Roth - lead vocals, acoustic guitar (1974-1985, 1996, 2007-present)
Eddie Van Halen - lead guitar, keyboards, piano, bass guitar, backing and lead vocals (1972-present)
Alex Van Halen - drums, percussion (1972-present)
Wolfgang Van Halen - bass guitar, backing vocals (2007-present)
Former members:
Mark Stone - bass guitar, backing vocals (1972-1974)
Michael Anthony - bass guitar, backing and lead vocals (1974-2006)
Sammy Hagar - lead vocals, rhythm and lead guitar (1985-1996, 2003-2005)
Gary Cherone - lead vocals (1996-1999)
Discography:
Van Halen (1978)
Van Halen II (1979)
Women and Children First (1980)
Fair Warning (1981)
Diver Down (1982)
1984 (1984)
5150 (1986)
OU812 (1988)
Balance (1995)
Van Halen III (1998)
A Different Kind of Truth (2012)
---
Everybody Wants Tropes!! We Got Some, Too!!
"OH YEEEAAAH"
Take That!: It is a well-documented legend that the title of OU812note was one at David Lee Roth's debut solo album, Eat 'em and Smile.

Another spin on the above legend is that there was a kind of "back and forth" between DLR and VH over the course of several albums: DLR's "Crazy From the Heat" — VH's "5150" (police code for the criminally insanenote ) followed by DLR's "Eat 'Em and Smile" — VH's "OU812" (as mentioned above). Then there was VH's "For Unlawful Carnal Knowledge" followed by DLR's "Your Filthy Little Mouth".

Teacher/Student Romance: "Hot For Teacher", which is even quoted atop the page.
Take That!: Diamond Dave has had a few unkind words to say about the Glam Metal bands that sprung up in Van Halen's wake. In one interview he particularly singles out Quiet Riot, though given they were long-time rivals before Van Halen's big break, that could just be Dave slinging some mud for the sake of it.
Technician vs. Performer: The main driving force of Van Halen until 1984 was the creative relationship between Eddie, the consummate technician, and Diamond Dave, the performer, whereby Dave's Large Ham clowning endeared the band to audiences and kept Eddie from indulging himself too much on records, while Eddie's guitar wizardry elevated the band's showmanship and made them stand out. (Reviewing "Runnin' With the Devil", the AV Club highlighted the alchemy between Eddie's fret-magic and Dave's "chummy megalomania" as the key to Van Halen's success.) This relationship eventually grew strained due to Creative Differences and collapsed, leading to Dave being fired in 1984. Neither Sammy Hagar nor Gary Cherone had anywhere near Dave's capacity to challenge Eddie, who asserted control over the band's direction from then onwards.
This Is a Drill: Which Eddie used in the intro of "Poundcake". And it sounds pretty cool.
Title by Number: 1984 and 5150. Also, Eddie's solo "316" on For Unlawful Carnal Knowledge.
Trope Codifier: When elderly people or foreigners (non-Anglo-Americans who might be Two Decades Behind or more) picture rock musicians, Van Halen is probably the archetype they're thinking of. While Elvis Presley, Mick Jagger, and Jim Morrison did much to define the rock star's basic personality and Alice Cooper and KISS solidified the "look," it was Van Halen who brought the ultimate in rock-and-roll energy and attitude.

They also codified a lot of the elements of modern riders, namely the "wish list" nature and extensive (and very in-depth) listing of technical requirements for their rigs. Part of this was due to how massive their setups were and how much damage could result if everything wasn't followed to the letter; while few acts have setups that are one iota as complex as theirs, the basic elements of their riders are now standard industry practice.

Ur-Example: For Hair Metal. The songs "Eruption" and "Spanish Fly" are the Ur-Example of Neo Classical Metal.
Vocal Dissonance: Michael Anthony is a short, stocky, hairy guy that liked to dress up in boiler suits. His voice is one of the most pure, angelic countertenor voices in modern history, comparable in timbre to a female choir singer.

Diamond Dave sounds like a mix of a 60's soul singer and a classic rock singer - only the latter of which shows in his appearance.

Vocal Range Exceeded: Fairly commonly happens to Dave live, but hey - the man's a showman, never claimed to be a good singer either.
We Used to Be Friends: Eddie towards Michael Anthony and Sammy Hagar. At this point they both might as well have never been in the band.

Recently averted in regards to Michael and Alex Van Halen, who stated in a recent interview with Eddie Trunk that he managed to get Alex on the phone, and they chatted for about 20 minutes. Michael has always stated that he and Alex never really "fell out," but were never able to speak because of Eddie.

We Want Our Jerk Back: Many fans' reaction to a sober, more serious Eddie.

He does, however, still treat Michael Anthony and Sammy Hagar with significantly less respect than they deserve. It's to the point where he barely acknowledges their existence at all.
(Guitar Solo)
---