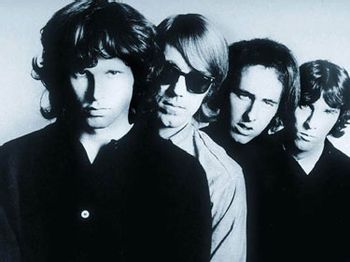 "This is the strangest life I've ever known."
— "Waiting for the Sun", Morrison Hotel
One of the most important and influential bands of their era. Led by Jim Morrison (1943–1971), AKA Mr. Mojo Risin', AKA The Lizard King, with Ray Manzarek (1939–2013) on keyboards, Robby Krieger on guitar, and John Densmore on drums, The Doors became famous in The '60s for their dark, theatrical, blues-influenced Psychedelic Rock and Morrison's surreal Word Salad Lyrics.
According to Ray Manzarek, The Doors were founded on the beach of Venice, California, where he ran into Jim Morrison a month after graduating from UCLA film school where they had both studied. He asked Morrison what he had been up to and he answered that he had been writing songs and proceeded to sing "Moonlight Drive" to Manzarek, who was enthused. Manzarek later recruited John Densmore, a jazz drummer, then Robby Krieger, a flamenco guitarist, from a transcendental meditation class - and thus, the Doors were born.
They started playing in bars around Los Angeles, first the London Fog, and later with more success, the Whisky A Go-Go, and soon signed a record deal with Elektra Records. Morrison encouraged his fellow bandmates to write songs of their own, and thus Robby Krieger wrote "Light My Fire", which became one of their biggest hits.
Although the band quickly enjoyed commercial success, not all was going well.
Inspired in part by the behavior of Van Morrison, the singer of Them (whom the Doors had played with at the Whisky a Go-Go), Jim Morrison started behaving very provocatively toward the audience, often insulting them or getting into political rants, which eventually landed him in jail after a 1969 concert in Miami where he allegedly exposed himself on stage.
This rebellious attitude, which contributed to the band's appeal, was not just a pose. Jim Morrison had very uncompromising political ideas, among which was an opposition to commercialism. He famously got enraged that the three other members had agreed to sell "Light My Fire" to Buick for a commercial while he was away from the rest of the band in London, and Morrison threatened to destroy a Buick with a sledgehammer on television if they did not back down.
All four band members were used to taking LSD and smoking pot, but Morrison got more heavily into all kinds of drugs, and became a very heavy drinker, which did not improve his behavior, created tensions within the band, and took its toll on their live performances, sometimes even affecting their recording sessions (it is said that Morrison recorded "Five to One" while heavily inebriated, hence his slurred performance).
In 1971, after the recording of the album L.A. Woman, Jim Morrison flew to Paris, where he died on July 3, under somewhat mysterious circumstances.note Morrison was found dead in the bathtub of the apartment he was living in. His cause of death was officially ruled as heart failure, but no autopsy was ever performed on his body as French law at the time didn't require it, so it remains unclear if heart failure was indeed the true cause of his death. He was buried at the Père Lachaise cemetery, and his grave became by far the most famous there (which isn't a small feat, considering said cemetery has been chock full of famous people for centuries), with thousands of people visiting it each year.
The band's musical eclecticism was a major influence on Progressive Rock, and Morrison's brooding image was a major inspiration for Punk Rock, Alternative Rock, and Goth Rock.
Although the band released two other albums with Manzarek and Krieger sharing the role of vocalist after Morrison's death, they parted ways a few years later. In the 1990s and early 2000s, Manzarek and Krieger reunited (with Ian Astbury of The Cult on vocals) to form The Doors of the 21st Century. Densmore disagreed with reforming the Doors (unless Eddie Vedder was the singer), and actually sued his former bandmates over their use of the name The Doors and of the band's logo. (He thought that the use of the logo and the fact that the words "of the 21st century" was written in much smaller print compared to "The Doors" was intentionally misleading). Manzarek and Krieger would be forced to rename their act Riders on the Storm and later Manzarek-Krieger. Densmore later reconciled with Krieger and Manzarek shortly before the latter's death in 2013 and since has occasionally reunited with Krieger on stage.
Val Kilmer played Morrison in the 1991 biographical film directed by Oliver Stone.
No relation to the creepypasta or the horror game.
---
Principal Members (Founding members in bold):
John Densmore, (born 1944) - drums, percussion, vocals (1965–73, 1978)
Robby Krieger, (born 1946) - guitar, lead vocals, percussion, harmonica (1965–73, 1978)
Ray Manzarek (1939–2013) - keyboard, organ, keyboard bass, lead vocals, piano, marxophone, harpsichord, marimba, percussion, guitar (1965–73, 1978)
Jim Morrison (1943–1971) - lead vocals, harmonica, percussion, synthesizer, maracas, tambourine, piano (1965–71, 1978 posthumously)
---
Studio Discography:
1967 - The Doors (Album)
1967 - Strange Days
1968 - Waiting for the Sun
1969 - The Soft Parade
1970 - Morrison Hotel
1971 - L.A. Woman
1971 - Other Voices
1972 - Full Circle
1978 - An American Prayer note
---
Live Discography:
1970 - Absolutely Live
1983 - Alive, She Cried note
1987 - Live at the Hollywood Bowl note
1991 - In Concert note
---
Non-album singles:
1969 - "Wishful Sinful" note / "Who Scared You"
1970 - "Love Her Madly" note / "(You Need Meat) Don't Go No Further"
1972 - "Get Up and Dance" note / "Tree Trunk"
---
YOU CANNOT PETITION THE LORD WITH TROPES!
---