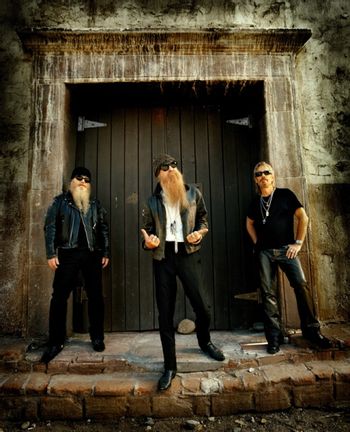 Every girl's crazy 'bout a sharp-dressed man.
The little old band from Texas that could, ZZ Top is a long-running Blues Rock band from Houston with the classic lineup of guitarist/vocalist Billy Gibbons, bassist/keyboardist/vocalist Dusty Hill and drummer Frank Beard (who, ironically, has the shortest beard) lasting over fifty years. Formed in 1969, they were the longest-running rock band with the same line-up (with Golden Earring and then Rush close behind them) until Hill's death in 2021.
People most likely know them for three things. One of them would be their actual music, which is made up of Epic Riff-driven, frequently humorous Blues Rock tunes in The '70s, Epic Riff-driven frequently humorous Blues Rock tunes with synths and electronics in The '80s, and a compromise between the two since The '90s. The other two would be their distinctive appearance - sunglasses plus chest-length beards (except for Beard, who just has a moustache and sometimes a very close cropped beard) - and their videos in The '80s, which always involved hot chicks and Cool Cars, most notably the Eliminator
◊.
Bass player Dusty Hill passed away on July 28, 2021; in accordance with Hill's wishes, the band will continue
with their longtime guitar technician Elwood Francis in Hill's place.
---
Principal Members (Founding members in italic, current members in bold):
Frank Beard - drums, percussion (1969-present)
Billy Ethridge - bass (1969)
Elwood Francis - bass, vocals (2021-present)
Billy Gibbons - lead vocals, guitar, harmonica, piano (1969-present)
Lanier Greig - organ, bass (1969, died 2013)
Dusty Hill - bass, lead vocals, keyboard (1969-2021, died 2021)
Dan Mitchell - drums (1969)
---
Studio and Live Discography:
1971 - ZZ Top's First Album
1972 - Rio Grande Mud
1973 - Tres Hombres
1975 - Fandango!
1976 - Tejas
1979 - Degüello
1981 - El Loco
1983 - Eliminator
1985 - Afterburner
1990 - Recycler
1994 - Antenna
1996 - Rhythmeen
1999 - XXX
2003 - Mescalero
2008 - Live From Texas
2009 - Double Down Live: 1980 & 2008
2012 - Texicali
2012 - La Futura
---
---
Every girl's crazy 'bout a sharp troped man:
---