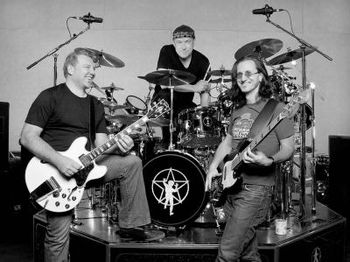 Influenced by:
All the world's indeed a stage
And we are merely players
Performers and portrayers
Each another's audience outside the gilded cage
Rush were a Canadian rock trio formed in 1968, although, listening to some of their songs, you'd never guess there were only three of them. They were probably best known for Geddy Lee's "wait, is that a guy?" vocals and prominent bass and Neil Peart's early Ayn Rand-inspired lyrics (though he had distanced himself from her after some backlash, and it's really only the albums from Fly by Night through about Hemispheres where her influence is particularly apparent). While the band had always been an album rock (and later classic rock) radio favourite, Rush saw a decent boost to their popularity for their contributions to the video game series Rock Band - and another, unfortunately enough, following Peart's passing.
One of those bands that split people down the middle - a lot of people hate Progressive Rock in general, and many disapproved of Peart's early fondness for Ayn Rand. (To be fair, while Peart acknowledged he still had areas of agreement with Rand, he did not agree with her whole philosophy, and he removed her "thank you" credit from 2112* as of at least the original compact disc issue.) They are probably the biggest Cult Classic band in the world: they have sold tens of millions of records throughout their career, but although a lot of people that like them really like them, the same goes for people that dislike them.
Although most commonly associated with Hard Rock and Progressive Rock, their style varied considerably during their career. Originating with a fairly straightforward Hard Rock sound heavily influenced by Deep Purple and Led Zeppelin; they remained such for their first few albums, similarly incorporating fantasy and science-fiction themes into their lyrics, and elaborate arrangements into their instrumentals. They were increasingly influenced by the growing Progressive Rock movement but maintained a harder-edged sound than most of their contemporaries, and it was at this point that Peart's infatuation with the writings of Ayn Rand became prominent. They soon began to incorporate Jazz, New Wave, Pop, and Reggae influences; and transitioned to a predominantly Synth Rock style that lasted well through The '80s, a sound heavily influenced by Talking Heads and The Police. In the '90s with the release of Counterparts, the band yet again changed their stylings to stay relevant, now taking elements from Alternative Rock and even Grunge and while maintaining some of the Progressive sound; they began moving back into their earlier Hard Rock style, including the release of an EP of covers of songs by their earliest Hard Rock influences like The Who, The Yardbirds, and Cream.
The group's line-up remained consistent since Peart joined in 1974 to replace founding drummer John Rutsey, making them the third-longest enduring band in rock music (only ZZ Top and Golden Earring have been together longer) by the time of their retirement. Once Peart joined the band, he became the primary lyricist, while Lee and Lifeson concentrated on the music. Before that point, Lee and Lifeson did all the songwriting; Rutsey had written some lyrics for their eponymous 1974 debut album, but never gave them to the others.
Both Lee and Lifeson split off in favour of solo efforts during the band's tenure (My Favourite Headache and Victor, respectively). Lifeson reportedly had a sequel album in the works, Victor II, but abandoned the idea in light of Peart's personal tragedies. (Peart's daughter Selena was killed in a car wreck, and his common-law wife Jackie died of cancer ten months later; Peart recounts, "They said it was cancer, but of course it was a broken heart.") Lee recorded My Favourite Headache during the band's hiatus.
Shortly after the release of their debut album, Rutsey, a diabetic since childhood, left due to health problems and was replaced by Peart. Rutsey passed away in the summer of 2008. Lee replaced original bassist/vocalist Jeff Jones shortly after the band formed in 1968.
In 2015, the band announced that their R40 Tour, which concluded on August 1 of that year, would be their last large-scale tour due to health issues for Lifeson (arthritis) and Peart (tendinitis). However, they left open the possibility of smaller tours and future studio projects. In January 2018 however, Lifeson confirmed in an interview that Rush was done, and they had no plans to record a new album or tour anymore. Neil Peart's death from brain cancer two years later made it clear that the band was over for good. Lee and Lifeson have since said they may eventually record together again, but will not tour, or release any such material under the name Rush.
In 2022, Stern created a pinball machine based on the band's work, with the surviving members of the group participating in its creation and providing voice work especially for it.
Not to be confused, if such a thing were even possible, with Rush Limbaugh, who you may also hear on the radio. (Note: As of March 2012, this Rush has submitted a cease-and-desist order
to the other one for unauthorized use of their music. Use of their music by political figures seems to be a Berserk Button of theirs, as they have issued cease-and-desist orders to several other political figures as well. Check this story
for a wonderful Hurricane of Puns and count all the Rush song titles and lyric references you can find.) Also not to be confused with the Formula One biopic by Ron Howard or a flying robot dog.
See also Freewill in 2112, a musical based on the album.
---
Principal Members (Founding members in italic, most recent members in bold):
Jeff Jones - bass, lead vocals (1968)
Geddy Lee - lead vocals, bass, guitar, keyboard, synthesizer, mellotron (1968–69, 1969–2018)
Alex Lifeson - guitar, vocals, synthesizer, mandola, mandolin, bouzouki, keyboard (1968–2018)
Neil Peart - drums, percussion, glockenspiel, wind chimes, bell tree, vibraslap, triangle, tubular bells, temple blocks, timpani, gong, cowbells, crotales, timbales, plywood, cymbals, hammered dulcimer (1974–2018, died 2020)
John Rutsey - drums, percussion, vocals (1968–74, died 2008)
---
Studio Discography:
---
Extended Plays (EP):
---
Live Discography:
1976 - All the World's a Stage
1981 - Exit...Stage Left
1989 - A Show of Hands
1998 - Different Stages note
2003 - Rush in Rio
2005 - R30: 30th Anniversary World Tour
2006 - Grace Under Pressure Tour note
2008 - Snakes & Arrows Live
2011 - Time Machine 2011: Live in Cleveland
2013 - Clockwork Angels Tour
2015 - R40 Live
---
Non-album singles:
1973 - "Not Fade Away" (a Buddy Holly cover) / "You Can't Fight It"
---
Documentaries:
2010 - Rush: Beyond the Lighted Stage (history of the band up to and including the Snakes & Arrows Tour)
2016 - Rush: Time Stand Still (retrospective on the R40 Live Tour)
---
"We are the priests of the Tropes of Syrinx":
Philosophical musings about Objectivism, especially in the period from 2112 to Moving Pictures. In the period after this, they actually swing pretty far in the direction of subjectivism, especially on Hold Your Fire.
Fantasy and sci-fi themes and settings, often in tandem with the above; "2112", for example, is a loose adaptation of Ayn Rand's Anthem and "Hemispheres" is a near-literal rendering of Nietzsche's Birth of Tragedy
Conceptually linked songs spread out across an entire album side, or even multiple albums as in the case of "Cygnus X-1" (two) or the "Fear" series (three, expanded to four once Vapor Trails came out).

Clockwork Angels is a full-on concept album. Sci-Fi/Fantasy author Kevin J. Anderson and Peart have also written a novelization of the album's story.

As with the above, Rock Operas
Long songs with Epic Instrumental Openers, with the band's live shows featuring increasingly elaborate drum solos as a mid-piece of the concert. Since The '90s, Peart used multiple drum kits on a circular platform that rotates around his seat so that he may at various points play traditional drums, xylophones, other exotic types of percussion, electric drums, or synth pads set to play brass band samples.

Commented on by a comedian hosting the band on his show: "The band Rush is here! Either that, or a drum factory exploded in the studio."
The group's 2010–11 Time Machine tour included a 45-minute performance of the Moving Pictures (Album) in its entirety (never ever touch this button).

Long concerts. From 1996 on, their concerts averaged at least 2-1/2 hours each. They played a 60- or 70-minute opening set then took a 20-minute break before coming back to do another set. There's a reason they stopped using opening acts.
Strong basslines to the point where the bass can be considered the lead instrument in some songs.
A good sense of humor about themselves (as shown by their collaborations with South Park, SCTV, and Aqua Teen Hungerforce, some of which are used in their live shows)

Don't forget Trailer Park Boys.
Worth noting is that Trey Parker and Matt Stone are HUGE fans of Rush, with Stone appearing in the band's documentary Beyond the Lighted Stage.
When they played on The Colbert Report, they played on through the credits of the show... and all the way until the opening tag of the next day's show, poking fun at the length of some of their songs and the usual length of their live shows (which could get to be about three hours.)
They also make fun of their own nationality.
In a video shown at the end of their 2010 concert performance, they appear talking about the audience in the backstage. "I saw three on the stands, four on the floor. Seven girls in a Rush concert! It's a new record."

Unusual time signatures and rhyme schemes (The Larger Bowl, for example, is based on a form of Malaysian poetry called "pantoum")

The intro of "YYZ" is written in 10/8 and incorporates the Morse code of those three letters, which are the location code for Pearson International Airport in the band's hometown of Toronto.
"Subdivisions" alternates between 7/8, 4/4, and 3/4 (or possibly 6/4) signatures. Some parts only last a couple of bars before switching to the next. Very easily messed up if tried on a marching band.
"For the tropes of the prophets were written on the studio walls":
Long-Runner Line-up: Once Neil joined the band in 1974 to replace John Rutsey, the lineup remained unchanged until Rush disbanded in early 2018.
Lyrical Dissonance: "Manhattan Project", which alternates between calm, happy verses and a catchy, energetic chorus, is about the development and use of the nuclear bomb during World War II.
Mundane Made Awesome: "I Think I'm Going Bald", a song about the symbolism of hair loss. It based around Alex's fear of going bald in the future. Guess what happened in the future. Made even funnier by the fact that in 2012 Alex did something and is no longer going bald.
Rogue Drone: The subject of "The Body Electric" is a good example of this.
Rule of Symbolism: Averted in the case of "The Trees." Despite many people claiming that the song is about some kind of political conflict, it's not. Neil came up with the lyrics because he saw a picture depicting trees arguing with each other. That's it.
Sampling: Daffy Duck saying, "No More for Me, thanks, I'm driving" from "Rabbit Seasoning," can be heard at the end of "Red Barchetta" on the 2008 video Rush: Snakes & Arrows- Live in Holland.

A clip from The Simpsons shows up at the end of "The Big Money" on Rush in Rio:

Homer: D'oh!
Lisa: A deer!
Marge: A female deer!

Dr. Evil's "One MILLION dollars" line from the first Austin Powers film is used at the end of "The Big Money" on the Clockwork Angels Tour album.
The band's commitment to live performances that replicate the studio experience leads to the heavy use of samplers during said shows. Otherwise, they'd find it hard to duplicate the ambient synth opening to 2112, for example.
---
---