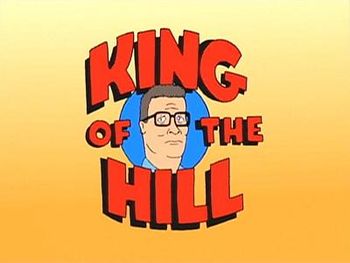 "I tell you what..."
King of the Hill is a long running animated sitcom created by Mike Judge and Greg Daniels that aired from 1997 to 2010.
In the fictional Texas suburb of Arlen lives Hank Hill, a long time salesman of propane and propane accessories who's trying his hardest to always do the right thing. A lot of the humor in the series comes from the fact that Hank's a gigantic stick-in-the-mud. His friends, who are also his neighbors, include down-and-out divorced Army barber Bill Dauterive, cuckolded Conspiracy Theorist and pest exterminator Dale Gribble, and Boomhauer, a womanizing motormouth whose job was unknown until a last-second reveal in the series finale.
His family includes his wife, Peggy, his son, Bobby, and his niece, Luanne Platter. Hank also has plenty of conflicts with his father, Cotton, a misogynistic World War II veteran.
One thing that stands out the most about the series is that unlike most other animated sitcoms that feature wacky or outlandish situations (i.e. The Simpsons, Family Guy, and all of their myriad offspring), King of the Hill attempts to retain realism by seeking humor in the otherwise conventional, making it the polar opposite of Judge's previous show Beavis and Butt-Head.
After running for numerous seasons, the show finally ended its run on Fox on September 13, 2009. Four unaired episodes were released in syndication and on [adult swim] in 2010.
The entire series is currently available on DVD and Hulu. In addition to DVD, season 13 is also available on Blu-Ray as it is the only season containing episodes produced in HD widescreen. [adult swim] aired reruns from the show's final years until 2018. note Although from around 2015 until they lost the rights in 2018, they had stopped airing the Season 1 and 2 episodes. After [adult swim] lost the rights to King of the Hill in June 2018, Comedy Central picked up the rights to air the series, including the episodes from Seasons 1 and 2 which didn't air on [adult swim] previously. note However, the older episodes produced in 4:3 standard definition (any episode before "Lucky See, Monkey Do") air on Comedy Central in a cropped format to fit a 16:9 widescreen frame.. The show also aired on various local stations around the U.S. from 2001 to 2019. Sadly, Comedy Central dropped the show after screwing it out of a timeslot where normal people would be able to watch it (they aired the show either late at night or early in the morning). For anyone who wants to see the show, your best bets are Hulu, complete series DVD boxsets, and illegal downloading.
In 2018, Mike Judge went on record stating that he was considering a revival of the series, and that there have been dialogues with Fox for new seasons, citing the current political and social climate as ripe for satire. As of 2020, nothing has come of this, as Judge is currently contracted by Comedy Central to produce another revival of Beavis and Butt-Head, but fans remain hopeful.
---
King of the Hill sells tropes and trope accessories of:
open/close all folders
#-B
C-E
F-J
K-O
P-S
T-Z
---
---