Warning: This page will contain spoilers for the Marvel Cinematic Universe. Read at your own risk.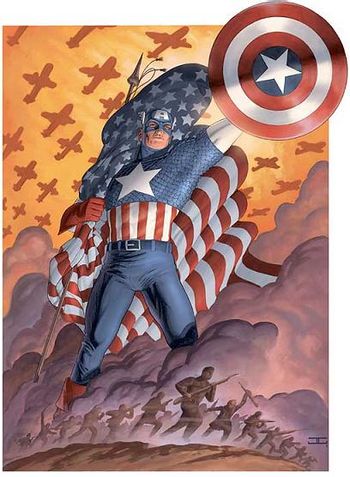 "I'm loyal to nothing, General... Except the Dream."
The First Avenger. The Star-Spangled Man with a Plan. The Man Out of Time. The Sentinel of Liberty. The Big Good of the Marvel Universe.
Captain America first appeared in Captain America Comics #1 (March, 1941), created by Joe Simon and Jack "King" Kirby for Timely Comics. (Timely would later change its name to Marvel Comics). Captain America is one of the many, many patriotic superheroes created during World War II to bolster morale on the home front. But none of those heroes have lasted as long, been as influential, become as famous, or transcended their original time better than Captain America.
As a skinny orphan artist who grew up in The Great Depression, Steve Rogers Jumped at the Call, but the US Army declared him 4-F (unfit for service). They handed him over to Operation: Rebirth, an Allied Powers project headed by Professor Ersksine to create a Super Soldier for the war effort. Injected with Super Serum and bombarded with radiation, Rogers' treatment proved a complete success with his scrawny body suddenly enhanced to the maximum human potential. Unfortunately, a Nazi spy immediately assassinated Dr. Ersksine at that moment and the formula of the treatment, which was never completely written down, was lost forever.
Deciding to make the best of their one successful subject, the US government decided to make Rogers an elite counter-intelligence agent who could also be an ideal propaganda mascot to oppose Nazi Germany's frightening head of Terrorist activities: The diabolical Red Skull. To that end, Rogers was appropriately trained and costumed and given a signature shield. Cap fought the Axis, memorably punching
◊ Adolf Hitler in the face on the cover of his first comic. A key supporting character was Bucky Barnes, Cap's boy sidekick and an answer to Robin. Bucky's death became one of the most major—and longest-lasting—deaths in comics.
Captain America Comics ended with issue #75 (February, 1950). The last couple of issues were also titled "Captain America's Weird Tales", an attempt to rework the series into a horror/suspense anthology. The character remained dormant for a few years. There was an attempt to revive him a couple of years later, with Young Men #24-28 (December, 1953-June, 1954) and Captain America Comics #76-78 (May-September, 1954). The character was next successfully revived in the pages of The Avengers #4 (March, 1964).
While Cap's adventures were written and published throughout the 1940s and early 1950s, Stan Lee and a returning Jack Kirby retconned his history in 1964: the post-War Caps who fought Communism were impostors (first other superheroes and then an Ascended Fanboy who went insane with a flawed imitation of the Super Serum), and the "original" Cap was killed in action, but they Never Found the Body. Naturally, he came back from suspended animation to join The Avengers, bringing his old-style patriotism and battle tactics to the table, eventually ascending to leadership. However, Cap also had to deal with being a man out of his time, with everyone he knew being long gone, while also being plagued with his greatest failure — not being able to save his sidekick's life in their final fight against Baron Zemo — until Rick Jones finally told him to quit his whining and move on. Cap took that advice, and while the Red Skull drove Rick away when impersonating Cap, Rogers got a new partner, The Falcon, who was with him for years.
Captain America threw his mighty shield for decades, proving remarkably more adaptive for the changing times than his creators could have guessed. For instance, when American ideals were shaken by the Vietnam War and Watergate, Rogers reflected that disillusionment in the 1970s when he abandoned his Cap persona to become Nomad, a man without a country, until he realized he could champion America's higher ideals as Cap instead. In the cynical 1980s, Rogers would be forced out of his Cap persona and replaced by an Anti-Hero Substitute, John Walker, only to serve as The Captain to show his ideals still had power in the The Dark Age of Comic Books, loyal to nothing but The American Dream. Eventually, Cap learned that this was all arranged by the Red Skull to sully his name and took back his old motif with Walker getting Rogers' Captain costume to be U.S. Agent. In 2007, Rogers even took up armed resistance to the American crackdown on the superhero community in the Civil War, until he surrendered and was assassinated. Even though Word of God stated that he was Killed Off for Real, nobody believed it.
Cap's mantle was taken up in 2008 by Bucky Barnes, Steve Rogers' WWII boy sidekick who, rather than dying at the hands of Baron Zemo was brainwashed into the Soviet killing machine Winter Soldier and kept as a Human Popsicle much of the time that he wasn't on missions to explain his age. Cap later freed Bucky from his Brainwashing with the help of the Cosmic Cube, allowing him to make a Heel–Face Turn. In addition to having a bio-mechanical left arm and a new armored costume, he also carries a gun. Prior to being the Winter Soldier, Bucky was often cited as one of the three people in comics who would always stay dead note The other two being Spider-Man's Uncle Ben and Batman's second Robin, Jason Todd (who was also eventually resurrected).
Bucky did a pretty good job filling in for Steve, but, this being superhero comics, Steve eventually came back. However, Steve felt that wielding the shield was good for Bucky and insisted that he continue on as Captain America until his apparent death in the Fear Itself Crisis Crossover, when Rogers took up the role again. In the events preceding the AXIS storyline, Steve will be forced to hand over the title of Captain America to his old partner Sam Wilson, the Falcon, after the Super Soldier Serum is removed from him, turning him into an old man. Notably, Sam is the first person Steve has chosen to wield the shield. While Steve has expressed his approval of and respect for Captains America William Naslund, Jeff Mace, Isaiah Bradley, Bucky Barnes, etc., it was always after the fact. Steve will return to the role of Captain America in the All-New, All-Different Marvel setting with a new shield with new abilities, but Falcon will also retain the title and the original shield, turning Captain America into a Collective Identity.
2016 proves to be a rather shocking year for Steve Rogers as in the end of the very first volume of the comic Captain America: Steve Rogers, he uttered the shocking words: "Hail HYDRA". This sent fandom to a complete frenzy to see the patriotic American icon revealed to be a Nazi, everything he stood against. For about a year, this version of Steve was amongst the headline of Marvel, but as it turned out, it was caused by the Anthropomorphic Personification of the Cosmic Cube, Kobik, trying to make a better world by rewriting reality (but unfortunately thought that HYDRA would be good). All of it came to an end in the 2017 Crisis Crossover Secret Empire where eventually thanks to the efforts of other heroes (including Sam Wilson), Kobik restored reality and the real Steve Rogers (or a copy implanted with his memories) returned, defeated the HYDRA version of Steve and resumed being the real Captain America, though the latter still somehow existed. So now we have two Steve Rogers around.
In the Ultimate Marvel universe, Captain America is still skinny Steve Rogers-turned buff superhero-turned poster boy for the war effort, but Darker and Edgier. He gets pulled out of the ocean in 2002 instead of 1963, thinks it's a Nazi trick, and breaks out of SHIELD's secure holding facility despite Bruce Banner's insistence that he shouldn't be able to move. Joining The Ultimates, Captain America proceeds to show everyone how to be a true badass: dropping a tank on the Incredible Hulk, beating a 60-foot-tall Giant Man barehanded, and kicking seven shades of piss out of a regenerating alien before convincing the Hulk to take over. And while he does cleave to certain less-than-admirable 1940s values, he still stands for the Dream. In volume 2, he and the Ultimates even split off from working for the U.S. government after some questionable assignments in the Middle East almost led to America's downfall.
Major storyline
Adaptations to other media
Captain America (1944): a Republic Pictures serial which incorporated practically nothing of the character except the basic costume.
The Marvel Super Heroes (1966): An animated anthology series which adapted several Marvel Comics for television. This also introduced an often-repeated theme song for Cap: "When Captain America throws his mighty shield, all those who chose to oppose his shield must yield..."
Unofficial Turkish movie Three Big Men (1973) which gained notoriety status since it features (besides the captain) El Santo and evil Spider-Man.
Two TV movies starring Reb Brown, built upon a completely revamped origin and backstory:
He has had only two video games on his own: Captain America in: The Doom Tube of Dr. Megalomann (1987) on the ZX Spectrum and Commodore 64 and Captain America: Super Soldier on next-gen consoles, but has featured alongside other heroes quite often, such as the arcade Beat 'em Up Captain America and the Avengers, the Fighting Game Avengers in Galactic Storm (with a different set of Avengers), and of course most of Capcom's Marvel Fighting Games, the Marvel Ultimate Alliance games, and Marvel: Avengers Alliance and Marvel's Avengers.
Captain America (1990): This movie was originally going to play in theaters, but it went direct to video instead.
Cap made various guest appearances and cameos in the 90's Marvel cartoons, like X-Men (appearing as an alternate version in another, Professor X-less future, and in one of the last episodes, teaming up with Wolverine in World War II), major roles in Spider-Man: TAS, and a couple of cameos as part of The Avengers in Fantastic Four, and a guest role in the horrible late 90s Avengers cartoon. He was planned to get his own series at that point (stories, character models, and a one-minute pitchfilm were all made), but was canned because of Marvel's bankruptcy; its slot in the Fox Kids lineup was filled by The Secret Files of The Spy Dogs.
He helped Spidey in Spider-Man: Global War.
Cap was mandated to appear in an episode of X-Men: Evolution, where he and Wolverine teamed-up during the war.
A clearly Ultimate-inspired Cap appeared in the Ultimate Avengers animated films (2006) note .
There have also been a couple of Captain America novels.
The animated series The Avengers: Earth's Mightiest Heroes! (2010-2012) includes Captain America as one of the major characters. In a manner paralleling the Silver Age Avengers comics, he became the sixth superhero to join the team. Chronologically speaking, four episodes pass in between the event that led to the founding of the Avengers, and the events that led to Cap joining their team, just as his comic incarnation joined in issue four of the first Avengers volume.
His story plays a big part of the Marvel Cinematic Universe (where he's portrayed by Chris Evans), which features three films centred around his story arc:

Captain America: The First Avenger, which was released in July 2011. It's a period piece set almost entirely during World War II, and ends with the Captain being frozen and waking up in modern times, while segueing directly into Cap's involvement in The Avengers.
A sequel to The First Avenger, Captain America: The Winter Soldier, was released in 2014, now set in modern times with Rogers being forced into the wrenching task of tracking down his best friend Bucky, now the brainwashed killing-machine The Winter Soldier, along with the remnants of HYDRA, accompanied by The Falcon, Black Widow, and Sharon Carter.
A sequel to The Winter Soldier called Captain America: Civil War was released in 2016. Following the destructive climaxes of Winter Soldier and Avengers: Age of Ultron, various world governments want to instate oversight over the Avengers. As Rogers struggles to maintain independence even as Iron Man and other fellow Avengers are pushing for oversight, Bucky reappears, pursued by the law for his past crimes as the Winter Soldier. Cap decides to go rogue to help his friend, splitting the Avengers down the middle.

Avengers, Assemble! (2013-), an Avengers animated series developed in conjunction with Man of Action Studios, features Captain America as one of the foremost members.
Marvel Disk Wars: The Avengers (2014-15), an anime series featuring Captain America as one of the main characters. In the show, he is partnered with a teenager named Chris.
He makes some appearances in Marvel Rising (2018-) — see his entry on the character page for details.
He appears in the video game Marvel's Avengers (2020). His "death" in the prologue is one of the reasons for the group splitting for five years.
And if you're wondering where Captain America's shield is now, let's just say you can catch it weeknights on CBS at eleven-thirty-five EST...
---
Captain America also provides examples of:
open/close all folders
Tropes - # to E
Tropes - F to O
Tropes - P to Z
Paper-Thin Disguise: For a while, Cap disguised himself as a hero known as The Captain. The costume looked identical to his normal Captain America costume except for darker colors and a slightly different chest-insignia. He even threw a shield around that also had a slight color-change. Here is a cover depicting both costumes.◊ This costume somehow fooled everyone, including his allies on The Avengers. The costume would later be worn by the USAgent.
The Paragon: It's pretty much a given that in all of comic books, regardless of companies, the only characters who are bigger paragons than Captain America are Superman and DC's Captain Marvel. See the page quotes. They're his promise to himself that he'll use his abilities only in pursuit of a future better than the present.

The Red Skull tried to break that image in-universe by using the Commission to force Rogers to quit as Captain America and give the title to the Super-Patriot, John Walker. It wasn't until the Watchdogs murdered Walker's parents that he truly became unhinged and threatened the image of Captain America as The Paragon. Once the Skull was exposed and forced out of power, the remaining members of the Commission decided that the only way to rehabilitate Walker's image was to stage his assassination and give him the new identity of USAgent, going so far as to change his civilian identity as well.

Pinball Projectile: Cap's shield. Oooh boy, Cap's shield.
Platonic Life-Partners: He's pretty much this with most of the female Avengers he works with, with special mention to Wasp (with exception to the Ultimate universe counterparts who dated briefly) and Carol Danvers. He's also decent enough friends with Black Widow, but they're much closer friends in the films.

Falcon and Sharon Carter are pretty good buds, in part because of their mutual closeness to Steve. After Steve's death, Sam spent a lot of time looking out for Sharon and visiting her regularly, often staying over, but they explicitly never got intimate.

Politically Correct History: The regular continuity Cap is usually depicted in his World War II days in the modern stories as a man without any prejudices in his personality that were considered perfectly reasonable assumptions by many mainstream Americans in the 1940s, like homophobia or the like. Sometimes justified in those period stories by him discovering the horrors of bigotry at its absolute worst, such as the Nazi concentration/death camps, which obliterated any racial/religious/sexual orientation prejudices he had left. Sometimes it is simply explained that Steve Rogers was a sickly, intelligent and well educated artist from liberal New York before he enlisted, so he probably wouldn't be that mainstream in his views and he knew what it is like to be bullied as a minority. In an 80's Avengers/X-Men crossover, he and Magneto were half-fighting, half-debating. Magneto doubted Cap's claims that he had no prejudice against mutants, and blasted him with a device that could remove prejudice from someone's mind. Magneto then questioned Cap again, and got the same answer; the device hadn't affected Cap because there was no prejudice to remove. Magneto, whose entire worldview centered around the belief that humans could never accept mutants, was profoundly shaken and immediately surrendered.
Power Trio: The Invaders core group: Namor the Sub-Mariner (Id), Human Torch (Ego), Captain America (Superego).
Powered Armor: While Cap's faced off against many armored villains, he himself had to don an armored version of his costume in the 90s due to the Super-Soldier Serum breaking down in his body and causing Cap to be paralyzed.
Powers Do the Fighting: MODOK doesn't put in much effort in a fight except for pressing buttons on his chair or using Psychic Powers. That's good for him, because he's a huge head in a chair with stubby limbs.
Precision-Guided Boomerang: Again, Cap's shield.
President Evil: In a story by Steven Englehart back in the early 70's, Cap was hunting down a Secret Circle of Secrets; he managed to track down the boss, all the way into the White House. Turns out that — at least at the time — the Big Bad just happened to be — or at least implied to be — Richard ''F***ing'' Nixon. Oh, and then he offed himself. Of course, thanks to the Sliding Timescale, Nixon was likely no longer the Big Bad... but that just raises the question of who now was.
President Superhero:

Near the end of the Ultimate Marvel line, Captain America was elected to the presidency of the United States, and apparently did a very good job.
One of Marvel's What If? titles explores what would have happened if Captain America were elected President.

Principles Zealot: A lighter version, but still very much in effect.
Protagonist-Centered Morality: The most extreme example in Marvel Comics period. Fans and even Writers often lampshade this by saying If Cap agrees with it, it's ok. It even goes as far as condemning torture or mass murder. See also You Remind Me of X below.

If you can't tell the Captain what you're damn well up to, then don't damn well get up to it!

Psycho Serum: Cap has discovered there have been multiple attempts to recreate his Project Rebirth enhancements and the results have typically produced murderous psychotics, with the most infamous of these being William Burnside, the man better known as the 1950s Commie Smasher Cap.
Ratings Stunt:

Marvel has said in several interviews that Captain America being a HYDRA agent was this.

Real Life Writes the Plot: After the first appearance, Timely Comics was prompted by MLJ Comics to change Cap's shield from the triangular shape to the discus one. Years later, this change of shields was retconned as being presented as a new weapon to Cap by President Franklin D. Roosevelt himself.
Reforged into a Minion: As has been widely noted, Bucky's return as the Winter Soldier played this for a Gut Punch.
Refugee from Time: Steve Rogers will always be a WWII vet - the amount of time he spent in the ice will just get longer.
Remember When You Blew Up a Sun?: In-story, Captain America is technically a religious icon for this one tribe of Inuit. Granted, since the story got mainstream coverage in the Marvel U, said tribe have distanced themselves from it, but the story is there...
Retcon: Old saying...Nobody stays dead in comics except Bucky and Uncle Ben. New saying: Nobody stays dead. Nobody.
Reality Warper: In a meta-loophole, Marvel was actually telling the complete and honest truth with the "revelation" that Cap had always been a member of Hydra and was Not Brainwashed. The Red Skull had managed to convince a Cosmic Entity named Kobik (who has the appearance, personality, and naïvete of a little girl) to alter reality and change history to make this true.
Right Makes Might: Whenever Captain America throws his shield, you can see this written on it in six-inch letters. His Nigh-Invulnerable Unobtainium shield is literally reinforced with American Righteous Might - not Self-Righteous Might. America is the Greatest Country in the World - but only when it maintains its idealism.
Rogues Gallery: Red Skull, Doctor Faustus, Baron Zemo, Madame Hydra, Crossbones, Sin, Serpent Society, Arnim Zola...
Running Gag: US Agent's names. His real name is John Walker, but after the government fakes his death, they give him a new identity... as Jack Daniels.
Screw the Rules, I'm Doing What's Right!: Cap has given up his identity numerous times whenever a government's ruling clashed with his own ideals, as well as the American ideal. The incidents involving the Secret Empire and the Commission on Superhuman Activities are two notable examples of this. This trope is also the driving force for Cap rejecting the Superhuman Registration Act, as he leads a contingent of heroes who don't approve of the Act.
Sealed Good in a Can: Frozen in 1945, woken up... about twelve years before now.
Second Super-Identity: Captain America went undercover as The Captain on two different occasions. This was because the Government demanded that he work exclusively for them, and when he refused, they forbid him from using the Captain America identity, which they legally owned. They gave the identity to another hero, Super Patriot, who later ended up trading costumes with The Captain and being renamed U.S. Agent.

His Ultimate Marvel counterpart spent some time as that universe's Black Panther.

Shadow Archetype: Red Skull.
Shield Bash: He uses his shield as a melee weapon in addition to throwing it.
Shout-Out: The story of his resurrection appears to be a Whole Plot Reference to Slaughterhouse-Five.

Cap's "Stars and Stripes" attack in the Marvel vs. Capcom series is a good old fashioned Shoryuken-style attack, and the Hyper variant tips its hat to Ken's Shoryu Reppa super. His Charging Star special also draws comparisons with M. Bison's Psycho Crusher, especially Hyper Charging Star (ironic considering how Bison's the Big Bad of SF).

Sidekick Graduations Stick: And has even triumphed over Steve Rogers' return from the dead.
Skull for a Head: The Red Skull, of course. His daughter too, now that she has become the new Red Skull.
Sliding Scale of Idealism vs. Cynicism: The strongest appeal of the Captain America franchise is its stalwart refusal to stop believing in love, kindness, faith, and fundamental human decency. Which in turn is why so many Captain America fans hate Ultimate Captain America, as Mark Millar designed that alternate version of the character as a parody of jingoistic Bush-era conservatism.
Sliding Timescale: All superheroes do this, but Cap is one of the few whose origin uses this trope perfectly - he always started out in World War 2, and the only thing that changes is how long he was in the ice. If anything, it adds resonance to the character - when he first thawed out in the early 60's, the difference between then and 1945 was only about 18 years, and for a smart guy like Cap, a couple of hours in the library with old newspaper headlines would bring him up to date, and he'd be able to see how his time begat the current one. Nowadays, he's about 75 years removed and counting, and feels more than ever like a man out of time, rather than a guy who was away longer than he anticipated.
Small Steps Hero: Despite being a soldier, Cap will not sacrifice lives. Anyone who dies on his watch does so despite his best efforts.
Spanner in the Works: Turns out

Hydra!Steve

didn't quite cover his tracks as well as he thought he did during The Reveal issue. The circumstances were fishy enough for Taskmaster and Black Ant to look into it, and due to the plane crash being in Bagalia (the "nation of super-criminals"), the black box recorder was easily stolen. And it has Steve confessing to being a Hydra agent on tape. Taskmaster proceeded to show the tape to Maria Hill, and now the jig is officially up.
Spectral Weapon Copy: He uses a Hard Light version of his shield whenever he can't use it.
The Spymaster: Steve's stint as Commander of S.H.I.E.L.D.
The Stateless: In the aftermath of the Secret Empire (a conspiracy to take control of the United States led by a thinly-veiled version of then-president Richard Nixon), Steve Rogers lost faith in his country and abandoned his identity as Captain America, adopting the persona "Nomad".
Sterility Plague: Superia attempts to release a plague that would sterilise the world's female population except for her and her cadre of supervillainesses. As the only fertile women in the world, they would essentially be able to hold the world to ransom.
The Strategist: There's a reason why any hero worth their weight will defer authority to Cap when the world's about to break.
Strapped to a Bomb: Captain America and Bucky Barnes were strapped to an experimental plane laden with explosives by Baron Zemo. They managed to untie themselves, but while trying to defuse it Cap fell off and landed in the Arctic Ocean where he was frozen solid. Bucky was presumed blown up for many many years.
Straw Feminist: The villain Superia.
Strawman Political: As might be expected of a character intended to embody what is best about a nation. Writers either tend to use him as a mouthpiece for what they personally think America should be (616 Captain America is usually used for this), or as a voodoo doll for everything they see wrong with America (Ultimate universe Captain America is usually used for this). Needless to say that character consistency usually isn't a priority for these writers.
Strong Family Resemblance: Steve's World War II girlfriend Peggy Carter and his modern girlfriend Sharon Carter; originally (in the 1960s) they were sisters, now they're aunt and niece (expect grandniece in a few years).
Stuffed into the Fridge:

Happens to Sharon Carter in #10 of Rick Remender's run. Later revealed to be a fake out— she's been alive in Dimension Z the entire time, raising Steve's son as her own.

Suicide Dare: Captain America once defeated the Super-Adaptoid — who was at that time nigh-omnipotent thanks to a Cosmic McGuffin — by convincing it that the thing that kept it from equalling his "human spirit" was that it could not die. The Adaptoid proceeded to prove Cap wrong by dying on the spot, thereby ending its threat.
Superhero Packing Heat: Cap's original incarnation used guns in addition to his nigh-invulnerable shield, in keeping with his status as a Super Soldier fighting Nazis in World War II. It wasn't until The Silver Age of Comic Books that Cap ditched the guns and just stuck to just using his shield. The 2011 movie based on him is set During the War, and looks to be a return to his Golden Age roots (makes sense since it's during the war). Fan reactions are... somewhat mixed. Recently he once again carries a piece (but prefers not to use it). Bucky plays this straight.
Superman Stays Out of Gotham: Despite having multiple close friends who are mutants, despite leading Avengers teams which included mutants as full equal members and despite having a long-established belief in equality and freedom, Cap never used the massive platform he has as one of the most universally beloved and respected superheroes in America to speak publicly in favour of mutant rights, or offer any material support to the X-Men or persecuted mutant citizens. At some points in comics, Cap was depicted as a loyal and patriotic agent of the US government, the same government which was legislating mutant apartheid. Lampshaded in Avengers vs. X-Men, when Cyclops essentially tells him "we almost went extinct, and you did nothing!" This is especially noticeable since Cap was deafeningly silent on the various iterations of the Mutant Registration Act, but went to war with the US government once artificially created superhumans like him were affected.
Super Reflexes: Captain America doesn't dodge bullets, he blocks them with his mighty shield. Yet somehow, even when surrounded on all sides by gun-wielding Mooks, the shield always seems to be in the right place. This even applies when he is mindcontrolled chemically, an early story set in World War II had him under the influence of such a chemical by the Red Skull, but when he is taken before Adolf Hitler and the Fuehrer takes a swing at him, Cap reflexively blocks it with his shield, a body function that the Red Skull can't suppress.
Super Serum: The Super-Soldier serum, which might be the Trope Namer.
Super Soldier: He began as the first of what was to be an army of super-soldiers, but after he was altered the creator was killed and the process was never successfully duplicated. This was eventually retconned to be part of the Weapon Plus program. Has a good claim on being the Trope Namer.
Survival Through Self-Sacrifice: Captain America was once accosted by Black Crow, a Native American champion who demanded his life as punishment for the US government's treatment of indigenous people. When Cap willingly offered himself up, Black Crow spared him, impressed with his conviction.
Take That!: In the Ultimates — "Surrender? Surrender??!! You think this letter on my head stands for France?" Lampshaded later on by Nick Fury pointing out how hilarious it was, while Hawkeye bemoaned that it was illustrative of how unprofessional the team had become since going public. Cap himself says he isn't entirely sure why he blurted that out.

And again in Nextwave by Elsa Bloodstone, who is English; for one issue, she wore a European Union t-shirt with the € symbol encircled by stars, and at one point, when described as "my victim" by a villain, (a villain wearing a costume that was apparently stolen from Cap's wardrobe, no less) shouted "Victim? Victim?! Do you think this letter on my chest stands for America?!" (Cue title box: "You have been getting insulted by NEXTWAVE.")
The regular Marvel Universe Cap even got in on it: while talking about fighting alongside the Maquis Rebellion in WWII, Steve explains how disgusted he is with the way modern Americans belittle the French with claims of cowardice. It's been suggested this was in response to the Ultimate version's statement.

Take Up My Sword: After Steve's seeming death in 1945, William Naslund and then Jeffrey Mace took his place in order to keep up troop morale; when he seemingly died again in the 21st century, his former sidekick Bucky took up the shield.
Team-Up Series: The current Captain America and... series, which features a different hero taking second billing in every arc. So far, Bucky Barnes, Iron Man, Hawkeye, and Black Widow have featured alongside Cap in this series.
Technical Pacifist: Some writers have gone out of their way to say that Captain America has never taken a life, even during World War II. This would ultimately be debunked by Mark Gruenwald, who had Captain America kill an agent of ULTIMATIUM in order to stop the goon from killing innocent hostages. It has also been stated that he had killed during WW2. That said, Steve prefers not to and would like to avoid it if possible.

Handled beautifully in the movie: when asked by Dr. Erskine if he wants to enlist to kill Nazis, Steve Rogers answers that he doesn't want to kill anybody... but that he dislikes bullies of all stripes and wants to stand up for the little guy. He's subsequently shown to go in guns blazing in many missions, but hey, he's doing it to save the world, a valid reason if there ever was one.

Teleportation Rescue: In the Marvel Universe, this is part of Sidewinder's stock in trade. When he founded the Serpent Society, one of the perks he promised members was that he could free if they got arrested. He was shown doing this here, teleporting into a jail cell, grabbing the imprisoned member, and teleporting out.
Theme Naming: John "Johnny" Walker; after his public assassination, he's brought back as USAgent with the new civilian identity of Jack Daniels.
Think Nothing of It: In Marvel Adventures, Captain America gets praised at an award ceremony. He does actually say "Aw, shucks" when cheered, and immediately says that the real praise should be for — well, then he's cut off by the inevitable supervillain attack. Cap commonly is portrayed as being a bit embarrassed or taken aback by praise and hero worship, as seen in the Capmania miniarc.
Throwing Your Shield Always Works: The Cap's Signature Move and also one of the most iconic examples in fiction, making him the trope's patron saint.
Too Good for This Sinful Earth: Has died a couple times but always gets better.
Took a Level in Jerkass: He has his moments. Whether it's justified or completely out of character the fans will never agree on.
A True Hero: Captain America is one of the few superheres who sometimes gets a pass when a story wants to contrast The Real Heroes with superheroes, because Steve Rogers was a World War II soldier that enlisted to fight even though his poor health would have almost guaranteed that he'd get himself killed. His bravery is thus never questioned; the issue is with his loyalty: is it with America or the world, and with the American people or its government?
Underestimating Badassery: There are villains who dismiss Cap as a "glorified acrobat." One gang with that assumption tried invading the Avengers Mansion with just him inside on monitor duty. They soon learn what dealing with a One-Man Army really is like as they barely subdue him with a lucky grazing shot, then get their butts kicked thoroughly when he revives and breaks out of his bonds for Round two.
Undying Loyalty: Easily inspires this on all the superhero community, but it's also a defining trait of his. He'll never leave a man behind.
Unobtainium: Cap's shield is a unique alloy of steel and vibranium, rendering it not only invulnerable to anything less than the Beyonder or the Infinity Gauntlet, but also capable of absorbing impacts up to "pissed-off Hulk" levels and beyond. It's also impossible to reproduce. During his stint as "The Captain", Steve had two replacement shields; a mirror-finish adamantium shield from Tony Stark (which he returned after their falling-out over the Armor Wars), and a black-red-white pure vibranium shield from T'Challa, which went to USAgent after Steve got his job (and old shield) back. Neither had quite the same action as Cap's regular shield. In the late 2010's, his shield gets broken but repaired and upgraded by Odin. So yeah, it currently stands among the pinnacle of technological and magical advances. And it says something that compared to things like the Cosmic Cube, it's a 'simple' shield - something explicitly designed to protect.
Unstuck in Time: Was forced to go through this by the Red Skull in Reborn, following his apparent death after Civil War, to prepare his body for an eventual Grand Theft Me. It didn't work.
Upbringing Makes the Hero: It's heavily implied that Steve's moral fiber was very much inspired by that of his mother, Sarah, whom Steve holds in such a high regard due to her love and care for her son.
Weak, but Skilled: Steve's power level, which is set at "the peak of human physical potential" pales in comparison to those of many of the enemies he's defeated, yet he manages to beat them through his keen tactical ability and sheer force of will.
Weapon of Choice: his shield.
Weird Trade Union: The Serpent Society, a collection of snake-themed villains.
Well-Intentioned Extremist: Flag-Smasher. He loathes, almost beyond words, the very idea of national sovereignty, thinking they get in the way of helping people, and thinks the globe should be united in a One World Order. Unfortunately, he uses terror tactics to advance this goal and innocent people often get killed. During their first fight, before he'd done anything too violent, Cap tried to talk him out of this, saying the best way to persuade people to his way of thinking would be to act not as a supervillain, but as a superhero; let people see how his world government ideology inspired him to acts of heroism, just as Cap's own beliefs inspired him. Flag-Smasher didn't listen.

Also, Brother Nature, who had been a park ranger until his forest was opened up to lumber companies. He tried to fight in court but lost. Then he gained nature-based superpowers, possibly empowered by Gaia's Vengeance, and committed acts of sabotage against the company. Cap was able to talk him out of it, though.

Wham Line
What the Hell, Hero?: On the receiving end of one from Daredevil over X-23. Steve is obsessed with bringing her to justice, to the point he willfully ignores Matt when he warns him that S.H.I.E.L.D. will just use her as a weapon like the Facility did, and that the only thing Steve will accomplish is stealing her only hope for turning her life around. At first he has none of it, even ignoring Matt's refusal to just hand her over when he appoints himself her lawyer, but finally realizes Matt was right all along just as they're approaching a S.H.I.E.L.D. installation, and lets her go.
Wife-Basher Basher: Being a wholesome 1930's boy next door, Steve Rogers HATES any "man" who dares to strike women with a righteous fury. Its established in Remender's run that Steve's mom was abused by his dad, so its possible that this might motivate that.

That said, if he's in a fight with a female villain, he knows better than to hold back. He knows a woman can be as deadly as any man, so its more about hitting a woman who isn't capable of fighting back that his problem is.
In the Ultimates, he wrestles the 10 stories tall Hank Pym into the ground and pounds him into helpless submission for beating his wife The Wasp.

With Great Power Comes Great Hotness: Steve Rogers turns from an asthmatic weakling into the pinnacle of human athleticism after being given the super soldier serum.
World's Best Warrior: Has the distinct honor of being considered The Best Warrior in the Omniverse! Captain America is the superhero that all other heroes respect in combat ability, tactics, and leadership.
Would Not Shoot a Good Guy: Cap is just that pure-hearted.
You Remind Me of X: During Avengers vs. X-Men, Tony pretty much calls Steve out on acting exactly like Tony did during Civil War.
---