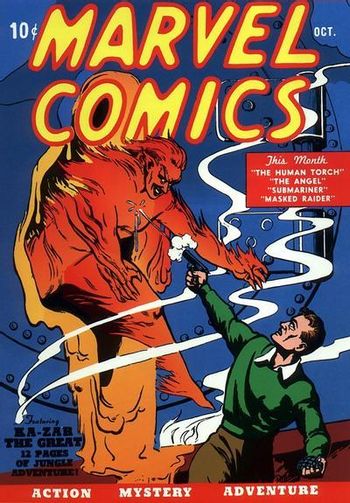 Marvel Mystery Comics (Oct. 1939-Aug. 1957, 159 issues) was the first superhero comic book published by Timely Comics, which would eventually become known as Marvel Comics. The first issue is the debut of both the Sub-Mariner (created by Bill Everett) and the Human Torch (created by Carl Burgos).note Similar in name and powers, but unrelated to the more famous Johnny Storm from decades later. This early torch would eventually be given the name Jim Hammond
By issue #93, the comic underwent a retool, retiring its old superhero lineup in favor of a horror anthology called Marvel Tales.
In 2019, in celebration of its 80th anniversary, Marvel Comics released Marvel Comics #1000, which retroactively established a legacy for the Masked Raider by revealing his mask is actually cosmic in origin.
---
Tropes:
---