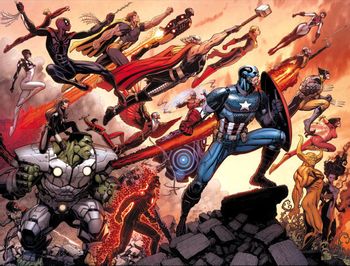 An extended four year Comic Book Run in the Avengers titles written by Jonathan Hickman, told in two series, Avengers, and New Avengers. Beginning in 2012 with the Marvel NOW! initiative, and ending with Secret Wars (2015) in Summer 2015, while also picking up and serving as a sequel to Hickman's run on Fantastic Four which preceded and overlapped with this.
Storylines in this run that have their own pages:
<!—index—>
New Avengers: In the skies above Wakanda, another world is glimpsed which threatens to collide with the earth, a group of aliens, led by the mysterious Black Swan steps down and unleashes a device, destroying that world totally. T'Challa arrests her and summons a meeting of The Illuminati. The re-assembled illuminati are warned by the Black Swan (a strange interdimensional priestess serving the cult of Rabum Alal), about a series of incursions, of earths from different parts of the multiverse collapsing and colliding with 616-Earth. The Illuminati grapple with a series of increasingly difficult trolley problems, while dealing with their own crippling self-doubt, fears, and mutual hostility between the group, especially since Atlantis and Wakanda, the kingdoms of Namor and T'Challa, have only recently been at war.
The Avengers: This book focused on the titular team expanding to adapt to ever-growing threats. Especially when confronted with the Builders, a mysterious alien race of warped morality that likes to use Earth as a petri-dish for their lab-projects at the expense of the people living there. The expanded powerful Avengers organization, after grappling with the Infinity crisis, eventually turn their attention to the Illuminati, starting a second superhero civil war.
Infinity: The first major Bat Family Crossover that sees the different Avengers team battle two separate wars across the cosmos. In one, a group of Avengers led by Captain America, heads out to join an inter-galactic alliance to combat the builders, while a smaller group of Avengers on the Earth defend the planet against a renewed attack by Thanos and his Black Order who seek to make hay while the Avengers are at less than full strength.
Time Runs Out: The closing Bat Family Crossover that weaves through both titles, and collected in a separate four volume TPB that arranges the issues in chronological order. This one pits Captain America's group (featured mainly in The Avengers) battling the Illuminati (featured mainly in New Avengers) as the world finally seems to be ending as the final incursion of the multiverse arrives.
Secret Wars (2015): The Grand Finale of not only Hickman's run on the Avengers but a Fully Absorbed Finale of his run on the Fantastic Four, and a sequel and Homage to Marvel's first great event, Secret Wars (1984).
<!—/index—>
---
Jonathan Hickman would later return to Marvel years later with a new run on X-Men, which is set to utilize the same amount of ambition as this series to revitalize one of Marvel's other signature teams.
Tropes used in Jonathan Hickman's Avengers include:
---