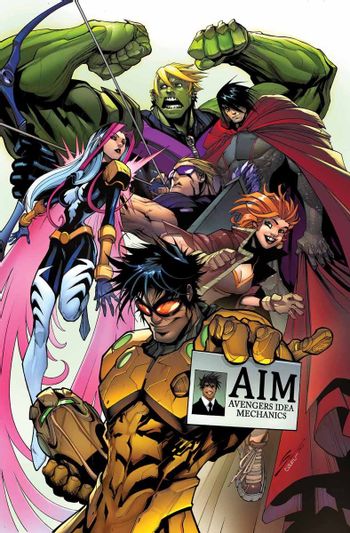 "No more training, no more academies, no more waiting in the wings, 'knowing their place' — they're full-on Avengers, next-level heroes in a global rescue organization taking on super-threats as big and bad as anything previous teams have ever had to handle."
— Al Ewing
New Avengers (collected in trade as New Avengers: A.I.M.) was a 2015 Marvel comic book written by Al Ewing and drawn primarily by Gerardo Sandoval, Marcus To and Paco Medina. Launched as part of All-New, All-Different Marvel in the wake of Secret Wars, it was the fourth volume of New Avengers, but was completely unconnected to any other run of the title.
During Jonathan Hickman's Avengers, Roberto da Costa / Sunspot (formerly of the New Mutants) bought out AIM (Advanced Idea Mechanics) and transformed it into the Avengers Idea Mechanics. Operating out of the new Avengers Island is this new AIM's field team, with team leader Songbird leading Hulkling, Wiccan, Squirrel Girl, White Tiger, Power Man, and Hawkeye (who is the super secret SHIELD traitor on the team... except that it's not a secret, and everyone knows).
The team is dedicated to stopping supervillain attacks across the entire world. Their only problem: the world Doesn't trust them. In fact, if Sunspot were to step on US soil, he would be immediately arrested for being the leader of a (formerly) terrorist organization. But he won't let that stop him and his New Avengers.
New Avengers ran for a total of eighteen issues, ending in November 2016. In January 2017, it was relaunched as U.S.Avengers, with the team being rebranded as the American Intelligence Mechanics.
---
Tropes used in New Avengers Volume 4:
---