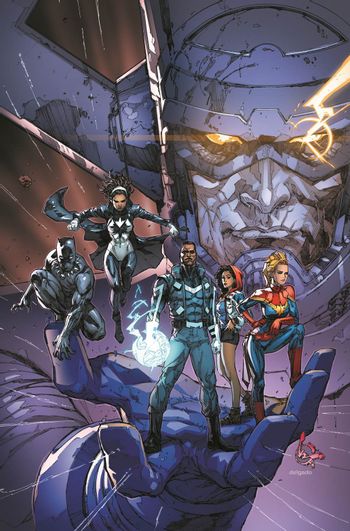 The ultimate superteam comes together to find and fix problems beyond the limits of the infinite! From cosmic forces lurking on Earth to what waits on the outside of the omniverse – the impossible is where they start!
The Ultimates (collected in trade as The Ultimates: Omniversal) is an Avengers team book published by Marvel Comics as part of the All-New, All-Different Marvel relaunch in November 2015, following the massive Secret Wars event earlier that year. It is written by Al Ewing, with a team of artists launched by Kenneth Rocafort.
In the wake of planetary incursions, the Wakandan government has assembled a team of Earth's Mightiest Heroes to tackle cosmic threats in the Marvel Universe: Black Panther, Captain Marvel note also heading her own planetary peacekeeping force, Alpha Flight, Spectrum, Blue Marvel, and America Chavez. Together, they protect the multiverse and fight those who pose harm to it — starting with Galactus.
After an initial volume of twelve issues, Ultimates was relaunched as The Ultimates2, with Travel Foreman replacing Rocafort as Ewing's regular artist.
Related In Name Only to the original Ultimates, who were The Avengers of Earth-1610.
---
The Ultimates contains examples of the following tropes:
open/close all folders
General Tropes
The Ultimates
The Ultimates 2
---