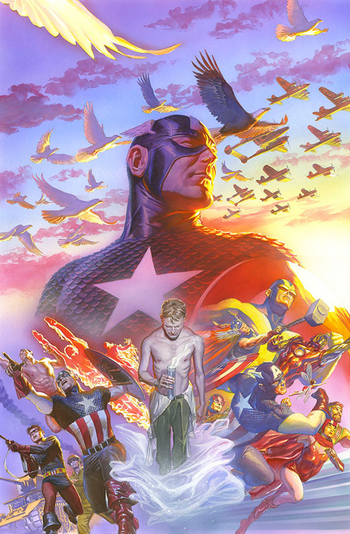 "I'm loyal to nothing, General... Except the Dream."
The First Avenger. The Star-Spangled Man with a Plan. The Man Out of Time. The Sentinel of Liberty. The Big Good of the Marvel Universe.
Captain America first appeared in Captain America Comics #1 (March, 1941), created by Joe Simon and Jack "King" Kirby for Timely Comics. (Timely would later change its name to Marvel Comics). Captain America is one of the many, many patriotic superheroes created during World War II to bolster morale on the home front. But none of those heroes have lasted as long, been as influential, become as famous, or transcended their original time better than Captain America.
As a skinny orphan artist who grew up in The Great Depression, Steve Rogers Jumped at the Call, but the US Army declared him 4-F (unfit for service). They handed him over to Operation: Rebirth, an Allied Powers project headed by Professor Ersksine to create a Super Soldier for the war effort. Injected with Super Serum and bombarded with radiation, Rogers' treatment proved a complete success with his scrawny body suddenly enhanced to the maximum human potential. Unfortunately, a Nazi spy immediately assassinated Dr. Ersksine at that moment and the formula of the treatment, which was never completely written down, was lost forever.
Deciding to make the best of their one successful subject, the US government decided to make Rogers an elite counter-intelligence agent who could also be an ideal propaganda mascot to oppose Nazi Germany's frightening head of terrorist activities, the diabolical Red Skull. To that end, Rogers was appropriately trained and costumed and given a signature shield. Cap fought the Axis, memorably punching
◊ Adolf Hitler in the face on the cover of his first comic. A key supporting character was Bucky Barnes, Cap's boy sidekick and an answer to Robin. Bucky's death became one of the most major — and longest-lasting — deaths in comics.
Captain America Comics ended with issue #75 (February, 1950). The last couple of issues were also titled "Captain America's Weird Tales", an attempt to rework the series into a horror/suspense anthology. The character remained dormant for a few years. There was an attempt to revive him a couple of years later, with Young Men #24-28 (December, 1953-June, 1954) and Captain America Comics #76-78 (May-September, 1954). The character was next successfully revived in the pages of The Avengers #4 (March, 1964).
While Cap's adventures were written and published throughout the 1940s and early 1950s, Stan Lee and a returning Jack Kirby retconned his history in 1964: the post-War Caps who fought Communism were impostors (first other superheroes and then an Ascended Fanboy who went insane with a flawed imitation of the Super Serum), and the "original" Cap was killed in action, but they Never Found the Body. Naturally, he came back from suspended animation to join The Avengers, bringing his old-style patriotism and battle tactics to the table, eventually ascending to leadership. However, Cap also had to deal with being a man out of his time, with everyone he knew being long gone, while also being plagued with his greatest failure — not being able to save his sidekick's life in their final fight against Baron Zemo — until Rick Jones finally told him to quit his whining and move on. Cap took that advice, and while the Red Skull drove Rick away when impersonating Cap, Rogers got a new partner, the Falcon, who was with him for years.
Captain America threw his mighty shield for decades, proving remarkably more adaptive for the changing times than his creators could have guessed. For instance, when American ideals were shaken by the Vietnam War and Watergate, Rogers reflected that disillusionment in the 1970s when he abandoned his Cap persona to become Nomad, a man without a country, until he realized he could champion America's higher ideals as Cap instead. In the cynical 1980s, Rogers would be forced out of his Cap persona and replaced by an Anti-Hero Substitute, John Walker, only to serve as The Captain to show his ideals still had power in the The Dark Age of Comic Books, loyal to nothing but The American Dream. Eventually, Cap learned that this was all arranged by the Red Skull to sully his name and took back his old motif, with Walker getting Rogers' Captain costume to be U.S. Agent. Rogers even took up armed resistance to the American crackdown on the superhero community in Civil War (2006), until he surrendered and was assassinated. Even though Word of God stated that he was Killed Off for Real, nobody believed it.
Cap's mantle was taken up in 2008 by Bucky Barnes, Steve Rogers' WWII boy sidekick who, rather than dying at the hands of Baron Zemo, was brainwashed into the Soviet killing machine Winter Soldier and kept as a Human Popsicle much of the time that he wasn't on missions to explain his age. Cap later freed Bucky from his Brainwashing with the help of the Cosmic Cube, allowing him to make a Heel–Face Turn. In addition to having a bio-mechanical left arm and a new armored costume, he also carries a gun. Prior to being the Winter Soldier, Bucky was often cited as one of the three people in comics who would always stay dead.note The other two being Spider-Man's Uncle Ben and Batman's second Robin, Jason Todd (who was also eventually resurrected).
Bucky did a pretty good job filling in for Steve, but, this being superhero comics, Steve eventually came back. However, Steve felt that wielding the shield was good for Bucky and insisted that he continue on as Captain America until his apparent death in the Fear Itself Crisis Crossover, when Rogers took up the role again. In the events preceding the AXIS storyline, Steve will be forced to hand over the title of Captain America to his old partner Sam Wilson, the Falcon, after the Super-Soldier Serum is removed from him, turning him into an old man. Notably, Sam is the first person Steve has chosen to wield the shield. While Steve has expressed his approval of and respect for Captains America William Naslund, Jeff Mace, Isaiah Bradley, Bucky Barnes, etc., it was always after the fact. Steve returned to the role of Captain America in the All-New, All-Different Marvel setting, with a new shield with new abilities, while Falcon retained the title and the original shield, turning Captain America into a Collective Identity.
2016 proved to be a rather shocking year for Steve Rogers, as at the end of the very first volume of the comic Captain America: Steve Rogers, he uttered the shocking words: "Hail HYDRA". This sent fandom into a complete frenzy to see the patriotic American icon revealed to be a Nazi, everything he stood against. For about a year, this version of Steve was amongst the headline of Marvel, but as it turned out, it was caused by the Anthropomorphic Personification of the Cosmic Cube, Kobik, trying to make a better world by rewriting reality (but unfortunately thought that HYDRA would be good). All of it came to a head with the 2017 Crisis Crossover Secret Empire where eventually thanks to the efforts of other heroes (including Sam Wilson), Kobik restored reality and the real Steve Rogers returned (or perhaps just the version of him people accepted), defeated the HYDRA version of Steve and resumed being the real Captain America.
---
Major storylines
---
Captain America also provides examples of:
open/close all folders
Tropes - # to E
The Captain: He actually used it for his codename after he refused to become an operative of the U.S. government, and he's actually earned the rank of "Captain" in terms of military ranks.
Captain Geographic: He was created to boost American troops' morale during World War II, and was therefore named after his home country.
Captain Superhero: He might not be the first, but he's one of the most famous. However, he is one of the few who have actually earned the title of Captain.
Character Shilling: He is supposed to be The Paragon, but in some cases writers take his leadership ability a tad too far. An example is Infinity, where he alone is the reason the intergalactic armies prevail against the Builders, despite the presence of people like Gladiator or Ronan who have far more experience in intergalactic warfare. He also is often put against people in a fight who are normally way out of his league, like Wolverine, Spider-Man or even serious powerhouses like the Hulk.
Early-Installment Weirdness:

Cap's cowl was originally a separate piece of material like a hat, which was soon changed to a full connected cowl. John Byrne later explained that Cap had it knocked off in a fight and his secret identity was almost exposed as a result. To fight that, Cap modified with connecting material to the rest of his costume, which had the added benefit of covering his neck with his costume's armor.
In the old WWII stories, Steve Rogers was a smoker. The 1941 story "Captain America and the Riddle of the Red Skull" shows him smoking a cigarette in the middle of the story and a pipe at the end.
The original Red Skull wasn't the Nazi we all know and hate; instead, he was an unrelated person simply wearing a Skull mask.

Empowered Badass Normal:

James "Bucky" Barnes gets a cyborg arm after being turned into the Winter Soldier. He lacked powers before that.
Steve himself, when you consider that his physical abilities were explicitly enhanced to above peak human levels (depending on the continuity). No unenhanced human can be as fast and as strong and as agile, as Steve Rogers, at the same time. He has another power, though it's not good in a fight. Even the flawed super-soldier variants like Nick Fury's greatly increases their life span. Years after his deep freeze, Cap's really not getting much older than his WWII days.
Tropes - F to O
Tropes - P to Z
---