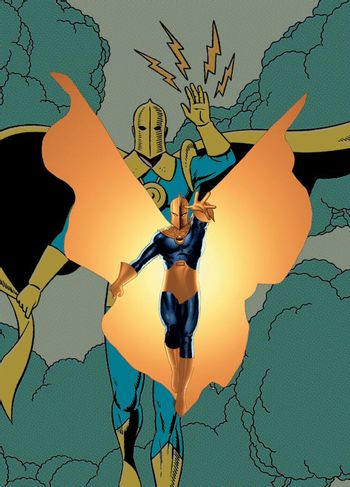 Doctor Fate is a DC Comics character. Originally created in 1940 by Gardner Fox and Howard Sherman, he's one of the icons of The Golden Age of Comic Books and a founding member of the Justice Society of America. Like fellow member Hawkman, he also has one of the screwiest backgrounds in the DC canon.
Fate is arguably the most powerful magic-wielding hero in the DC canon (discounting reality-warping demi-gods like the Spectre or power-leechers like Black Alice), and the direct counterpart to Marvel's Doctor Strange, whom he predates by several decades. Dr. Fate's powers (ill-defined as they are at times) are largely derived from two objects: the Helmet of Nabu and the Amulet of Anubis. In addition, most of the users were also naturally adept at magic enough to be Flying Bricks with low-level telepathy/telekinesis.
There have been many incarnations over the years:
- Kent Nelson, the original, who first appeared in More Fun Comics #55 and lasted into the 1980s.
- Linda and Eric Strauss, stepmother and stepson, whose run as the character included a Doctor Fate title (1988-1992).
- Inza Nelson, Kent's wife, who took over the role in 1991.
- Jared Stevens, who took the name "Fate" in a Fate title (1994-1996) and a The Book of Fate title (1997-1998).
- Hector Hall, son of the original Hawkman and Hawkgirl, who took up the mantle in the pages of JSA.
- Kent V. Nelson, a psychologist who took up the mantle in the pages of Countdown to Mystery after Hall's death.
- Khalid Nassour, an
Egyptian-American
medical student and the Doctor Fate of the
DC You
's main Earth, who first appeared in a
Doctor Fate
title (2015-ongoing). As of 2019, he's
DC Rebirth
's Doctor Fate.
He's one of the few non-A-list DC characters to have appeared in six recent animated adaptations: Superman: The Animated Series, Justice League Unlimited, Batman: The Brave and the Bold, Young Justice (2010), Suicide Squad: Hell to Pay, and Justice League Action. Additionally, he has appeared in Smallville and the helmet of Nabu had a cameo in the pilot for Constantine. He also appeared as a major supporting role and playable character in Injustice 2. He made his live-action film debut in 2022's Black Adam, portrayed there by Pierce Brosnan.
Doctor Fate has appeared in:
Comic Books
Kent Nelson & Inza Cramer
Linda & Eric Strauss
Hector Hall
Kent V. Nelson
Khalid Ben-Hassin
Khalid Nassour
Live-Action Film
Live-Action TV
Video Games
Western Animation
Doctor Fate provides examples of:
---